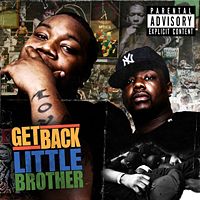 Little Brother :: Getback
ABB Records
Author: Steve 'Flash' Juon

The 21st century rap generation will probably not recognize the significance of the cover artwork on Little Brother's new album. If you consider yourself a member don't take offense to that statement. The source material is well before your time - 20 years before to be exact. Check out the cover of EPMD's "Strictly Business" and the matter quickly becomes clear. Big Pooh and Phonte are mean mugging for the cover - so were Erick Sermon and Parrish Smith. The same four colors are used for the text - orange, yellow, blue and green. Little Brother flipped it a little and put the album's title inside the two block lines instead of their name, but clearly the entire presentation is paying homage to a 20 year-old hip-hop classic. If you're not up on the history take the time to read our album review and come right back. Go ahead, it won't take that long. Little Brother will still be here waiting for you. When you get back let's talk about some "Good Clothes":
"Aiyyo, I used to go to the mall with forty dollars in hand
It ain't matter at all cause I could go see my man
Down at Southsquare Mall workin at J. Riggins, oh no!
Manager leaves, he let me cop for the lo-lo
Slacks and polos, you better watch that
boy in Durango's, blazer, and mock neck
Almost broke but you still gon' see him
At the T game pimpin through the Greensboro Coliseum, man
Uh, cause now I got on my good clothes
I'm sick of wearin hand-me-down, raggedy hood clothes
Call me ugly, man-I-wish-a-bitch-would clothes
Go out to the club, yeah-we-probably-should clothes"
Little Brother may be three albums deep but they haven't forgotten their hip-hop history OR where they come from. Phonte sets it off right at the start of this song, bringing the listener all the way from wherever they are to his home turf in North Carolina. Illmind's punchy horns and pounding beats make the cipher complete, where Rapper Big Pooh chimes in with his own rags to riches to much fresher looking rags story:
"I used to go to my mom, like I'm tryna be fresh
Told her, 'Look at my closet, you know, your boy look a mess'
So we hopped in the car, headed straight to Sears
At the time I was bigger than the rest of my peers
As we got on the floor, was embarassin trust me!
The saleswoman walk me straight over to husky!
I still got stonewashed denim, Bobby Brown patent leather
Members Only jacket, ain't nobody fresher than ME!"
Little Brother's appeal has always been not just in their beats and rhymes but how they bring them to life with down home honesty. If they're in a Bentley it's probably rented, and if they're sipping Dom Pérignon it's probably paid for by whoever they're on tour with. It's not that Phonte and Pooh have modest aspirations - and in fact few artists I can think of deserve to go multi-platinum more - it's just that the success they've had hasn't gone to their heads. The record industry experience may have taught LB they "Can't Win For Losing" but they're definitely swinging for the fences on this CD. Even Kanye West would be envious of how "ExtraHard" they come on a Denaun Porter beat. Phonte may still be "six figure fiendin" on "Two Step Blues," but he's gonna "take this check and pay my rent" on his way to go out and party with what little funds are left. Nottz sets the mood and Darien Brockington croons their way to a brighter day. Some of their peers may say they sound too East coast to be North Carolina, but even those haters are proved wrong over a silky 9th Wonder beat as Little Brother collide with Lil Wayne on "Breakin My Heart":
Pooh: "Yo, how many ways can I say I'm done fishin?
You wanted the role, smashed the audition
Havin a partner for a man in my position
Eliminates the cooks in the kitchen
Still I got a taste for that fast food, foreign cars, many women
and some say that it was the life I was given
I say it don't matter if I work at Mickey D's
I still got a fix for what you got between your knees
On a new broad, you still one to one
Every once and again I like havin some fun
No disrespect intended but what's done is done
Women steppin out for love, men do it to cum"
Wayne: "Word up, I say I don't have nothin if I don't have you
Like Sade, you got the +Sweetest Taboo+
And my game is skin deep like the first tattoo
I gets all in your head just like shampoo
I just wanna fuck with you like rude polices
I don't want a broken heart because I lose the pieces
Hey! Girl don't play with my gangster
And have the boy blue, like the Texas Ranger
And I know cheaters never get crowned
So I play fair like roller coasters and clowns
Yeah! You gotta hold your soldier down
Even when the war is lookin like, it is right around the corner"
The similarities between EPMD and Little Brother don't end with the artwork. "Getback" is only 11 tracks long, "Strictly Business" was only 10. The brilliance of this album lies in the fact less is more - there's no need to fill the album up with half-assed skits or subpar songs. You wouldn't want anything that's not up to the standard of the smooth Roots-like "Step it Up" featuring Dion, or the epic Rashid Hadee produced "Dreams." The only problem Little Brother is faced with is measuring up to their own success, having produced two widely acknowledged classics in the last five years. "Getback" does not excede their prior work, but it does not disappoint in any way. Ultimately that is their final homage to EPMD here and the most fitting one - every one of EPMD's first four albums went gold because they made the music their fans loved and stayed consistently fresh. For Phonte and Big Pooh, "Getback" is just business as usual.
Music Vibes: 9 of 10 Lyric Vibes: 9 of 10 TOTAL Vibes: 9 of 10
Originally posted: October 23, 2007
source: www.RapReviews.com