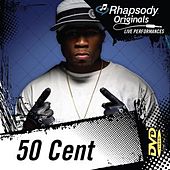 50 Cent: Rhapsody Originals
Shady/Aftermath/Interscope/Rhapsody
Author: Steve 'Flash' Juon


"50 Cent: Rhapsody Originals" is part of what appears to be an expanding series of DVD's to be minted and sold at a bargain price. Besides the relatively inexpensive price (under $5 where available) the "Originals" hinted at in the title are performances originally intended for RealNetworks "Rhapsody" music and video download service. The benefits for both consumer and producer are obvious - the consumer gets to sample the performances from their favorite artist without subscribing to Rhapsody, while the producer gets a new way to cash in on content they already own with a whole new distribution method.
Six different songs are culled from 50 Cent's catalogue here, going all the way back to "What Up Gangsta" from "Get Rich or Die Tryin'," but the majority of the focus is on his new release "Curtis." In fact videos 2-4 on this DVD are practically back to back on that CD - "I'll Still Kill" and "I Get Money" are sequential and "Ayo Technology" is only one skip away. The other video featured from "Curtis" is the final chapter on this DVD "Amusement Park." All of these videos are from the "5 Boroughs Tour 2007" which means you get live concert footage, complete with the obnoxious hypemen and raucous crowds, but it's all part of the fun. This stop on the tour is in the Bronx at the X Bar on September 16th, 2007 - damn just two months ago! Clearly wasn't much turnaround time to gather up the material for this DVD and put it together, and perhaps that explains the typo in the opening video as "Gangsta" is spelled without the second 'G'. Oh well!
Appearances on this DVD from the outside are a bit deceiving. Although from seeing six tracks listed you might expect at least 20 minutes of footage, possibly five more if 50 Cent was bantering with the crowd and freestyling, the entire presentation clocks in at just 14:41. The first hint that this is a short set comes when 50 only performs the first verse of "What Up Gangsta" before launching into "I'll Still Kill." Just about 90 seconds later he's already rapping "I Get Money," which should give you some idea of how fast ish is moving along. At least this song is a full live performance of the whole track, which is more than can be said of anything else on the DVD other than "Amusement Park."
Few things in the music business are a clear "win/win" scenario, and at first glance "50 Cent: Rhapsody Originals" would seem to be one of them. It's only once the shrinkwrap is off the DVD that the flaws become obvious. Your typical long-term 50 Cent fan (down since the first major label CD or perhaps even before) would enjoy this footage, but after that would naturally ask themselves "If this was part of a 5 Boroughs tour, how come we only got one borough?" It's also possible this DVD comes at the tail end of the tour as opposed to the beginning, as 50's voice seems more than half gone and his delivery is not strong. The bargain $5 price for the DVD is nice, but unfortunately for consumers "The New Breed" offered more bang for the buck four years ago and even came with a bonus CD of new songs. I like the "Rhapsody Originals" series but this entry seems to be sloppy, rushed, and a disservice to 50 Cent.
Content: 5.5 of 10 Layout: 6.5 of 10 TOTAL Vibes: 6 of 10
Originally posted: December 4, 2007
source: www.RapReviews.com