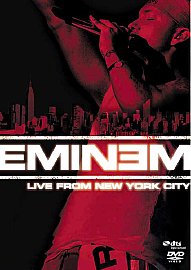 Eminem: Live From New York City
Shady World/Eagle Rock Entertainment
Author: Steve 'Flash' Juon


"Filmed at Madison Square Garden in 2005, this spectacular show captures the full Eminem live experience. With guest appearances from D12, Obie Trice and Stat Quo, the concert features all of Eminem's classic hits including 'JUST LOSE IT', 'CLEANING OUT MY CLOSET', 'THE WAY I AM', 'STAN', 'LOSE YOURSELF' and many more."
That's all you'll learn from the packaging of "Eminem: Live From New York City." Of course you're at RapReviews.com to learn MORE than what's on the packaging, and find out whether this DVD is worth copping. That sounds like a new website motto to me: "RapReviews.com - we take the risk so you don't have to!" There's no risk involved here though since Eagle Rock sent a free promo copy. In fact I didn't even have to rip the shrinkwrap off, it came pre-opened and ready to play. Mad respect to Eagle Rock for making my life that much easier - the shrinkwrap and security stickers on DVD's are THE WORST. The DVD opens with a menu where Eminem's performance of "Lose Yourself" is being projected at an angle onto a unidentifiable wall. This is another DVD release with limited selection choices - Play, Song Selection and Audio Options. That's okay - sometimes less is more. Let's get right into the action!
We open with a photo and video montage of Eminem growing up, both figuratively and literally, which I imagine is the same video they showed to the live crowd to hype them up before he hit the stage. It ends with all the magazine covers he's been on, but instead of going live we see footage marked "earlier today" where Eminem seems to be writing a suicide note and loading bullets into a pistol. (Parental discretion IS advised.) We see him pacing the halls backstage, holding his head in anguish, while the rest of D12 and his friends are chilling elsewhere in the building and wondering where he is. Finally Em steps out of his dressing room, suit and tie on, apparently having left the pistol and note behind. Em walks out through a door on stage rapping "Evil Deeds" from "Encore." Saying he "walks out through a door" is a bit of an understatement really. This is not like an underground hip-hop show where several hundred people are packed into a tiny, sweaty venue with no air conditioning. Em is walking out onto the stage at MADISON SQUARE GARDEN in front of over 10,000 screaming fans. When the song ends a pyro explosion goes off, the lights go down, the lighting on the whole stage changes and so does Eminem's outfit - he's now wearing a white tee and a red bandana wrapped around his head. As he performs "Mosh" you can see him walking out over the crowd on legs of the stage which when viewed from the side form a giant glowing red E.
With no exaggeration this is the most elaborate concert stage setup I've ever seen - easily rivaling a Mötley Crüe show where they had pyros, circus acts and a harness to fly Tommy Lee back and forth between two drum sets suspended in the air. This set is over an hour long - it's not some self-important star headling a small club where he goes on stage for just fifteen minutes and then bounces. According to the liner notes in the DVD fans had already stayed all night and seen opening acts like Ludacris and Lil' Jon, so it had been a hell of a show already and Em could have easily copped the star attitude and been like "fuck y'all" but he didn't. There is one moment in this concert that's disconcerting though, and it's not Eminem's fault or anybody else's, it's just one of those unfortunate things that reflect the sad state of violence in hip-hop - Eminem and Proof spend several minutes on stage bantering about how he won't be Slim Shady, Eminem or even Marshall Mathers any more - he's changing his name to "Rain Man." Proof is on stage for the whole song wearing a green shirt that says "I don't need a tractor to pull hoes!" R.I.P. Proof.
I really can't do justice to how elaborate this performance is, the stage and the video screens and the lighting, but I CAN do justice to how well filmed and produced this DVD is. This shit is CLEAN. It's straight out of the dishwasher clean. They obviously brought a movie quality camera crew on the tour - this is not footage from handheld cams that roadies on stage and in the crowd captured. There has to be at least seven cameras splicing together this footage - a camera in the rafters to capture the whole stage and crowd, a crane camera, one in the front row, two BEHIND Eminem on the stage, and one on each side to get shots of the crowd spazzing out. For all I know there might have been more. Each one is so good you can see the tattoos on his arms and see the sweat rolling down his brow, and that's pretty damn remarkable considering this is not in high-def. The audio is damn good too - Dolby 5.1 Surround sound - picking up the crowd singing along with Em and every word crystal clear.
Eventually the entire D12 crowd comes out to get some shine of their own, rolling through "Git Up" and "How Come" and even doing Bizarre's "Rock Star" although "My Band" is clearly the crowd pleaser. There's an intermission where Eminem goes backstage to change outfits, and we see him finishing the suicide note and loading his clip and putting it in his gun, laughing it off and saying "That's how you got out with a BANG baby!" Now obviously you know Eminem is not dead today, but it's still intriguing that they wrapped this storyline into a live concert video to give it a little extra cinematic edge. There's a level of thought and quality put into this concert DVD that I'm not usually used to seeing from hip-hop artists. This remains true from the opening montage up until the closing performance of "Lose Yourself" where Em is joined by D12 for the grand fucking finale, but along the way you'll get to see Obie Trice and Stat Quo perform some of their hits too. "Eminem: Live From New York City" gets the highest recommendation possible, and unless you don't think Em is any good or you're just a hater, this will without a doubt be one of the best hip-hop DVD's you've ever seen.
Content: 10 of 10 Layout: 9 of 10 TOTAL Vibes: 9.5 of 10
Originally posted: December 4, 2007
source: www.RapReviews.com