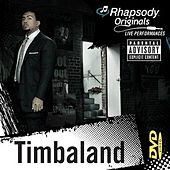 Timbaland: Rhapsody Originals
Blackground/Interscope/Rhapsody
Author: Steve 'Flash' Juon


"EXCLUSIVE Best Buy DVD! Featuring 5 LIVE SONGS including THE WAY I ARE and APOLOGIZE." Well sheeit! Somebody call my momma. I've stumbled onto a bonafide EXCLUSIVE DVD and the retail price was under five bucks! In fact forget momma - call the whole fam-damn-ily and tell them each to buy three and we can use 'em as stocking stuffers this year for all the little rugrats! They all like that hippity to the hop right? Well Timbaland's one of them rap sangers. He did a video on the rasslin' and I think that Michelle McClueless and Layla Smells were in it, something about how his music could give you hives. That's what's cool today, what with all the itchin' and scratchin'!!
In my head that entire paragraph sounded like the redneck from Devin the Dude's "Reefer and Beer," but enough with the tomfoolery here, we've got a DVD to review! It's a rather short DVD at that, the $5 price ($4.99 + tax) matching the fact that there are only five videos on it. That's all the explanation you get here beyond the sticker on the shrinkwrap and the title "Rhapsody Originals - Live Performances" stamped on the cover. If you've seen the commercials for Rhapsody and never really bothered to peak into the service, it's the RealNetworks competitor to Apple's iTunes service. The biggest advantage they seem to have over iTunes is a dot com presence which allows you to stream full-length songs and videos for free before you buy. I poked around for a minute before writing this review and was impressed to quickly stumble across Aesop Rock's "None Shall Pass." Regardless I'll probably stick to iTunes because it's compatible with my iPod and Rhapsody is not, but at least now you know where the live performances on this $5 DVD come from.
The presentation, much like the DVD itself, is about as stripped down as you can get. One static menu with no animation or background music offers the option to select one of five songs in this order: 1) Oh Timbaland, 2) Release, 3) Miscommunication, 4) The Way I Are, 5) Apologize. The sixth and final menu option is "Play All," which I promptly picked. A Rhapsody Originals logo appears on an amplifier. What pops up next is Timbaland apparently recording "Oh Timbaland" in his home studio, or if not, performing the song in a very informal setting at someone's house where they just pulled down the blinds and set up a bunch of recording equipment, then brought a camera in to film it all. That being said this "original" performance is very entertaining for a variety of reasons - the song bumps, Timbaland and his DJ are smiling and enjoying themselves, and for no reason whatsoever there's an orange and yellow lava lamp on the cabinet. Gotta dig the lava lamp!
Now for the bad news, if there can really be any on such a bargain-priced DVD. First is the fact that all five of these songs are filmed in the exact same setting, so the scenery doesn't change that much. Timbaland and his partner-in-rhyme make up for it by being energetic and charismatic, and everything is well lit and shot (I'm sure drawing the blinds made it easier to control the light sources) but it's a good thing this is limited to five songs. Secondly and this is a rather minor quibble but the censorship of the songss seems out of place, particularly when Timbaland is wearing a hat that seems to read "FUCK" (but probably just hints at it). Last I'm rather surprised at the song selection itself since I would have expected "Throw It on Me" or "Scream" to be up in the mix. What becomes apparent is that some songs were chosen just for the guests they could get to stop by this improvised studio, as both Keri Hilson and Sebastian show up for "Miscommunication" and Ryan Tedder from One Republic is there to sing and play piano on "Apologize." Don't expect Justin Timberlake to come in for "Release" though - he's just not in the budget for this budget DVD.
It's hard to go wrong with "Timbaland: Rhapsody Originals." The DVD is exactly what you'd expect it to be, particularly if you were already familiar with Rhapsody, although this is a more permanent form than you can keep via free computer stream or paid download. There are no extra bells and whistles to be found but since you're getting five original performances of five Timbaland tracks for five bucks it's exactly the right price for the content you get. The only people who won't appreciate this aren't Timbaland fans to begin with, but even those who only casually appreciate him could afford to drop an Abraham Lincoln on this one.
Content: 8.5 of 10 Layout: 6.5 of 10 TOTAL Vibes: 7.5 of 10
Originally posted: December 4, 2007
source: www.RapReviews.com