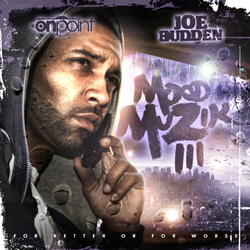 Joe Budden :: Mood Muzik 3 - The Album
Amalgam Digital
Author: Jesal 'Jay Soul' Padania

"Now let's not get it confused here: Budden is not Pharoahe Monch, Nas, Ras Kass or Aceyalone. You won't be dissecting his lyrics too much for hidden deeper meanings, and although he has clever punchlines now and then he's not a "Dopest Rhyme of the Month" quotable artist for the most part..."
That is a direct quote from the RapReview of Joe Budden's eponymous debut, posted in 2003 - closing in on half a decade ago. I entirely agreed with that sentiment, and although his album had some burning hot singles, it felt a touch like music-by-numbers. Well since then, there hasn't actually been another album. Put it this way: his debut, and sole album, was released when "The Black Album" was a twinkle in Jigga's eye. It got me thinking.
Let Joe shine.
You see, the other night, I went to the cinema ("No Country For Old Men" - thanks for asking) and they have a clever celebrity piece - brought to you by a mobile phone network that sponsors the air we wave - which, long to the short, tells you in a funny way to switch your phone off during the film. Anyway, this one had Val Kilmer in it, trying to redeem his career. He fails miserably, and the closing line is: "Wow, he really IS difficult to work with..." After the film (which was good, and featured the most amazing performance from Javier Bardem as a total psychopath) I got back in my car, and Joe Budden's latest "Mood Muzik 3" came on. And then it clicked. For Val Kilmer, read Joe Budden.
Let Joe shine.
There has to be an actual logical reason that Joe Budden was released from Def Jam in the summer of 2007. It can't be that he couldn't sell records, because his debut - whilst hardly stellar - sold well enough, and brought some awesome street and radio singles in "Pump It Up" and "Fire," not to mention "Focus" as well. Did he piss Jay-Z off? Did Joe-Joe lose his mojo? Did Budden get too cocky, or feel overawed by the threat of a sophomore slump? Maybe he pulled a Val Kilmer and became difficult to work with, who knows... Here was someone on a clear and pre-destined path to greatness, and whether it was those ever fickle Gods of hip hop or someone closer to home, something went wrong.
Let Joe shine.
So, in the interim of all this sophomore drama, Joseph decided to take matters into his own hands, somehow getting out a couple of extremely popular mixtapes - the "Mood Muzik" series. The first time I heard one of these songs on the radio, I was shocked. Who are you and what have you done with the real Joe Budden?? Here he was, replacing cool charm with fire and brimstone; a couple of witty couplets with punchline after punchline. He was a living, breathing Cloverfield MONSTER. And, believe it or not, he has stepped up another notch on the third installment. There are so many hot lyrics in MM3, I physically can't cope with it - my head hurts trying to recall them. Imagine a relentless barrage of hard-hitting shit, designed to impress and unsettle you in equal measures. Gems like "So I turned my back on danger/Danja like Timbaland did" are wicked; even the guests kill it, like Hitchcock on "Family Reunion" (the second half of his long verse is off-the-chart). There isn't exactly a whole bunch of commercial "records for tha ladeez" on here; it is all street shit or deeply autobiography blood-as-ink material.
Let Joe Shine.
So referencing his first album at the start of this review proves perfect, as it fully illustrates how far he has come as a lyricist, and the potential his second release has. The only real problem with "Mood Muzik 3" is that the music itself is good, not great - but hey, this is a mixtape-type of album. For his next true album (allegedly called "Padded Room"), all they really have to do is provide him with some genuinely amazing beats and a few hooks here and there. Joe Budden will take care of the rest, believe. I believe in him now, and I hope that it is not misplaced. For whatever reason he has fallen by the wayside, there is no doubt that Budden COULD drop a classic album this year - if, for once, the stars align in his favour. And I strongly suspect that if he keeps focused, doesn't get involved in stupid beefs, and lets his music do the talking, those stars will align and let Joe shine.
Music Vibes: 7.5 of 10 Lyric Vibes: 9.5 of 10 TOTAL Vibes: 8.5 of 10
Originally posted: February 5, 2008
source: www.RapReviews.com