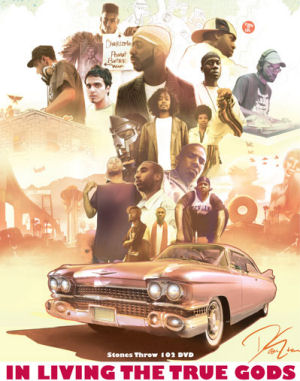 Stones Throw Videos 102: In Living the True Gods
Label: Stones Throw Records
Author: Steve 'Flash' Juon


Stones Throw Records has always struck me as a charmingly quixotic bunch of cats - a California-based collective who seems to have tilted at every iconic windmill on the hip-hop landscape since day one. With an eclectically diverse lineup ranging from Aloe Blacc to Lootpack, from Peanut Butter Wolf to Dudley Perkins and from Georgia Anne Muldrow to Madvillain there's no doubt these peeps value artistic originality first. For comparison's sake I once saw a whiskey distillery on television whose simple motto was impressive: "At a profit if we can, at a loss if we must, but always FINE BOURBON." I truly believe Stones Throw takes the same approach to hip-hop - they value a product they can be proud of heart and soul over the bottom line. In theory you can argue that's not a smart way to run a business, but their unflinching commitment to honest artistic expression generates a tremendous cult-following which I daresay extends well beyond the narrow confines of rap music. I'm willing to bet a peso or two that their ledger actually balances better than many of their peers who obsess over discovering the next big thing only to be left wondering where they went wrong when singles from 25 Cent and Dime Piece both flop on the charts. I think this simple fact may summarize their steelo best - any label good enough for J Dilla's last non post-humous album is good enough for me. JD was a true original, and so are the peeps at STR.
You'd think with all the praise I'm heaping on this label that they must send me a gang of shit for review and a box of t-shirts every other week. The truth is I don't think RapReviews has received a single promo from Stones Throw in over two years now. I was more than happy to pick up the "In Living the True Gods" DVD on my own dime. The title alone was intriguing - seemingly profound and nonsense all at the same time. At first the title makes you think of halcyon days gone by when Brand Nubian and Poor Righteous Teachers seemed poised for a revolution that would civilize every 85er on the planet. Then you read it again and get the feeling a word is missing somewhere. Perhaps they meant "In Living WITH the True Gods" and made a typo, or possibly it could be "In Living THEY ARE the True Gods." If it IS nonsense though blame MF Doom, because the DVD's title actually hails from a verse he spit on the Madvillain song "Accordion":
"It's like they know what's 'bout to happen
Just keep ya eye out, like 'aye, aye captain'
Is he still a fly guy clappin if nobody ain't hear it
And can they testify from inner spirit
In living, the true gods
Givin' y'all nothing but the lick like two broads"
One could actually flip the script and interpret both DOOM's line and the title to be the phrase "true and living gods," repudiating the "invisible God" up in the sky in favor of self-empowerment by looking to the God within yourself. That philosophy can definitely be applied to this DVD and the artists within both in front of the camera lens and behind it. Everyone involved is definitely on some next shit, totally into their own creative vibe, firmly convinced in the worth of their creation and eager to share it with the whole world. Madvillain's "Monkey Suite" is a gritty mixture of animation techniques filmed to look like a dystopian black and white future, where our protagonist struggles in vain against oppression and his lyrics become propoganda posters plastered to city walls. Give it up to the directors Version Two & Daniel Garcia for a video interpretation entirely appropriate to the harrowing sound that Madlib & MF DOOM created in collaboration.
Oh No's "Move" is much more colorful and upbeat, as No and his cohorts J. Dilla and Roc C have an outdoor party where a panther roams around looking for a cheeseburger or turkey leg all his own. Yeah I'd "move" if a cat came at me like that too! Big up to director Lex Sidon. On the early chapters of this DVD though my favorite video may be Quasimoto's "Rappcats Pt.3," a video where we never even see the protagonist spitting the rap other than in brief cartoon blinks. The joint can be best described this way by the liner notes: "Compiled by Peanut Butter Wolf, edited by Andrew Gura." What they compiled and edited together was a selection of old school hip-hop video footage matching the very people Quasimoto is referencing. It's as though they decided to apply the principles of hypertext to video and hyperlink the song right before our eyes:
"Yeah, I remember Ultramagnetic and Stetsasonic
Afrika Bambaataa and the Soulsonic
MC Shy-D and Public Enemy
Boogie Down, MC Shan, MC Ren
The Disco Three, Mr. Magic with the Rap Attack
All day, KDAY Mixmaster..."
And so on, and so on, as Quas' a.k.a. Madlib lets the beat go on and flows on about the shit he used to love back in the day. There's no shortaage of different and interesting artistic interpretations of the songs on "In Living the True Gods" though, videos as diverse and creative as the musicians represented within. MED a.k.a. Medaphoar's "Push" wanders from non-descript alleyways to late night clubs, following a female protagonist trying to stay fly in a superficial world. The aforementioned "Accordian" has the real life DOOM spitting into a mic from behind his metal face mask, taking it back to basics in dimly lit halls where his raps can bounce off the walls. Director Kristal Ramin finds Aloe Blacc "Busking" for real, a truly literal interpretation of a song and theme on the whole DVD as Blacc sings about waiting for the bus to arrive. Literal interpretation is definitely not a bad thing on Lootpack's "Crate Diggin'," something which any of us who have DJ'd even once can relate to. The only hint of overly pretentious unmitigated bullshit from my vantage point is the Stones Throw Singers' "Rain of Earth," which is like an OutKast "ATLiens" comic book gone horribly awry at a carnival. It's hard to decide what's more irritating - the song, the video, or the milquetoast looking crooner wandering through it.
Now it needs to be said for the record that this DVD is not for everybody, much like Stones Throw is not a label for people who want rap music in easily digestible homogeneous bites. "In Living the True Gods" is a trip across the label's entire spectrum of music, some of which is not easily identifiable as hip-hop at all, and the videos reflect their unique sensibility to a tee. Still it's hard not to recognize the rap genre I review as dominant from the beginning all the way through the bonus features, which include a J Dilla interview from 2003 and a look behind the scenes at the making of Oh No's "Move" among other fine extras. "In Living the True Gods" is the kind of creative soup on one disc not seen since the days of Liquid Television on MTV - back when MTV remembered that keeping it real didn't mean airing thirty "reality" TV shows a day. If you're feeling quixotic buy this DVD and get your lean on.
Content: 8 of 10 Layout: 8 of 10 TOTAL Vibes: 8 of 10
Originally posted: April 22, 2008
source: www.RapReviews.com