DJ Premier :: Time 4 Change - A DJ Premier Mixtape :: Year Round Records
as reviewed by Steve 'Flash' Juon

(EDITOR'S NOTE: You can download the "Time 4 Change" mixtape for free here.)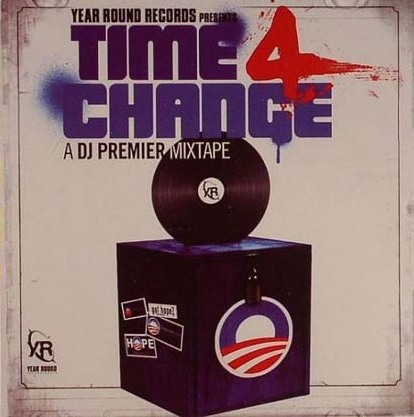 Everybody knows how popular the theme of "change" has been in the United States of America for the year of 2008. Barack Obama popularized the idea at a time when people are dissatisfied with just about everything - their President, the economy, war in Iraq, the high price of gas and so on. Other candidates for political office soon jumped on the bandwagon and styled themselves as candidates of "change" as well. Before long the mixtape circuit followed suit and every DJ or MC out there added the phrase to their albums, not to mention political style artwork to match. A couple of months ago we covered one such album - the Young Chris "Campaign For Change" CD. Now DJ Premier has stepped into the fray with his own political themed "change" mixtape, although given that this made the rounds the last week of October it nearly came too late to make a CHANGE at all. November 4th is after all the day Americans can either vote for "change" or "more of the same." In the end I hope people will cast a ballot based on more than slogans just like these, but regardless of what happens mixtapes like Primo's "Time 4 Change" will be lasting reminders of one of the most inspirational and groundbreaking election cycles in U.S. history.
There's good news and bad news about "Time 4 Change" right from the jump. The good news is that like so many mixtapes coming from high profile artists and producers these days, you can download this one from the internet entirely for free. The bad news is that Primo is either a merry prankster or taking the concept of MIXTAPE super duper serious. "Time 4 Change" has a tracklisting you can easily find with a Google search but you're not going to be able to easily skip to the songs by Termanology, Scarface, Black Milk and Prodigy listed on it. Every copy I've seen comes as one long file that's 78 minutes and change long. One really doesn't want to complain about something gotten for nothing, and arguably not splitting up this CD into individual tracks stays true to the concept of a seamlessly dope blend. On the other hand the moment CD technology went mainstream and DJ's stopped using actual cassette tapes, it became commonplace for your favorite blend technicians to arbitrarily pick a moment between blended songs and break up the disc into tracks. Play it from start to finish and you'll never notice the difference, but it at least allowed for the convenience to skip right to a favorite song you liked. Fat change of doing that here unless you invest the time and effort to put them in yourself and burn a physical copy. Just in case that's what you decide to do here's the order of tracks.
01. DJ Premier & Biggest G - Time 4 Change
02. Nygz - Policy
03. Big Shug - When I Strike
04. House of Reps - U Gotta Love Us
05. Termanology - Hold That
06. Blaq Poet - Ain't Nuttin Changed
07. Prodigy - Veterans Memorial Pt. 2
08. Statik Selektah f/ M.O.P., Jadakiss - For the City
09. Young Maylay - I Showed You
10. D-Flow (D.I.T.C.) - Like Dat
11. Scarface - Emeritus
12. Jake One f/ Little Brother - Bless the Child
13. Ludacris f/ Floyd Mayweather - Undisputed
14. LL Cool J - Dear Hip Hop
15. DJ Revolution f/ Planet Asia - School
16. Bumpy Knuckles - The OG Pt. 3
17. Royce Tha 5'9" - I Gotta Shake This
18. DJ Revolution f/ KRS-One, DJ Premier - The DJ
19. Black Milk f/ Pharoahe Monch, DJ Premier, Sean Price - The Matrix

There's always a chance with mixtapes that the new artists thrown in aren't up to the standards of the established names, but thanks to Primo's beats the House of Reps come off really nice on "U Gotta Love Us" where the unidentified members flip verbals over a chunky Premier beat. "Sicker than syphilis, ridiculous, fearin the infamous/Wicked as hearin this, so request it on the Sirius." No doubt. Other producers and DJ's do get an occasional chance to shine though, as Statik Selektah's excellent "For the City" featuring the slick as ice verbals of Jadakiss and hardcore banger rhymes of the Mash Out Posse. You may only know Young Maylay from his role in "Grand Theft Auto: San Andreas" but he lives up to following an introduction by West coast legend W.C. on "I Showed You," a track which flips some Audio Two samples in an incredible dope way. Even little known D.I.T.C. member D-Flow (his Ghetto Dwellas cohort Party Arty is far more recognizable for his raspy flow) comes off nice on the song "Like Dat." Despite the potential to disappoint or slow down this mixtape's steelo, these artists come through in spades.
Unfortunately we come back to the issue of the download file being 78 minutes with no breaks again, because it makes in incredibly hard to play back these songs for closer inspection on iPod or iTouch. Some songs like Termanology's "Hold That" and LL Cool J's "Dear Hip Hop" you may recognize and want to play right away - no dice. If you're excited to see both Pharoahe Monch and Sean Price on a Black Milk track called "The Matrix" you have to skip right to the end of the file and pray you don't accidentally skip WAY past the end and miss it altogether. Technical issues aside Primo has one hell of a heavyweight lineup for Primo's "Time 4 Change." From underground favorites like Freddie Foxxx a.k.a. Bumpy Knuckles on "The OG Pt. 3" to mainstream favorites like Ludacris on "Undisputed" they're all represented on this album's 19 songs. And what New York mixtape would be complete without a Mobb Deep track repping Queensbridge? Prodigy's "Veterans Memorial Pt. 2" locks that shit down. The bottom line is that Primo's "Time 4 Change" is definitely worth downloading, ESPECIALLY since it's free, but the formatting is still damned inconvenient when tracking it out couldn't have taken more than an hour's time at best. Maybe after this election is over that's something P-P-P-Premier can "change" too.
Music Vibes: 8 of 10 Lyric Vibes: 7 of 10 TOTAL Vibes: 7.5 of 10
Originally posted: November 4, 2008
source: www.RapReviews.com