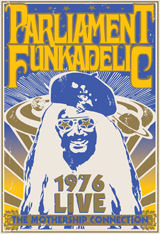 Parliament Funkadelic: The Mothership Connection Live 1976
Label: Shout Factory
Author: Patrick Taylor


Hip hop's debt to P-Funk is huge. Dr. Dre and Snoop Dogg sold millions of albums sampling them, as did Del and Ice Cube. Outkast were also heavily influenced by Clinton and Crew, and Lil' Jon owes something of his persona to George Clinton, who would yell orders and and exclamation's into his mic, including "what!?" and "yeah!!" This video gives clear evidence as to why P-Funk were so idolized, both in their own time, and by the hip hop heads who grew up listening to "Maggot Brain" and "Chocolate City." "The Mothership Connection Live 1976" is a reissue of a concert film from Parliament Funkadelic's concert in Houston on Halloween, 1976. They were five days into their tour, and riding off of singles like "Give Up The Funk." In short, they were at the height of their power, and this film documents them in all of their crazy glory.
P-Funk was actually two groups masterminded by George Clinton: Parliament was a funk band, and Funkadelic was a psychedelic rock band. While they were separate entities on wax, the shared members, and onstage there was little separation between Parliament and Funkadelic. Both groups are onstage for this show, and the set list mixes songs from both bands' catalogs. The songs blend together seamlessly, with the band going from song to song with barely a break, building to a climax with "P-Funk (Wants To Get Funked Up)" and "Give Up The Funk (Tear The Roof Off The Sucker)."
The concert is staged like a Broadway musical, complete with a pyramid and the Mothership. When the Mothership lands, about halfway through the set, the crowd goes nuts. Sure, it looks a little cheesy by today's standards, but back then, it was state of the art (and had a hefty price tag to prove it). And when George Clinton gangsta walks out of it in his pimp coat and hat to lay into "Dr. Funkenstein," he owns the stage and the crowd. Of course, a lot of the success of P-Funk is owed to the band members, which include James Brown alumn Maceo Parker on sax, Michael Hampton on guitar, Jerome Braily on drums, Clarence Haskins, Grady Thomas, and Ray Davis on vocals, Bernie Worrell on keys, and a diapered Garry Shider on guitar and vocals. Special props go to dancers/background singers Debbie Wright and Jeannette Washington, who manage to shake their money makers and keep in pitch without the aid of playback or other technological assistance. Parliament was on the same label as comic-book rockers Kiss, and Clinton was clearly inspired by the outrageous costumes Gene Simmons and co. wore onstage. The costumes here are a little 70's coke-fueled excess, a little 60's acid freakout, and a whole lot of showbiz glitz. The band is decked out in platform shoes, spangles, giant sombreros facepaint, jumpsuits, tie-dye, and some of the trippiest eyewear you've ever seen. It is a little ridiculous, but it is also amazing to see a band who isn't afraid to put on a SHOW. How many times have you seen a band who came out in their street clothes and acted like they couldn't be bothered to even fake excitement about performing? Not P-Funk. They are here to entertain you, and enjoy themselves doing it.
A good concert can be a religious experience, and P-Funk just about reach nirvana on this Halloween night. The entire band is dancing, singing, and moving, and you can feel the electricity even through the TV and 32 years later. The lyrics might be a little dirty (especially the repeated shouts of "Shit! Goddamn!!"), but there is genuine joy in this performance. The band is having a great time, and you can bet the audience is having a good time. It's safe to say that many little Georges and Georgettes were concieved in the wee hours following that show. As sacriligious as it may seem, being that pretty much everyone in the band was probably on some sort of illicit substance, there is a spiritual quality to the music and the performance. Clinton and crew tap into basic human emotion, and create a powerul shared experience. So powerful, in fact, that people STILL talk about having seen P-Funk back in the day. They were on par with Led Zepplin or James Brown in terms of creating and unforgettable concert.
The video quality, while state of the art for 1976, is dark, and the camera's are all focused on tight shots of the stage and performers. We never get a shot of the entire stage and band (there's a thank you to "all the P-funksters who were off camera"), or of the audience. The DVD also doesn't come with any extras, although the liner notes are informative. The sound quality is good throughout, and the band sounds tight, with the exception of the somewhat chaotic encore, where openers Sly and the Family Stone and Bootsy Collins and His Rubber Band join P-Funk for rousing versions of "Night of the Thumpasorus Peoples" and "Funkin' For Fun."
Fans will want to watch this to revisit the mighty P-Funk in their prime and reminisce, but I'd also recommend it for people whose only knowledge of P-Funk comes from Dr. Dre's "Let Me Ride." They really were the bomb, and a spectacle that must be seen to be truly appreciated. Put this on and let Parliament/Funkadelic do it to you in your earhole.
Content: 8.5 of 10 Layout: 7.5 of 10 TOTAL Vibes: 8 of 10
Originally posted: December 9, 2008
source: www.RapReviews.com