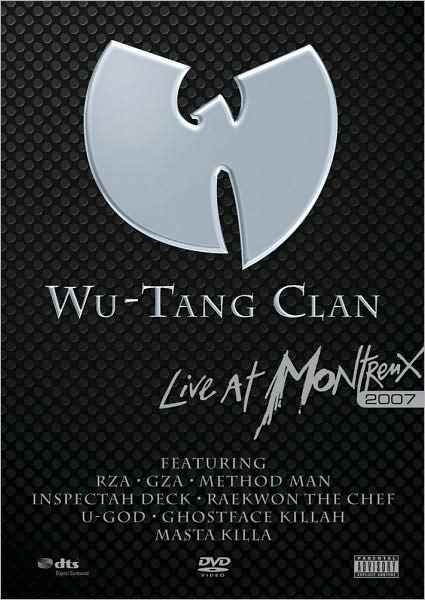 Wu-Tang Clan: Live at Montreux 2007
Label: Montreux Sounds/Eagle Rock Entertainment
Author: Steve 'Flash' Juon


The Montreux Jazz Festival is a 40 year+ tradition of bringing the best musicians in the world to Switzerland to jam. The name is not nearly broad enough to define what the festival has become since its conception as 2008 alone featured over a 100 artists during a two week span, with every genre and style from rap to rock being represented. In fact if you were lucky enough to attend the Festival last year, you had the chance to see everyone from Jill Scott to M.I.A. to N.E.R.D. to Quincy Jones during the event. I confess writing about this it's a little difficult to conceive just how huge the whole thing is, but as long as they plan to keep holding it every single year I know I'm going to experience that shit at least once in my lifetime.
Fortunately the Festival's producers learned long ago that not everybody can hop a flight to Europe in July and spend two weeks on the shores of Lake Geneva. The "Live at Montreux" DVD series is a more affordable way for most of us to enjoy the Montreux experience without spending thousands of dollars on airfare and lodging. The popularity of MJF from the United Kingdom to Poland and all points in between draws hundreds of thousands to Montreux regardless of how many Yanks can afford to go. If you're going to throw a party that big, why not invite the biggest supergroup in rap history to be there too? Wu-Tang Clan was a natural fit for the Festival, given their enduring popularity and the increasing rarity of gathering all the surviving members (R.I.P. Ol' Dirty) in one place at one time. That's some win/win shit - hip-hop heads get to see the whole Clan on stage together while the Festival's organizers get two generations worth of Wu heads who will eagerly shell out hard-earned Euros just to see it. Thankfully in 2007 the cameras were rolling to capture the magic of this event.
As big as the Clan is in hip-hop history not to mention membership, the Wu got a little BIGGER for Montreux by bringing the EXTENDED family along for the trip. Cappadonna, Streetlife, Masta Killa and DJ Mathematics all came to Switzerland along with the original Clan members who date back to "Enter the Wu-Tang (36 Chambers)." Performances of songs from that landmark hip-hop debut are an integral part of the nearly two hour set, although right from the start this results in a few awkward moments when Ol' Dirty Bastard's verses come up. After all you can't exactly have the Clan performing "Da Mystery of Chessboxin'" and suddenly pretend Dirty's energetic performance from verse four no longer exists; especially not in front of a rabid crowd of Wu-Tang fans dipped in their Wu-Wear and sporting Wu tattoos. As a result the whole Clan stands on stage while the record plays, lip syncing or rapping along to Dirty's verse, until Ghostface cracks a big smile when ODB says "INTRODUCING THE GHOST, FACE, KILLAHHHHH!" I had a similar experience seeing Ghostface live in concert, as Ghost was clearly very fond of Ol' Dirty and still misses him. At the Omaha show he rapped along to ODB's "Shimmy Shimmy Ya" as the DJ spun it for him, and the SAME THING happens here in Montreux. It's always going to be strange but I'd rather the Clan pay tribute to ODB than forget him.
With such a big catalogue of Wu-Tang albums collectively and individually, there's no shortage of material to select from to perform on stage. As a result many cuts from solo albums are showcased, from Method Man's "Bring the Pain" to Ghostface's "Cherchez LaGhost" to Raekwon's "Ice Cream." The highlights are definitely when the Clan do their biggest "posse all in" songs from the group albums though, as the crowd goes absolutely buckwild to hear classics like "Protect Ya Neck" and "Reunited." There's only one problem with this set though, and it's not hard to figure out what it is even before playing the DVD when you look at the back cover and see THIRTY-TWO songs listed. Even if every single track was exactly three minutes long, 94 minutes would still come up a little bit short, and there are plenty of Wu-Tang group songs that easily top the five minute mark. Add in the fact there is banter with the crowd between songs, DJ mixing between other songs, and a long amount of time spent doing call and response and it's not hard to see nearly all tracks are going to be cut short. I know it's never going to happen at a rap concert like it does at rock shows, but just once it'd be nice to hear three full songs in a row.
"The energy, you give to us, we gon' give that shit back to y'all." Method Man doesn't have much to worry about when he makes this statement right before performing his part of "Da Rockwilder," because the crowd in Montreux has been following their every move, waving their hands for every song, and jumping like crazy for the whole show. Being anywhere near the front of the stage had to feel like a mosh pit, but despite the roughneck behavior, several dozen females still managed to work their way up to the stage as the instrumental to "Got Your Money" played to show their asses to the Clan and the crowd. Ending the set on "Gravel Pit" seems a slightly curious choice, particularly after having just performed "Triumph" and "Impossible," but it's not as if it's a whack track - just not one of their biggest hits ever. It hardly matters to Montreux because the whole crowd is into it and jumps off as energetically as any point in the show if not moreso due to the high speed beat. The exhausted and vocally raw Clan still keep up with the tempo nicely and when you put it all together they definitely finish on a high note. Out of all the Clan, the members who sound the most like they do on wax are Meth, Ghostface and RZA. The one who sounds the least like himself is U-God - you'd almost think a clone or alien had taken his place. There are no extras on "Live at Montreux" but none are really necessary. I give a small deduction to the producers of this DVD for abruptly cutting off the set to roll the credits without letting Wu-Tang say farewell but overall if you live for Wu-Tang and love to watch a live concert "Wu-Tang Clan: Live at Montreux 2007" is for you.
Content: 7.5 of 10 Layout: 8.5 of 10 TOTAL Vibes: 8 of 10
Originally posted: March 3, 2009
source: www.RapReviews.com