Drake :: So Far Gone EP
:: Young Money Entertainment
as reviewed by Steve 'Flash' Juon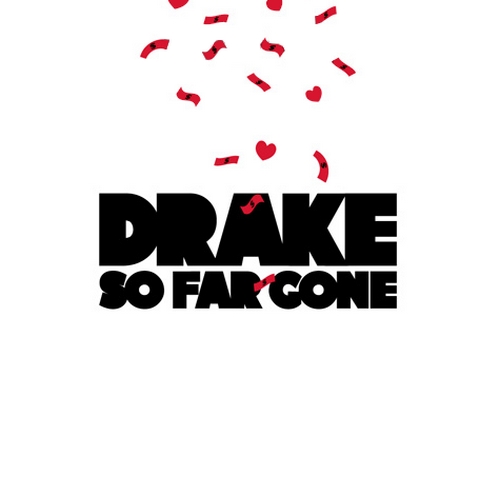 Originally released as a promotional mixtape earlier this year, Drake's release could have maintained that unofficial status had "Best I Ever Had" not blown up to a RIDICULOUS degree. Knowing that a full-length release was still a long way off but wanting to capitalize on the marketability of the song, "So Far Gone" was shortened to an EP containing five of the original mixtape tracks and adding two new songs - the Needlz laced "I'm Goin' In" featuring Lil Wayne and the DJ Khalil produced "Fear." Thankfully both Drake's current hit "Successful" and "Best I Ever Had" made the cut. Arguably these two songs are worth the price of admission alone, but let's take a look at the two new tracks starting with "I'm Goin' In." It's not surprising his Young Money co-hort Weezy would jump on the EP somewhere, but he also gets first verse:
"Hello motherfucker hey hi! How ya durrin?
It's Weezy F baby, come to take a shit and urine
on the toilet bowl bitches, pussy-ass niggaz
Stompin on this beat like a motherfucker sick
My bag to the brizzle, hat to the rizzle
I'm so official all I need is a whistle
Bitch named Crystal, let her suck my pistol
She opened up her mouth and then I blow her brains out
You ain't met a nigga like me, you probably never will
Riders rollin with me like 11 wheels
Find out where you live, kill you in the kitchen
The feds tryin to clip us, but we ain't even trippin
I'm goin in!!"
Weezy adds a little extra Auto-Tuning to his vocals as he repeats "I'm goin in" over and over again during the chorus. The beat is simple and electronic but bass heavy and enjoyable. What does Drizzy have to add?
"First off, you know what it is if you heard Drake
Makin hoes wobble like a bridge in a earthquake
Never see me out, cause I live in my workplace
I give you the bid'ness so button up your shirt straight
Look at where I landed, you would think I planned it
I'm just doin me and you can never understand it
Chicks get hammered, big dick bandit
Money flowin like a slim wrist, no bandage
Blowin purple clouds nigga I'm so sky high
I ain't cuttin anybody slices out of my pie
Outta this world though, I'm so sci-fi
And I don't sit still, I keep it movin like a driveby"
Surprise surprise though, Young Jeezy comes in on the third verse to get a little brag too! His contribution is not unwelcome, and on the whole this new song is just fine. It's nothing but three young rich rappers showing off their swagger, but the pounding rhythm and the powerful personalities make it a winner. What about "Fear" though?
"Uhh, this is me, still the same
They want the hits, I play the game
No Auto-Tune, but you can feel the pain
It all comes spillin out like I hit a vein
Whattup lil' bruh, whattup Slum Vill'
I hope you know that y'all the reason I have fun still
And fans thinkin that we all signed for one mill'
Equal opportunity rappin, that shit is unreal
That ain't how it works, that ain't how it goes
And I be gettin high just to balance out the lows
And I could use a writer just to balance out my flows
But I never share my thoughts, this is all a nigga knows
And every time I try, it opens up my eyes
These verses are a chance to be remembered and reprised
And I will be performin this as long as I'm alive
So every word I utter will be mine"
The clear winner of the two new tracks - Khalil's beat has a very understated drum track, a lightly played melody, and multiple layers of sounds and effects that weave in and out as Drake shares his personal thoughts and explains his fears, noting he tends to "pop bottles cause I bottle my emotions." Et tu Kanye? Perhaps you should open up a little more and open up the cognac a little less. I digress. The songs that were already previously available on "So Far Gone" are a winner and the new songs don't bring Drake down off the high cloud he's already on, so the only drawback to this OFFICIAL release is that he didn't include more songs from the original.
Music Vibes: 9 of 10 Lyric Vibes: 9 of 10 TOTAL Vibes: 9 of 10
Originally posted: September 15, 2009
source: www.RapReviews.com