Cormega :: Born and Raised
:: Legal Hustle/Traffic Entertainment
as reviewed by Steve 'Flash' Juon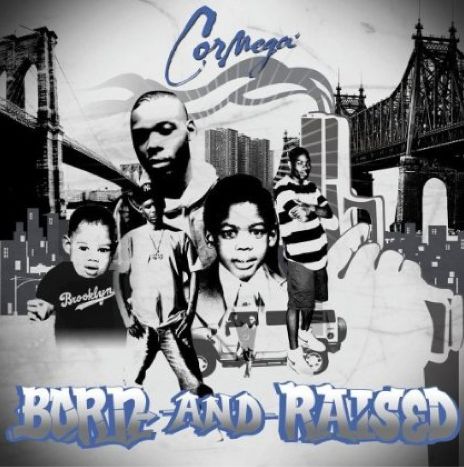 As much as I was looking forward to reviewing this album, I'm honestly at something of a loss trying to write the intro here. I think back to all the things I've written about 'Mega for ten years and running and it's hard to avoid copying myself. Hardcore underground favorite? Check. Most underrated from Queensbridge? Check. Victim of record industry politricks and bullshit? Check. Love/hate relationships with rappers from his own project? Check. Dope albums with poor distribution? Check. Still looking to come up this year? Check. Check. Check. In the end it doesn't matter what I come up with though - it's all about what 'Mega Montana has to say, and after all these years he's still spitting verses that are emotional and personal. He never shies away from giving you the unfiltered truth.
"Life's a confusing search
From birth, 'til you lay in the cold black earth
And your soul is reunited with the universe
Supreme peace, all a nigga ever knew was hurt
It's like every colored child in the womb is cursed
to be labelled as a thug a criminal or worse
And it pains me to see, anguish in me
Explaining the paragraph laid in the beat
I epitomize a rough life, hopin the judge might
show compassion we were movin crushed white
My man got caught with all 4's that wouldn't bust right
plus marked money, you could say he had a rough night
Who laws enforced when you standin in court?
Remand to the D's, seized the ki' and half of that vanished
Life is deeper than you'll ever understand it
Sometimes I wonder how the FUCK I ever managed"
The above verse opens the Lil' Fame produced "The Other Side," one of the illest tracks on Cormega's new album "Born and Raised." Ill tracks are not the exception on this release though, rather the opposite's true. If you find a bad joint among these fourteen songs, you let ME know. The production list reads like a who's who of hip-hop's favorite beat kings over the last decade plus. L.E.S. takes it to outer space and back down to earth again on "Girl." Havoc takes it to a beautifully strummed level of smoothness while trading thoughtful bars with 'Mega on "Love Your Family." Pete Rock's come along way since his cliched horny horn days, as "Live and Learn" sparkles and tinkles even as 'Mega spits a rap so dirty it might have been recorded on the day room phone. Large Professor wants to take you on a "Journey" even while DJ Premier tries to "Make it Clear" that Cormega is forced to play a "Dirty Game." Incidentally either one of those tracks sounds tailor made for Guru, so despite the fact GangStarr is officially done, this is about the time that they ought to kiss and make up so he can cameo on a 'Mega remix.
When you say 'Mega though, it comes to mean more than an abbreviation for one of Queensbridge's finest, particularly on this album. "Mega" is slang for bigger, larger, greater, more than you bargained for, and this album's finale "Mega Fresh X" certainly lives up to that in EVERY respect. In a span of five minutes that goes by far too fast, a list of New York's all-time rap greats join Cormega on the mic: KRS-One, Grand Puba, PMD and Big Daddy Kane. As if that wasn't enough, Buckwild produces the track and DJ Red Alert hosts the proceedings. Cormega has always professed to be one of the realest from NYC specifically, the East coast generally, and hip-hop as a whole globally, but he's been around for so long now he doesn't need to do it any more - his fans can do it for him. The Cormega of "Born and Raised" is calm, composed, crispy and clean. He doesn't have too many other guests on the album, and he doesn't really need to. Lil' Fame spits on the Easy Mo Bee produced "Get it In," Tragedy and Havoc appear on DR Period's "Define Yourself" but otherwise it's Cormega's show as it should be. Instead of searching for more words to offer you about this album that would probably be cliched platitudes, I encourage you to search for Cormega's "Born and Raised" and preview it yourself. If this isn't your first Cormega album you already know, and if it is you won't need long to be convinced this is a 2009 album you shouldn't miss.
Music Vibes: 8.5 of 10 Lyric Vibes: 8.5 of 10 TOTAL Vibes: 8.5 of 10
Originally posted: October 20, 2009
source: www.RapReviews.com