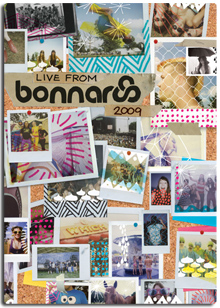 Live From Bonnaroo 2009
Label: Big Hassle Media/Axis Operations
Author: Steve 'Flash' Juon


Bonnaroo is a word made for hip-hop. Broken down to its 9th Ward roots, bonnaroo literally means "the best of the streets." You can't know hip-hop without knowing the streets, figuratively or literally. Rappers love the streets and would never leave, or hate the streets and would never go back. Streets are mean, streets are green, they show no love even if you love them back, and that's where all your friends are at. A bonnaroo hip-hop artist could brush the dirt of Jay-Z's shoulders and then shove him aside - he (or she) would be the one running this town tonight. The funny thing is that the Bonnaroo Music and Arts Festival is decidedly NOT from the streets. You're not going to New York, Los Angeles or even New Orleans for this one - you'll be planning a road trip to Manchester, Tennessee, population 8000.
While there are not a lot of streets to be from in Manchester, what they lack in population they make up for in hospitality every June with a multi-day musical party that draws rave reviews from critics and fans alike. Festival organizers originally thought that it would be a jam band event, but as Bonnaroo has gotten bigger over the years so too has the line-up of acts that perform during the show. As it turns out 2009 may be the most "street" that Bonnaroo has ever been as hip-hop favorites from the Beastie Boys to P.E. to Snoop Dogg got their jam on, supported by artists like Raphael Saadiq, Phish and Santigold. As such I couldn't pass up an opportunity to review an early copy of this DVD - so early that we can't even give you an Amazon purchase link for it as of December 8th - one will no doubt be added to the review after the fact.
There's not much to the main menu of the DVD interactively - it's jut a corkboard with a bunch of polaroids and post-it notes. Zac Brown Band from the festival plays in the background and if you stay on the home page long enough for it to end nothing else happens - the song doesn't even loop back around again. Odds are you won't be there long enough for that to happen, but it's still fairly static. On the flipside you don't see many DVD menus where you are scrolling through post-its and polaroids to make your selections, so props for creativity. There aren't any bonus features to speak of other than a trailer of said same festival, so you can either fiddle with the audio options, jump directly to 1 of 16 chapters or just push play.
A brief opening video shows us the festival being set up while people fly and drive in from all across the country to attend, right before we jump into Andrew Bird performing "Fitz and the Dizzyspells" on the Which Stage on a sunny Sunday afternoon. Yes the Bonnaroo Festival definitely has a sense of humor - the main stages for bands are called What Stage and Which Stage, and the performance tents are called This Tent and That Tent. "Where is Public Enemy playing?" "I'm not sure, they're either at This Tent or That Tent." I'm sure that joke is much funnier if you happen to be drinking and partying at the Festival, which no shortage of people do - it's estimated Manchester's population swells to over 100,000 when Bonnaroo's in town. I can't say Andrew Bird is exactly my kind of group, but I don't hate what they do either. Thankfully Santigold is up next performing "L.E.S. Artistes." She accepts some bling bling from someone in the front row before she starts, then proceeds to rock it out in a purple jacket and tight purple pants, declaring "you guys are the shit" based on their enthusiastic response to her show. While it's a good song performed well, she doesn't have a whole lot of stage presence - she just stands in one place a lot.
The same can not be said of the Beastie Boys though, performing on the What Stage on a Friday night. MCA, Ad Rock and Mike D jump up and down, run around and get everybody involved as Mix Master Mike suddenly changes the mix midstream and has the Boys rapping over "Uzi (Pinky Ring)" by Wu-Tang Clan.. or the original "Parade Strut" it sampled from. It works either way. It's not hard to tell the Boys have been rocking live stages for over 20 years. This takes us to a montage of photos taken during the festival as a segue to Elvis Costello with Jenny Lewis and Her Sound performing "Go Away." More than anything else on the DVD so far, this is not my bag, so I'm chaptering past it to Ben Harper and Relentless 7 performing at The Other Tent. "Hey dude, it's not This Tent, or That Tent, they're at The Other Tent!" Now that I think about it that joke would get really old after being at Bonnaroo for a few days. Not really my thing either so I skip ahead to Cage the Elephant rocking out to "Ain't No Rest For the Wicked." I'm still not quite clear on whether these guys want to be hip-hop or rock, because the lead singer is definitely busting a rap on the track (even moreso when you hear the CD version) but it's hard to deny the song has a catchy hook. I'm also not clear why they gave us a full minute of him putting on a hooded jumpsuit before their set when he immediately takes it off and lets it hang down around his waist, long before this sweaty song was performed.
Speaking of the segue sections, it's nice to hear from concertgoers and patrons talking about what the experience is like, but it also suggests that a documentary ABOUT how Bonnaroo came to be such a big event and why people love going or performing would be just as interesting as the live concert footage. It certainly seems they filmed enough of that to have as cutaways that they could have at least done a short bonus feature, but perhaps a future DVD of the Bonnaroo Festival will include a second disc talking about the history. It's also a bit telling that even though Bonnaroo has gotten more diverse over the years, the majority of the crowd still looks like white college kids and 30-something hipsters. There are more people of color on stage than in the audience. The content tends to skew that way too - you've got Coheed and Cambria with their heavy metal sound, the high pitched electronic sound of Passion Pit, the country twang of the Del McCoury Band and whatever the heck you call what The Decemberists are doing. Hip-hop heads will be skipping a lot of chapters just to get to the rap related portions most relevant to their own views, which may be why not many of them will pick this DVD up.
For the hip-hop heads, chapter 10 with Snoop Dogg's "I Wanna Love You" is definitely not to be missed. If you had any doubt how mainstream Snoop has become since his early 187 on 'em days, just look at the size and composition of the large crowd there to watch him rock. For how funky they get with the bass and the beat, I can also highly recommend Phish on chapter 14 and Raphael Saadiq on chapter 15. The DVD seems a little short in the end, and even though we get a full song from every band featured, some were clearly worthy of being featured twice while others may not have deserved the one spot they got. To condense the amount of material they shot down to one DVD must have been a hell of an effort though, so I commend the producers of "Live From Bonnaroo 2009" for the editing job they did. The quality of the video they shot is excellent too, unlike some of the grainy, blurry and poorly lit live concert video you can get on other concert videos. Unfortunately the Beastie Boys performance in particular makes me a little selfish, as I would like one DVD of their ENTIRE set, as opposed to just one song FROM that set. If you expect this one to be heavy on the urban atmosphere and sound you're going to be disappointed - that's not the streets of Manchester. "Bonnaroo 2009" brings the streets of Manchest to you - a little bit rap, a little bit funk, but mostly country, jam and rock.
Content: 6.5 of 10 Filming: 8.5 of 10 TOTAL Vibes: 7.5 of 10
Originally posted: December 8, 2009
source: www.RapReviews.com