Gucci Mane :: The State vs. Radric Davis
:: So Icey Ent./Atlantic Records
as reviewed by Louis 'Delicate Beats' Cloutier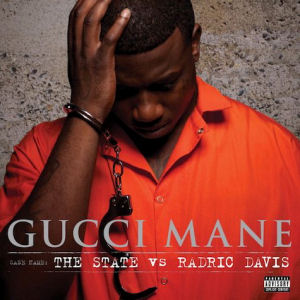 Hip Hop is like pro wrestling in more ways than one. Yes, there is the fake beef. Another occurrence that can be observed in both disciplines is the following: every once in a while, there comes along an over-pushed, under-talented individual who has a rapid rise to the top for no other reason than having the right quality at the right place and time. In wrestling, you have seen this happen with the Ultimate Warrior and Lex Luger. The same can be said in Hip Hop for the likes of Ja Rule and Mike Jones.
The first time I heard Gucci Mane was on his Young Jeezy-assisted hit single "Icy". Apparently, there was more to this song than another insipid ode to jewellery. A not so fake beef erupted between Gucci and the ultra popular Jeezy and serious drama ensued. On May 10 2005, Gucci was attacked by a group of men alleged to be associates of Jeezy and murdered one in self-defense.
Because of this and other legal troubles, Gucci Mane went to jail. The stint in prison did marvels for him. Ever since he came out his momentum has been steadily going upward, much to my surprise.
Seeing as this is a review for "The State vs. Radric Davis", I'm guessing that by now, you know what I'm getting at. Akin to the rappers (and wrestlers) I mentioned earlier, I just cannot seem to see what it is others see in Gucci Mane. He's not especially lyrical. Not particularly charismatic. Why him? Why is he the chosen one? It is with that in mind that I decided to review his new album, and thus take a closer look at this new sensation.
Given the circumstances, this has to be considered a make or break LP for Gucci Mane. Asylum / Warner Bros. treated it as such, and have given him the budget necessary to recruit many superstar producers: Scott Storch, Polow da Don, Jazze Pha and Mannie Fresh. For the most part they do right by him, except for Jazze Pha who has the distinction of producing one of the worst songs on the album ("The Movie"). The others all supply Gucci with solid if unspectacular production. The most remarkable of these tracks is the second single, the Usher-assisted "Spotlight". Here, Gucci spits dubious lyrics at the ladies:
"Baby, we okay-ay?
Where you want to go today?
No, she not a prostitute
But if she was I'd have to pay

Say, lay, can you stay?
I sex you a couple days
Tell your girl no need to front
She wants to participate"
How romantic.
In the midst of all this newfound fame, Gucci seems to have found little time to make songs with long-time collaborator Zaytoven. He shows up only once on "The State vs. Radric Davis", for the uneventful "I Think I'm in Love". Instead, the core sound of this very southern LP is supplied by producers FATBOI and Drumma Boy.
The first creates some of the best beats heard on the album: the first single "Wasted" with Plies, "Bad Bad Bad" with Keyshia Cole and "Sex in Crazy Places" with Bobby V, Nicki Minaj and Trina. There is a light-hearted goofiness to each of these songs, and it is a style that fits Gucci well. Furthermore, he is joined by artists that complement his style rather than steal his spotlight.
Drumma Boy, on the other hand, is not as fortunate. His beats are well made, but their dark and serious tone highlight Gucci's flaws as an emcee. He is not lyrical or eloquent. In these settings, he easily gets outshined by the more lyrical (Bun B on "Kush Is My Cologne") or the more charismatic (Rick Ross on "All About the Money"). Nevertheless, Drumma Boy produces one of the LP's finest moments, the solid "Worst Enemy." In this song, Gucci Mane gives us the biggest glimpse into Radric Davis, as he daringly tells the world how he feels about his relationship with Young Jeezy:
"The day they tried to murder me, a day I can't forget about
And I don't wish no death on homie. just want him to hear me out
Think about the past and all the many things we talked about
Think about all the people influenced by what comes out our mouth"
Overall, the production on "The State vs. Radric Davis" is highly southern. The music is not very soulful because of the lack of samples and live instruments. However, the mix is superior throughout and the synth arrangements are generally interesting. Ironically, Gucci Mane's new LP sounds like a smoother version of a Young Jeezy record.
Had this been the mid-to-late nineties, "The State vs. Radric Davis" would probably go double platinum. There is unquestionably excitement surrounding this album, and the people who were already sold on the product before it came out will be satisfied. Still, the youngsters will probably laugh at themselves later for loving this. In short, there's nothing seriously wrong with Gucci Mane, but there's nothing seriously right either.
Music Vibes: 7 of 10 Lyric Vibes: 6 of 10 TOTAL Vibes: 6.5 of 10
Originally posted: December 22, 2009
source: www.RapReviews.com