Gully Platoon :: The Great Divide
:: Obese Records
as reviewed by Matt Jost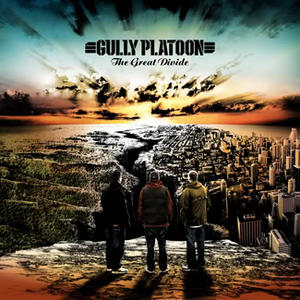 While the name Gully Platoon made me think the Boot Camp Clik was about to deploy a new generation of Bucktown troops, a sticker on the CD's shrinkwrap informed me that Gully Platoon was in fact 'The new powerhouse from Pegz, Dialectrix and Joe New.' If I'm not familiar with either, it is because they all hail from Australia. Pegz is apparently the group's elder, head of Obese Records and solo artist with three albums under his belt. Dialectrix and Joe New (AKA Two Toes) used to be in a group called Down Under Beats and both have solo albums to their credit as well.
What's instantly remarkable about "The Great Divide" is the classy artwork of the otherwise simple digipak. These guys are serious about their product. But the album's visual presentation also poses a riddle to a non-Aussie like myself. The cover shows Gully Platoon overlooking a landscape in which a deep rift separates an urban sprawl on the right and deserted mountain ridges on the left. Is this a reference to some type of sociocultural divide within Australia? While Pegz hails from Melbourne, his partners originate from Blue Mountains, a mountaineous region bordering on Sydney's metropolitain area. There's also the Great Dividing Range (or the Great Divide for short), the continent's eastern cordillera, which you'd actually have to cross if you made a beeline from Melbourne to Sydney. Apparently the Great Divide prevented early European settlers from going west and taking possession of the rest of the continent. As stimulating as the whole issue is, the rap album "The Great Divide" leaves those particular questions unanswered. Oh there's a title track alright, but it revolves strictly around personal relationships.
Despite this minor conundrum, Gully Platoon are usually straightforward in their approach. To great effect, actually, in "Coat of Paint," where the three rappers reminisce on the deplorable housing conditions they experienced. Over a bumpy but banging groove from Plutonic Lab they make you feel their current motivation, the lamenting verses being followed by a determined chorus:
Pegz: "I used to live in a small apartment
my bedroom looked like a laundry basket
my lounge room looked like the boys were plastered
when the toilet flooded and destroyed the cupboard
My landlord looked like Kenny Rogers
such a tight ass, I couldn't squeeze a penny from him
I can live with crackheads and cat piss on the stairs
but if you don't fix the heater, I ain't givin' you rent
Upstairs babies cry, couples fight
downstairs people gettin' drunk all night
next door, I know you got somethin' to hide
I hear the knock-knock, another hustle 'n grind
But that's life, gotta content with the hardship
empty pockets and a '70s bar fridge
Slumdog Millionaire destined for stardom
I work hard and won't forget where I started"

All: "My whole life needs a coat of paint
a couple nails won't hold me straight
Had to fix that, shape up, change those ways
uppin' the ante till we're catchin' a break"
"Coat of Paint" has been referred to as an 'accidental' radio hit, an honor that it fully deserves. If the success of "Coat of Paint" came as a surprise, "Nothing to Lose" is quite a different beast, particularly when you have seen the video, which features the Platoon fully decked out in military gear and riding tanks. Whether intended or not, "Nothing to Lose" has the makings of a club track, the beat by J Smith & Dutchman dominated by jungle drums that chop sharper than a machete, the whole still sounding organic despite clanky and bleepy elements. A firm female voice belting out "Nothin' to lose" marks a good contrast to the rugged flows of the rappers. In military jargon, musically this is a stealth attack, and a successful one at that.
But while the hook suggests that GP are "not the same old, the lame old up in the booth (...) seekin' fame with the same old radio tune," the intentions here are clear. You don't put out a single with a big-budget video and don't expect the song to enter the airwaves and the charts. In case "Coat of Paint" turns out to be the song that brings fame to the name Gully Platoon, they can consider it poetic justice when the low-budget approach prevails.
Part two of the aforementioned clip accompanies "Bank Job," a mechanically grooving track whose content is more light-hearted than it first may appear when they detail how they're going to spend the loot: "Start a charity fund for the Brazilian forest / send a letter to the British prime minister's office / demandin' freedom for our country like William Wallace / then vanish like comets to the loneliest planets / spend the rest of my days in a harmonious balance."
Another conceptual joint is "Future," a classic mixture between navel-gazing and universal outlook in the vein of Vinnie Paz or Ill Bill:
"When they bury us in a grave the legacy lives
we're a message in a bottle on a memory stick
wherever we drift songs'll be contemporary scripts
[...]
I travel through time like Doc in the TARDIS
subconsciously march to the top of Masada
stop Marvin from bein' shot by his father
and philosophically question the Gospel like Darwin"
Bringing the crew back to the present and the past is "Stripes," a slightly sniveling but also self-analytical account of the hard times they've gone through. "Late Nights" lives fully up to its name with a truding, moody, Jehst-sampling beat by Plutonic Lab and lyrics that perfectly capture nocturnal brain-wrecking: "Conscious of the sorrow and pain / promisin' God that tomorrow will change / gimme a sign and I follow your reigns / my proclamations are solemnly phrased." "Human Graffiti" may be the album's most emotive track, with singer Cisco Tavares delivering a somewhat corny hook to make sense of the title ("Hangin' around / I been up and I been down") and the song entering emo/pop/rap territory. Still it highlights the Platoon's non-conformist social stance. Dialectrix:
"We live life without choosin' a strategy
lost in the turns of our usual tapestry
pursuin' a sanctuary of delusional chastity
as we move through a gallery of human anatomy
choosin' between addin' to the future catastrophy
and doin' somethin' different from consumer reality"
"The Great Divide" is not all world-weariness, though. The crew mark their presence on "Gully Kicks," where J Squared provides them with an MOP-like backdrop with plenty of jagged scratches to fire up the relentless lyrical barrage: "My family members got their heads in the sand / My mom asked: 'Are you going to a terrorist camp?' / I build a terrorist camp with a pen in my hand / and mentally drop the bomb on American banks." Plutonic Lab plugs in the electric guitars for "For Those That Don't Know," where the MC's once again display their natural chemistry in what Pegz calls "a telepathic bloodsport."
"The Great Divide" is front to back a man's world, from the brawlic songs to the pensive ones. To the point where one of the rare references to women is that they're "gettin' Dirrty in this bitch like Aguilera." Gully Platoon is definitely recommended for fans of Army of the Pharaohs and La Coka Nostra, but more than just mimicking American idols, Pegz, D-Trix and Joe New create a fresh record that confirms the good things you hear about Oz rap.
Music Vibes: 8 of 10 Lyric Vibes: 8 of 10 TOTAL Vibes: 8 of 10
Originally posted: December 22, 2009
source: www.RapReviews.com