DJ Signify :: Of Cities :: Bully Records
as reviewed by Patrick Taylor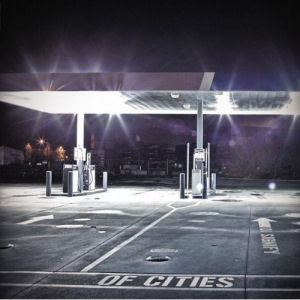 "Of Cities" by Brooklyn producer DJ Signify came out last year at this time, but I only heard about a few weeks ago from one of the many year-end lists floating around the web. I not only slept on his last album, I've slept on his entire career. It's not entirely my fault, however. There's not exactly a wealth of information about him on the Internet. His Wikipedia entry is two sentences ("DJ Signify is a hip hop producer from New York City. He is a member of the 1200 Hobos") and a discography that only goes up to 2005.  He has a blog at djsignify.blogspot.com, but it hasn't been updated since October 2007, and his website, www.djsignify.net, is just a promo page for his record, with links to his Myspace page, which is also several years out of date, and his record label.
The only place I was able to find any real information about him was at www.rcrdlbl.com (http://rcrdlbl.com/artists/DJ_Signify/music), which has a download of "Low Tide" and a lengthy bio. From that bio, I learned that Signify has been around since the mid-nineties when some of his mixtapes caught some buzz. His debut album was in 2004, which makes "Of Cities" his sophomore release.
Signify lists a lot of diverse influences on his Myspace page that include punk bands (the Urinals, Suicide), proto-punk (Monks, Stooges, Magazine), jazz (Sun Ra, Miles Davis), new wave (Joy Division), and of course, hip hop (Wu Tang, Eric. B. and Rakim, early Ice Cube, and "of course classic late 80's/early to mid 90's hip hop"). Two bands that stick out are Can and Kraftwerk, German bands often associated with Krautrock. Krautrock was a term given to the music made by several experimental German bands in the 70s, like Can, Neu! and Kraftwerk, who incorporated electronic elements into their music and featured the steady, pounding "motorik" beat. The motorik beat was meant to reference the sensation of driving along on the German autobahn at 100 miles an hour. If you are looking for a recent example of it, look no further than "The Sickness," the opening track on "Of Cities."
It starts off with the hum of a synthesizer, then a repeating bass line, and finally the ticking of a drum machine, over which lonely piano notes make up the entire melody. It evokes the sensation of starting your car and then driving down a lonely city street late at night, when you are the only one on the road. In other words, the motorik beat. Signify works a variation of the beat on "Delight to the Sadist," but gives it a 90s twist that reminded me of the Crystal Method. The motorik makes a final appearance on album closer "Hold Me Don't Touch Me," this time getting an 80s reworking. On all three songs, the motorik beat helps to capture the mood of the songs and the album, namely the loneliness of a city late at night.
If the German art rock connection isn't selling you on "Of Cities," how about Aesop Rock? He's featured on two tracks, the lone rapper on the album. I don't own any of Aesop Rock's albums and I've always been skeptical of him, unsure whether he is brilliant or totally annoying. On "Low Tide" he makes a pretty solid case for himself, mixing up metaphors and flirting with the absurd on lines like:
"How many soldiers made it home today?
Damn, that's freedom with a fee
I was my face in the sea
See?"
There is something dark and sinister in both the production and Aesop Rock's delivery, and even more so on Aesop's other track, "Sink Or Swim." The beat is slowed down, with booming drums and Aesop rapping like he's underwater:
"I was on some 'all in together'
Whether or whore
Whether beggar
Whether addict
Whether leper
Come and cut us out your sector
We could build a better network
Without all the 'yes sir, yes sir'"
DJ Signify teams up with frequent Aesop Rock collaborator Blockhead on "Costume Kids," which sounds like something off of Blockhead's recent album "The Music Scene." Clearly they all roll in the same circles. In many ways "Of Cities" is similar to "The Music Scene." Both albums approach hip hop with a broad sound palette, offering sample-based hip hop that uses samples not generally associated with the genre. Both incorporate elements of electronica and downtempo music, and both are instrumental albums instead of beat records. "Of Cities" is different than Blockhead's album in that it is darker and more cohesive as a project. Despite the variety in sounds on the disc (the Indian elements of "Bollywood Babies," the 90s vibe of "1993," the abstract glitch of "The Gods Get Dirty"), "Of Cities" is a true album, carefully curated and sequenced and meant to be listened to as a whole. Putting this on shuffle in your iPod would be doing it a disservice akin to watching a David Lynch film while you are cooking dinner. Like "Mulholland Drive," "Of Cities" is moody, cinematic, and deserving of your attention.
Music Vibes: 8 of 10 Lyric Vibes: 8 of 10 TOTAL Vibes: 8 of 10
Originally posted: January 26, 2010
source: www.RapReviews.com