B.G. :: Too Hood 2 Be Hollywood
:: E1 Entertainment/Atlantic Records
as reviewed by Steve 'Flash' Juon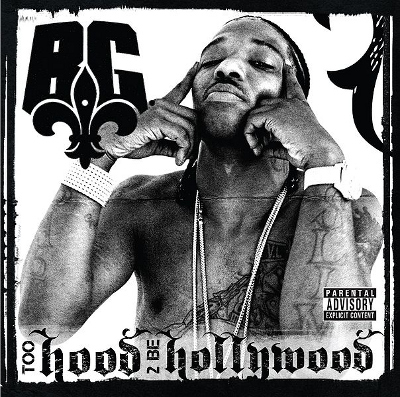 Chris Dorsey better known as B.G. can lay claim to the title "respected veteran" at only 29 in an industry where most people get that after 40. He's been able to earn that rank due to being an original member of Cash Money Records and one of the most popular artists on that label as it rose to prominence in the 1990's. The story of how dictionaries everywhere had to add a definition for "bling bling" solely because of him is often told but completely true, putting B.G. in a rarified air of pop culture relevance right next to Homer Simpson. He has over a dozen albums as a solo artist or group member, millions of records sold worldwide, and his N'Awlins drawl is one of the most easily identifiable voices in hip-hop today.
The bad news is that B.G. is one of the most consistent artists in all of rap music. Consistency would normally be a good thing given many rappers go from brilliant to boring from one album to the next, but you have to add the word "mediocre" to truly understand the problem. Mr. Dorsey may be the only artist reviewed on RR who gets 6 out of 10 almost every time out, meaning he's just slightly above the average lyrically and musically. One might suspect the scores were suspect if he had just one hater on our staff covering his shit, but a half-dozen different writers from different parts of the globe all independently came to the same conclusion. That's a bit unnerving but it's definitely telling - B.G. just doesn't improve. He's gotten into a comfortable groove where his rap is just good enough, his beats are just good enough, and his loyal fanbase will ensure several hundred thousand units or more will be sold in stores. He just doesn't have any incentive to get better. "Too Hood 2 Be Hollywood" finds B.G. right back in his comfort zone, and songs like "My Hood" epitomize the best and worst of his consistency:
"B.G. still the same ol', same ol'
Nothin changed, play the game how the game go
Pants sag, white tee and a Kangol
I ain't gotta hustle but I still hang though
A few hate, that's what I ride with that thang fo'
It's goin down if they run up on that Range Rove'
It's goin down if they test a nigga manhood
Every ghetto in New Orleans, I done ran through it"
Mr. Dorsey is by his own admission stating that nothing ever changes or ever will. The funny thing is something DID - Mannie Fresh produced the beat and pushed this one into synthesized horn headnod territory. In fact a lot of songs on "Too Hood 2 Be Hollywood" show B.G. is aware he needs to break out of the doldrums and move beyond mediocrity. "Ya Heard Me" finds him reuniting with old Cash Money comrades Lil Wayne and Juvenile as Cool & Dre provide the beat and Trey Songz provides a hook. It's as close as you'll get to a Hot Boyz reunion in 2010 and it works. The much missed T.I. shows up on "4 a Minute" and the understated Scott Storch beat shows he still has it as a producer despite his personal and financial troubles. The posse-all-in "Nigga Owe Me Some Money" will undoubtedly rock every Southern mixtape thanks to C-Murder, Lil Boosie, Soulja Slim all getting their shine on. The best song may be the bonus track "I Hustle" featuring Young Jeezy, a J.U.S.T.I.C.E. League banger that weaves multiple layers of melody while the braggart B.G. says "I go to jail, fuck it, buy the case with the money." These two have well met natural swagger on the beat.
For all of this album's strengths, "Too Hood 2 Be Hollywood" is a bit excessive at 17 songs long, and there are multiple solo tracks showing evidence B.G. hasn't evolved all that much. When Mr. Dorsey proclaims "My Wrist Game Is Sick" he's simply stating the obvious - after all he coined the Oxford dictionary definition OF sick wrist game. If he wants to "Hit the Block & Roll" that's no problem - it's the same thing he's been doing for 15 years. We know that B.G. is going to keep it "Gutta Gutta," he always has. It's perplexing because B.G. really isn't a hatable artist - his syrupy voice is pleasing to the ear and regardless of the drawl he's fairly easy to understand. Paired with the right producer B.G. can have a hit single at any time, in any year, and given any chance to review a new B.G. album I won't turn it down. To his credit B.G. does break away from being "consistent" to a small degree on his new CD, but it's such a marginal difference that if this album was averaged in to his whole catalogue you'd never notice it at all.
Music Vibes: 6.5 of 10 Lyric Vibes: 6.5 of 10 TOTAL Vibes: 6.5 of 10
Originally posted: January 19, 2010
source: www.RapReviews.com