Chosen Few :: New World Symphony :: Hiero Imperium Records
as reviewed by Patrick Taylor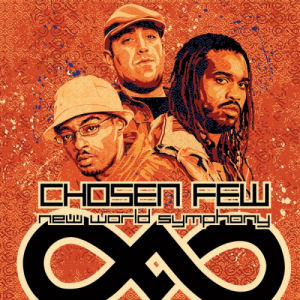 Chosen Few is a group made up of rapper Cold Showda, rapper/saxophonist Charles "Chop" Cooper, and beatmaker Unjust. All three are originally from Ohio, but came to the Bay Area separately to work and make music. After going at it solo for a while, they decided to join forces as Chosen Few. "New World Symphony" is their first album.
Chosen Few are on the Hieroglyphics label, home to Souls of Mischief, Del, Casual, Prince Ali, and Opio. They are the conscious end of Bay Area hip hop, in contrast to the street rap coming out of neighboring labels like Thizz. Chosen Few continue the Hieroglyphics tradition with their jazzy beats and uplifting lyrics. They bring to mind Brooklynatti rappers Tanya Morgan, who also look to early 90s hip hop for inspiration.
The beats are all provided by Unjust, but he mixes it up and the album never feels monotonous or samey. He knows how to keep it funky: he does Bay funk on "Heartbeat," space funk on "King Kong," and laid-back funk on ""Can't Stand Still." Chop contributes his sax skills to create some stellar jazz rap on "Few Are Chosen," "The People," and the instrumental "The People Reprise." Unjust also experiments with different sounds, doing some uptempo dance rap on "Knock Knock," incorporating rock elements on "Elevation," and building hook around an acoustic guitar on "Ride."
The music forms a solid back drop for Chosen Few's message. All three have day jobs that center around helping people in the community: Unjust works with at-risk youth, Cold Showda is a mental health counselor, and Chip is a coach and a teacher. They don't get overly preachy in their rhymes, but their lyrics are insightful and inspirational, offering a mature, intelligent take on hip hop and their community. There's nothing on here that is going to get any of them fired or that would embarrass their employers, and their skills as rappers won't embarrass the kids they work with. They outline their history in "Dreamscape":
"Left the city that I once called home
From a state that helped get Bush elected
Beyond the politics and animated toy soldiers
My block is animated with cops and foreclosures
So I travel across water sand and concrete
In search of the work that the most highest promised me
But due process
Humbleness is priceless"
There are 19 tracks on "New World Order," but not much filler. Phat Kat, Del, Pep Love, Rakaa Iriscience, Opio, Tajai, Piakahn, and Word 4 Word all contribute verses, adding some diversity to the lyricism. This isn't a case of an artist putting on any old garbage just to fill out the length of the CD. Chosen Few have a lot on their mind, and a clear message that they want to get across to the listener. The concept of the chosen few is central to their philosophy. Unjust is quoted in their bio as saying "We want to encourage listeners to empower themselves by realizing that they have the influence to not just choose what music they want to listen to, but the power to carve their own paths and separate themselves from the flock." On "Few Are Chosen," they put that philosophy to music:
"You are chosen
The change you want to see
The life you want to lead
Take responsibility
Make room for your destiny
When your back's against the wall
You've got to heed the call y'all"
"New World Symphony" is a solid debut by a crew that deserves to be heard. Chosen Few's conscious hip hop is a welcome alternative to mainstream rap, and they do their label proud. Be one of the chosen few to listen to Chosen Few.
Music Vibes: 7.5 of 10 Lyric Vibes: 7.5 of 10 TOTAL Vibes: 7.5 of 10
Originally posted: February 2, 2010
source: www.RapReviews.com