DJ Concept & DJ Mickey Knox :: The BYOB EP :: Execute Sounds/The Mix Chronicles
as reviewed by Steve 'Flash' Juon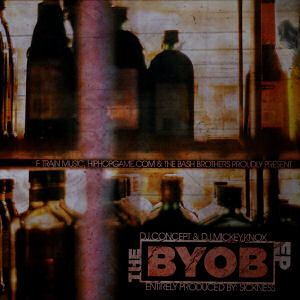 This short album came with an appropriately short press release, one of the quickest reads I've ever received in almost 20 years of reviews. In fact it's so short let's just reprint it here in its entirety:
"The EP is entirely produced by Sickness, an up & coming cat from Long Island featuring brand new tracks from L.E.G.A.C.Y., Kaleber, Typ Ill, Illa Ghee, Chaundon & Little Vic."
The line-up was enough to convince me to check out "The BYOB EP" without any additional hyperbole needed - after all I recognize all of the rappers involved save for Kaleber and Typ Ill. What about this "up & coming" cat Sickness though - can he come correct on the beats or is he just another Fruity Loops basement beat maestro who should have kept his music offline and out of print at all costs?
The opening track "Ya Gone" answers all questions in one fell swoop, as the unknowns Kaleber and Typ Ill rap on the track and Sickness lives up to his name. The dusty beats are reminiscent of a Joe Budden freestyle joint, which is not really a coincidence since Kal himself sounds like Budden's long lost cousin. Is that a negative? Not for this reviewer. Locked in with his co-horts and tied together by Big L samples, this song is a winner.
"When the release date is locked, make sure all the funds are correct
My rhymes is hard, make sure all the drums is wet
I'm like a smart porn star, I cums correct
You smoke more than just weed if you bums thinkin you're a threat
You gassed up! You don't impress me, you wanna test me?
Shit, the post office can't address me
You just dust on my shoulders, when I was young I brushed off boulders
Shut down motherfuckers that was much more older"
Kal is two for two on "Sundown," proving himself to be the star of the show during the limited length of the presentation. Sickness and Kal seem to be channeling the spirit of Slaughterhouse on the track. Aggressive drums meet a dirty bouncing bassline and soulful samples on the hook. The entire presentation would be worth copping for these two joints:
"You need to cross on the green and not in between, damn I'm so mean
Who else you know could bring home a chip with no team?
So-called people in my faction turned they backs then
closed the doors thinkin I wouldn't find my way back in
Now guess who's laughin when I'm passin in that Aston
I got 'em gaspin for air like they runnin laps in Aspen
Now they see me shinin hopin I don't go farther
So they try to jump in my spot, like, like Lil' Mama - hold up!"
The rest of "The BYOB EP" holds up nicely though. Illa Ghee blesses some wailing Sickness' guitar licks on "Hardbody," promising to take out all rappers who "cut cook lift it and bag it or scream in your ad-libs." Typ Ill may be the weakest link out of the entire crew, but a Sick beat holds him up on the EP's closer "Zonin'," mixing Eastern and Western sound types in a harmonious blend. Chaundon and Little Vic's "Story to Tell" is almost over-the-top with the operatic opening, but the scratched in samples settle things down and the track becomes eerily reminiscent of a Jay-Z "Blueprint" joint.
Can I discern a point to "The BYOB EP" other than a showcase for Sickness and his friends? Not really. In fact to be honest it's not clear what DJ Concept & DJ Mickey Knox really had to do with this EP whatsoever, even though they get billing on my copy of it. If their role here is strictly to funnel talent to the masses, they get a pass for doing so. To be fair though not everybody is going to be won over by Joe Budden soundalikes no matter how rugged the beats are, and when you're only operating with five tracks for even one to have a mediocre rap hurts your entire presentation. That's not to say you shouldn't cop "The BYOB EP" since Execute Sounds is willing to let people cop it with their compliments, because for one reason or another you're bound to enjoy 60% of it.
Music Vibes: 6 of 10 Lyric Vibes: 6 of 10 TOTAL Vibes: 6 of 10
Originally posted: March 2, 2010
source: www.RapReviews.com