Blood Type :: MIAliens :: Blood Type Music
as reviewed by Emanuel Wallace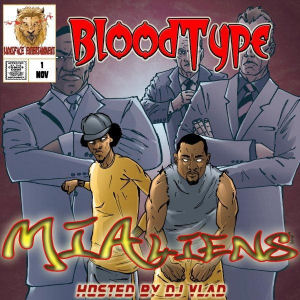 Back in the summer of 1996, Atlanta's SouthernPlayaistic duo released their second album, "ATLiens." It was powered by the lead single, "Elevators (Me and You)" and scored a relatively large hit for Andre (sans the 3000 at the time) and Big Boi. Fast forward to the year 2009 and another southern duo, Chief and Stepson, collectively known as Blood Type are here to represent for the city of Miami with their debut mixtape titled "MIAliens". As one might expect, Blood Type trade rhymes over some memorable tracks from Outkast albums, including the aforementioned "ATLiens" and "Aquemini". Less expected but greatly appreciated is the inclusion of familiar beats from the likes of Dr. Dre, Eminem, A Tribe Called Quest and The RZA. There's also a healthy amount of original beats on the mixtape as well, handled mostly by group member, Stepson.
"MIAliens" kicks off with the same intro from the "ATLiens" album, "You May Die", which is followed by "The Arrival". The latter is spit over No Id's "D.O.A." track and goes through several lists of "what if's" such as "if Lauryn Hill would've lasted", "if the Furious Five kept droppin' messages" and "if Black Star kept shining". The point of the song is to say that if any of these instances had occurred, then we may have not even heard of Blood Type. "Life Is But A Dream" has a sonic and surreal sound to it that is...dreamy. The crew puts interesting spins on Drake's "Successful" and The Game's "Hate It Or Love It". Outkast's beat from "SpottieOttieDopaliscious" is used to tell the narrative of a guy trying to talk a girl into having sex on the first night. "Ronnie Romance" is produced by Stepson and the song itself tells a story from two sides. The first side deals with a gentleman who has resorted to spending all of his money to keep a woman in his life that cares nothing about him. The second verse is told from the perspective of the woman who is taking all of "Ronnie's" money and in turn, spending it on another man. The track from "Da Art Of Storytellin' (Part 2)" is used for the much-too-brief "Look At Yourself". The crew tackles religion on "Our Testimony" and is easily one of the mixtape's standout tracks:
"Have you ever been lied to or just flat out disrespected?
They selected the message, all while the truth gets neglected
And what's projected, is just an image of pure deception
See, they affected your perception, with this damn misdirection
Not to mention, the killing, the tension, all of the weapons
Since its inception, religion has been a mental infection
The world's greatest invention, used for social retention
I'm requestin' your attention as you soak in this lesson
Go home and ingest it, turn around and invest it"
"Downpour" is another Stepson production, built on piano loops and a drum kick. "Relax Yourself" borrows the track from A Tribe Called Quest's "Electric Relaxation" and features the crew spitting a little game to the ladies. "This Ain't Livin'" is produced by Stepson and narrates a couple urban stories about loss. It has a soulful, Marvin Gaye sound to it. "That's How The Game Go" features the track from DMX's "Slippin'". The mixtape closes out with "Prodigy" and "System Failure". The former is produced by Stepson and has a dark feel to it and the claim is made that "we gon be here long after you niggas have disbanded".
Hip-hop in the city of Miami has always been a constantly evolving entity. It went from the Miami Bass sound of acts like Luke and 2 Live Crew to the "Thug" sound of Trick Daddy. As of late, Miami's biggest export has been Rick Ross, but Chief and Stepson are out to carve their own lane with this mixtape. Just as Outkast did in '96 with "ATLiens", Blood Type is out to let the world know that the South STILL has something to say, and if we aren't paying attention, then that's our loss.
Music Vibes: 7 of 10 Lyric Vibes: 7 of 10 TOTAL Vibes: 7 of 10
Originally posted: March 30, 2010
source: www.RapReviews.com