B.o.B :: May 25th :: LRG
as reviewed by Guido Stern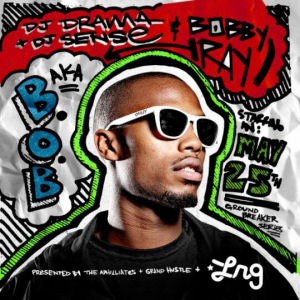 There's no hiding the influence of Andre 3000 on the precious 21-year old B.o.B aka Bobby Ray. Most obviously his moniker calls to mind OutKast's epic hodgepodge of funk, soul and gospel that some, Pitchfork in particular, argue is the pinnacle track of the last decade. Uh, a lot to live up to. Furthermore, B.o.B alternates between rapping, singing and producing, and on songs like 2008's single "I'll Be in the Sky," its obvious B.o.B is working with the blueprint set down by 3000's "The Love Below."
You can also hear traces of Devin the Dude and Kanye West in B.o.B's music, but he's the rare virtuoso who, at his best, is able to transcend pastiche and create a unique sound of his own. When XXL handed out its final grades for its much discussed Top 10 Freshmen of 2009, B.o.B beat out the likes of Kid CuDi, Wale, Mickey Factz and Blu—largely because he kept his mouth shut and continued to release good music, unaffected by the pressure to be more accessible (a trap both Kid CuDi and Wale fell into).
His latest mixtape "May 25th" is a continuation of this highly efficient productivity. It's easily one of the best Gangsta Grillz tapes, and probably the most strangely effective DJ Drama record since Little Brother's "Separate But Equal." I got my hands on the No DJ copy of the tape, so if you'd rather not hear the incessant clamor of "BARACK O'DRAMA!" and "MR. THANKSGIVING!," you might want to seek out the tagless version.
B.o.B is one of the most playfully mischievous emcees currently working, and he wastes no time to subvert listeners' expectations of mixtape conventions. First, the immediately recognizable hi-hats of Mobb Deep's "Shook Ones Pt. II" are heard. B.o.B then talks trivially about the triviality of talking on mixtapes, and then finally goes in on the classic but overused beat. This is a deceiving intro, because the rest of the tape is original beats and the only skits actually serve a function.
The record is admittedly top-heavy, for the most part because B.o.B has the bad habit of dedicating the second half of his mixtapes to solid-but-forgettable platforms for his catchy vocals, here, "The Rain" and "Cool Side." It seems that "May 25th" is meant to be a potpourri of the many styles B.o.B can pull off. He managed to cop beats from Alchemist and Kanye West, and invites J. Cole and Asher Roth as both colleagues and competition. Between the two, B.o.B is clearly more comfortable with introspective self-consciousness on Kanye's "Fuck the Money." Clocking in at nearly six minutes, B.o.B easily outflows Asher and lets the song's stuttering sample carry the chorus. On "Gladiators," J. Cole extends his reign as hip hop's best new scene stealer (see his demolition of Jay-Z and Wale for further proof), while B.o.B. never really gets comfortable.
Elsewhere on the mixtape, B.o.B channels UGK on "Bet I" and flexes his wordplay muscle on the bare-bones snares of "Surprise Me." His mission statement is consistency, and whether rapping, producing or singing, he rarely falters. While not quite up to the standards of his double-disc "B.o.B. vs. Bobby Ray" of yesteryear, this is a damn good appetizer for his debut album, "The Great Adventures of B.o.B," due out May 25th (aha!).
Music Vibes: 7.5 of 10 Lyric Vibes: 7 of 10 TOTAL Vibes: 7.5 of 10
Originally posted: March 16, 2010
source: www.RapReviews.com