Inspectah Deck :: Manifesto
:: Traffic Entertainment
as reviewed by Pedro 'DJ Complejo' Hernandez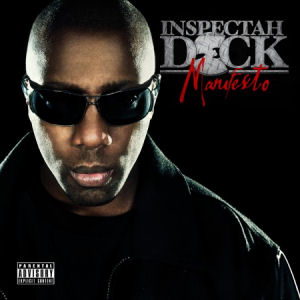 If any member of the Wu-Tang Clan can be considered "underrated," it would Inspectah Deck. Though the man has a history of stealing the show on Wu-Tang albums, his solo career has never reached the heights of other Wu members. Part of the problem came from the fact Inspectah Deck's first solo album came after the first series of critically acclaimed Wu-solos. While "Uncontrollable Substance" was a dope solo album, it came at a time when the Wu's popularity was declining somewhat and failed to reach the legendary status of albums like "Tical," "Only Built 4 Cuban Linx," "Liquid Swords," and "Ironman." The album sold gold, but that has been the height of Inspectah Deck's career as a soloist. Thankfully, the lack of commercial success has not affected Inspectah Deck's solo career or quality of music. "Manifesto" is Deck's fourth solo album and finds him as sharp as he's ever been.
By now, most have heard the Alchemist produced lead single "Champion," and it certainly is a dope, albeit short, track that shows the Rebel INS remains in top form:
"High stream machine, gunk funk trunk slayer
Major pain game hunter, summertime shine
Mind controller, hold a crowd still
Hilltop dweller, sell the garden out
House gang chain, Cuban link blink
Shoes, lose, your can never wear
Stay hard, god rise above
Love, hate, make your choice
Voice like Luther
Future hall of famer, came a long way
Stay fly, I, soldier, Ayatollah
Air bender, send a chill
Drill sarge, hard bottom
Got em hooked, took my time
Grind heavy, ready for the world
Girl please, he's too experienced
Been a don, Avalon size
Wise to it, do it like Nike
Type gritty, city boy
Noid? Never, better recognize
Eyes of the tiger, the firebreather
He the truth, son, the champion"
Lyrically, there isn't a complain to be lodged against Deck as he remains sharp on each and every track. "Born Survivor" finds him hooking up with Cormega and dropping social knowledge over a pounding beat with Obama speeches serving as the hook. "Luv Letter" is as sublime a love song as you'll ever find on a hip-hop album, with a beautifully crafted beat that is equal parts sweet emotion and haunting strings. "The Big Game" is as pop as you'll ever hear Inspectah Deck, with AC delivering an autotune hook that would be at home on any top 40 station. The difference makers are Deck and Raekwon's verses, which ensure the track remains raw and true to the Wu tradition. "Serious Rappin" finds Deck extending his hand to Termanology and Planet Asia, and both deliver the goods over the blaring guitars and stripped drums. The focus here is clearly on the lyrics and Deck holds his own against two heavyweights:
"I'm cold blooded like Rick in his prime
You can seem me prime time at the top spot, sitting with shine
I leave em froze like they sniffing a line
While they bitching and crying
You find me always in position to climb
I swing like Serena, hard as Medina
Speaker beater, beast of
Keep mamacitas muy bonita
I breath ether, 103 fever
Spread through receivers, infect the true believers
Murder rap, spray at your dome
"The killers still lurking"
Killer lights, hand up the phone
He a gangsta, claiming he bold
Real loud with the crowd, but I doubt you could bang on your own
I earned my stripes, I burn for life, I turn your wife
I turn to strike, you heard me right
I learned to fight, I work the night, I splurge the price
I swerve on vice, my word I'm nice"
Deck fills the album with plenty of variety sure to spark a debate as to which songs are the best or favorites on here. "Do What U Gotta" is a soulful anthem that avoids sounding cliché despite its common theme of hustling for ends. "Crazy" condemns and justifies the same behavior, but avoids sounding contradictory as Deck fights with the good and the evil of street life. "Gotta Bang" finds Inspectah Deck teaming up with the Dogg Pound with great results.
With seventeen full tracks, the only complaint one could really have is the overabundance of material found on "Manifesto." When one considers the album lacks any obvious filler and Deck's 3-4 year hiatuses between albums, seventeen tracks doesn't seem excessive at all. The material found on "Manifesto" is, for the most part, superb, with only a handful of tracks that fail to live up to the quality found on the rest of the album. That said, even those less than classic songs are dope in their own right. "Manifesto" contains some of the best songs in Deck's solo career and shows the veteran emcee is capable of adapting to the times while staying true to his style. Overall, Wu-groupies and casual hip-hop fans alike should be satisfied by Deck's fourth solo.
Music Vibes: 8 of 10 Lyric Vibes: 9 of 10 TOTAL Vibes: 8.5 of 10
Originally posted: March 30, 2010
source: www.RapReviews.com