Dirt Nasty :: The White Album :: Dirt Nasty Music/Shoot to Kill Music
as reviewed by Matt Jost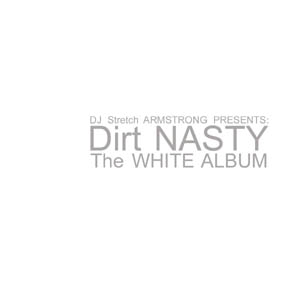 What's funnier, someone known to play vaguely funny roles in vaguely funny TV shows and movies doing 're-interpretations of some of your favorite white-rappers biggest hits,' or Joaquin Phoenix announcing to give up acting for rapping and some people actually believing him? The free mixtape "The White Album" will tell. Dirt Nasty released a self-titled digital album in '07, and while he hasn't exactly taken the music world by storm, Simon Rex, the man behind Dirt Nasty, is enough part of the in-crowd for the character to appear on 'Paris Hilton's My New BFF,' where he acted as a decoy to see how far the candidates would go to please their idol.
Rap, white and funny somehow seem to go together. Mel Brooks figured it out first in the early '80s with "It's Good to Be the King" and "To Be or Not to Be (The Hitler Rap)," which spoofed Louis XVI and Adolf Hitler, respectively. Tom Green could serve as an example of a rap contemporary who tried his hands at both hip-hop and comedy. Sacha Baron Cohen parodied British kids influenced by American urban culture with his Ali G persona. While SNL's The Lonely Island chose rap music as the main medium to tell their jokes.
Within rap itself you have various characters who don't take rap, themselves, or both, extremely seriously. Although such behavior is certainly not limited to white rappers, there emerges a pattern of white rappers who hope to get over with humor - MC Paul Barman, Hot Karl, Cazwell, mc chris, Smut Peddlers, Sudden Death, Pimp-T, The Former Fat Boys, Hawd Gankstuh Rappuhs MC's Wid Ghatz, to name just a few that have appeared on these pages. Insane Clown Posse may often be unintentionally funny, but their name already suggests that they see themselves as jesters. No matter the motive, whoever dubbed five white kids Young Black Teenagers couldn't have been all that serious either. And even fully credible rap acts like the Beastie Boys and Ugly Duckling rarely drop the humorous note.
Add Dirt Nasty to the list of white rap characters who defuse rap's harder-than-thou attitude with disarming goofiness. "The White Album" is several things at once. A tribute to some of the greatest white rap hits (which obviously is a funny thought in itself), a reflection of the rapper's own musical socialization, and a parody of the Hollywood socialite lifestyle.
The Stretch Armstrong-hosted mixtape starts off with (rather appropriate) Tarantino dialogue from 'True Romance' set to Whitey Ford's adaption of "The Fat Boys Are Back." The first full track is "My Name Is." If you've seen Rex in the '8 Mile' segment in 'Scary Movie 3,' you know there's potential there. The problem is that the original is itself a comical track by a white rapper with a zany alter ego, and with Dirt doing basically the same thing Slim Shady does but with only a fraction of the talent, there's no way this can work.
"Beastie Boys Medley" fares better with its succession of classic beats and flows that go with them. Teaming up with Andre Legacy (who could very well be the Bizarre to his Eminem), Dirt Nasty gets his rocks off, for instance over the "High Plains Drifter" beat:
"I'm the white caine sniffer, take a picture
the white caine sniffer, bone your sister
white caine sniffer, off the Richter
Pack my beak on the sneak like a ninja
Come on, I party narly
Doin' charlie off the Ferrari car keys
Don't doubt my parallel parkin'
I do it perfectly while cocaine fartin'"
At this point you will have made your mind up whether you want to keep paying attention or not. If you do, you will have the dubious pleasure of witnessing Dirt Nasty as Marky Mark. Although his "Feel the Vibrator" pastiche isn't half as funny as the idea that "Good Vibrations" can be considered one of white rap's biggest hits. Having gone that far, there's really no way around "Ice Ice Baby." In Dirt Nasty's world, it turns into "Smokin' Ice Ice Baby," which is not all that different from what you would hear on a Clipse mixtape. Don't think Nasty forgot about "Jump Around." "Sleep Around" is a faithful update of House of Pain's biggest hit that you'll definitely recognize not only by the beat.
"Sittin' Sidewayz" is more of a tribute to the Paul Wall hit and the South, best exemplified by the line "Cocaine and girls, yeah, they gettin' chopped 'n screwed." "Back to the Pharmacy" finds him in his element again, detailing legal drug abuse to N2Deep's "Back to the Hotel." It's with "Mr. Snow Nose," though, that Dirt Nasty fully rises to the occasion. Introduced by two funny drops from The Alchemist and Evidence, this is a truly inspired appropriation as he adopts Ev's patterns over the "Mr. Slow Flow" beat:
"I can snort a 8-ball on the lift
then hop right off and fuckin' ski down a cliff
Doin' bumps the size of my fist
Chop it up, gag face with my nose in her tits
Snow angel, lleyo finder
The official, I got that nasal fire
Don't sleep, I'm always wired
I can quit when I want to - I'm such a liar
Pablo by the Lake Tahoe
All blanco like OJ Bronco
white like no one at Roscoes
(And when you gonna sniff that line, Dirt?) Pronto
And it's gonna be a blizzard
cause my dad just got back from Bolivia
Pops always got the best prices
So I shot him in the dick, let's have a moment of silence"
"The White Album" winds down with the antithesis to Asher Roth's "I Love College" ("I Hate College," naturally) and two original songs. Dirt Nasty is in line with rap personas like Too $hort, Snoop Dogg, Devin the Dude or Slim Shady. He's playing a role, and these famous rap tunes offer him a familiar stage. Yet while it's evident the one-time MTV VJ knows his rap, his overall performance here justifies a free mixtape, but little more.
Music Vibes: 5 of 10 Comic Vibes: 6 of 10 TOTAL Vibes: 5.5 of 10
Originally posted: March 30, 2010
source: www.RapReviews.com