Donwill :: Don Cusack in High Fidelity
:: Interdependent Media
as reviewed by Emanuel Wallace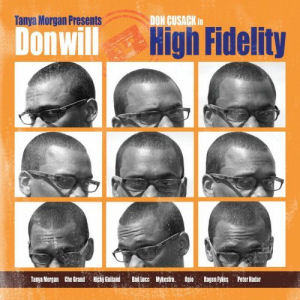 Back in 2000, there was a film released that told the story of a guy going through a mid-life crisis of sorts, brought on by the failure of yet another relationship. The movie was called "High Fidelity" and apparently Donwill of Tanya Morgan felt a strong parallel between his own life and that of Rob Gordon, played by John Cusack. According to Donwill, his album of the same name is about a year or so in his life and can be enjoyed whether or not the listener has any prior knowledge of the movie. Going even deeper, Donwill has cast supporting characters to parallel those in the movie. The album features Von Pea and Che Grand in the roles of musical moron twins Dick and Barry. Opio of Hieroglyphics fame portrays the villain, Ian Raymond and Nicky Guiland takes on the role of Marie De Salle.
Donwill's "High Fidelity" opens with a monologue that questions whether the music or the misery comes first. The album moves into "Laura's Song" which tells the story of Don meeting a girl in a nightclub, courting her and soon starting a relationship. Eventually the girl breaks up with him and it has him tracking down his exes to try and figure out what's wrong with him. In the film, Rob is known for creating "top 5" lists and on the album, Don gives a list of the "Top 5 Breakups" The list includes characters from the movie and the explanation for why they're on the list. Production on the track is bouncy and funky, but it gets stripped down during the hooks. "Championship Vinyl" is the name of the record store that Rob owns and operates in the movie. He and his cohorts often look at many of their customers as being stupid. The song of the same name shows the crew as music snobs that refuse to support wack music.
"Ian's Song" presents the other side of the story, as told by Opio. Don finds out that his "Laura" has gotten with a guy named Ian, who as it turns out, used to be Don's neighbor. "Shake It Easy" is a mellow joint that contains a few small samples of The Notorious B.I.G.'s "Another" and vocals from Peter Hader. The song itself is about trying to get rid of the thoughts of "Laura" and Don eventually winds up sleeping with the hypnotic Marie De Salle. "Breathe" features Nicky Guiland and focuses on just living, and by that I mean moving forward with life and not holding your breath, waiting for someone or something to return. On "Leading Lady", Donwill addresses the mystery that surrounds just who his "Laura" is, as he raps:
"Love stories don't always have a happy ending
And this one seems fake, like I've been pretending
But it's more fact than fiction, and may cause some friction
Because they're askin' me who Laura is depicted by
Restricting, her mentioning, solely as a character
Romanticized all the times I really got mad at her
It's by design, no mistake, I'm pretty bad at love
'Cause Papa was a player, and Gemini's my sign, but um
Fuck astrology
And all apologies
It's all a choice, regret won't change a thing
But all things change, including people and places
Just right now, these now share the same faces
So I looked into the past, trying to see the future
Looking for some ass, ain't tryin' to see her beauty
Lookin' overcast, but the sun broke through
And when the sunlight shone, highlight's on you"
The album begins to wind down with songs like "Pussy Rules The World" and "Girl, Girl". The former isn't as vulgar as the title might suggest, but it rather focuses on how far some guys will go just to get a little action. The latter features Kay of The Foundation and Uzoy and finds Don calling a number that he received from a girl at a show a few months back. Another guy answers the phone and feels somewhat jaded by the situation. The girl explains that since Don took so long to get back to her, she pursued other interests. Don was genuinely interested in her, but he thought he had lost the number. The album closes out with "Hey Baby" which is performed solely by Ragen Fykes. By its placement, the song comes off as something that would be played as the end credits rolled. It's a very smooth way to conclude things.
As a person who hasn't seen "High Fidelity" in its entirety in film form, I'll say that Donwill's take on it has piqued my interest. The press kit promised that familiarity with the film wasn't necessary to enjoy the album, and I'd agree with that. I wonder how many references I didn't catch because I haven't seen the movie. There's a minor lull in the action midway through the album, but not enough to make me want to stop watching...or in this case, listening. Concepts like these are always a gamble, but Donwill seems to pull it off with easy. I give this a thumbs up.
Music Vibes: 7 of 10 Lyric Vibes: 7 of 10 TOTAL Vibes: 7 of 10
Originally posted: March 23, 2010
source: www.RapReviews.com