Kyle Lucas :: It's Always Sunny In Marietta :: 2dopeboyz.com
as reviewed by Pedro 'DJ Complejo' Hernandez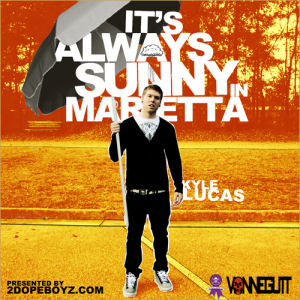 Funny how things work out sometimes. Kyle Lucas is a member of the group Vonnegutt, which as of now is signed to Big Boi's Purple Ribbon label. If this a revelation to you, don't feel bad. Seeing Big Boi has trouble finding a home for his own solo, it's no surprise his roster has been on a the back burner for a while. The funny thing about all this is, it wasn't the Big Boi affiliation that got me to peep Kyle Lucas. Instead, it was the title, as being a big fan of the show "It's Always Sunny In Philadelphia" I couldn't pass up a mixtape from an emcee who shared the same interest. For those curious, the mixtape contains little for avid fans of the show. The theme song on the intro and a few audio clips scattered towards the end tie the music to the title, but there is nothing essential. That said, Kyle Lucas provides enough dope music to make the tape worth a spin, even if overall the amount of music provided is excessive.
The mixtape starts out strong on "It's Always Sunny":
"Yo, I had a talk with Big Boi the other day
He told me to be myself, but make sure I give em hell
See, I've watched him maneuver through this industry of snakes
Seen em hiding in the grass, good thing I brought a rake
Know I'ma stay for dinner, so good thing I brought a plate
With everything at stake, I might as well have the steak
But, I don't really beef, so instead I'll take the cake
Let em try to save face as they walk away"
Kyle Lucas is an emcee that puts enough effort into his lyrics so that his straightforward flow and style doesn't detract from his music. Musically, this mixtape stays true to the spirit of Vonnegutt, described as a mixture of hip-hop and "pop sensibility and rock energy." He raps over Metro Station's "Control" with positive results. "Hurts Like Fuck" is another song where the pop and rock influence dominates the beat. Lucas isn't all rap-rock though, showing us he can stay true to his ATL roots on tracks like "Neck Tie" and "Cell Therapy Freestyle." "Neck Tie" contains a hard, crunk beat similar to what we found on the Purple Ribbon compilation, while Lucas rides a classic on the freestyle. Syd Vicious, featured on the freestyle, does a good job of dropping hard raps. The pop and rock influences found on the rest of the mixtape are hit and miss. "So High" features the highly underrated Slimm Calhoun and a hypnotizing beat and hook. The pop influence is heavy, but the result is very dope. The same can be said for "Hurts Like Fuck," where Lucas pours his heart over the track:
"Baby did you hear that, I think that I heard it too
I think the sky is falling, just like you
She ain't balling no more, she's just blue
And I ain't calling no more, I'm just blue
Now everybody knows what's best for me, except me
Please, let me be
I need to sec just to catch my breath and just breathe
All this stuff keeps piling up, I can't see"
"Queen of Apologies" is another example of Kyle Lucas at his best, keeping his verses grounded in hip-hop, but flowing well over the pop-rock influenced music.
Overall, there is more than enough dopeness to be found on the mixtape to make a recommendation. The problem is you'll have to sift through a fair amount of less than stellar material to get to the good stuff. The process is worth it, but out of the 25 tracks found on "It's Always Sunny on Marietta," at least 10 could have been trimmed off and the mixtape would have been stronger for it. Tracks like "Sexy Bitch Freestyle" and "Red Button (Simon Illa Remix)" are filler material that detract from the better tracks. Freestyles are almost a requirement for most mixtapes, but Kyle Lucas is much less interesting when flowing for minutes at a time with little focus. Kyle Lucas is an emcee worth your time, just be prepared to deal with some filler in between dopeness.
Music Vibes: 6 of 10 Lyric Vibes: 6 of 10 TOTAL Vibes: 6 of 10
Originally posted: March 23, 2010
source: www.RapReviews.com