Consequence :: Movies On Demand
:: G.O.O.D. Music
as reviewed by Pedro 'DJ Complejo' Hernandez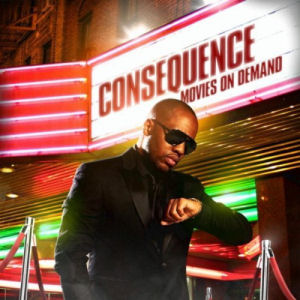 Consequence has come a long way in his career. I'm not even referring to his roots with the Native Tongues crew. A few months before he released his debut album on Kanye's G.O.O.D. Music, I stumbled upon a popular online hip-hop store that was running an embarrassing special. Free with any purchase were as many copies of Consequence's "Take 'Em to the Cleaners" as you would like. Seriously. The site suggested you take more than one and give them out to friends if you wished. Obviously, this was a unique situation where oversupply and underwhelming demand lead to disastrous results, but it would still be the lowest of lows for any artist. Consequence was by no means bad, but he was up to that point a very average rapper who was perceived to be riding some ancient hype for his entire career. "Don't Quit Your Day Job" did wonders for his career. Even the naysayers had to give the man his props. The appeal in his debut had as much to do with his honest and clever lyricism as it did with the smooth production. 4 years later, Cons latest mixtape is one of the most anticipated in recent times. Prepping for his sophomore album, he gives "Movies On Demand," which plays like one of the better albums to have dropped so far this year.
"Movies On Demand" contains no recycled beats or ear drum popping EQ levels. Instead we have thirteen tracks produced by the likes of Kanye West, Q-Tip, Statik Selektah, and Clinton Sparks. The guest emcees are equally impressive, ranging from hot newcomers like Asher Roth and Kid Cudi to veterans like Pharoahe Monch, Q-Tip, Common, and Talib Kweli. This is no low quality collection of tracks that didn't make the album. This is in fact an album released to hype another album and it is quite good. The only weak track to be found here is the Maino assisted "Down This Road." The overly simple beat and repetitive monotonous hook drain any energy and appeal this track had. That said, Cons and Maino can't be faulted for their verses so a remix might jolt some energy into it. Outside of that, I found myself enjoying every moment of "Movies On Demand." Cons and Styles P trade verses on "Don't Stand So Close" and make you forget the Lox haven't dropped an album in damn near a decade:
Cons: "What's good my dude?
What's hood my G?
Is everything aight?
Well that's hard to believe
Unlike a bad review, you ain't that hard to read
I can tell there's something wrong by the way you parked your veh(icle)"
Styles P: "Yeah, the laws coming
And your boys running
I ain't parked, that hoodrat's keeping the Toyota running
I need to hold a hundred
I need to use your crib
Yeah, I'm a wanted man, living like a fugitive"
Cons: "Well, here's the spare key
And take this paper
But tell your broad, don't wake my neighbors
You best to believe, police know this my lab
And here you come making it harder than a heating pad"
Styles P: "Just an incident
Light situation, forget your crib
Let me hold your whip til I'm situated
And when I touch down, tell you what the story was
Now I'm on the run eating just like Nore was"
"Let U Live" finds Cons trading verses with Pharoahe Monch over one of the few harder beats on the album. The high pitched loop gives the song a menacing feel and the Jay-Z sample on the hook seals the deal. Even the guests that would be most apparently questionable, Rick Ross and Asher Roth, deliver on their respective tracks. "Childish Games" finds Asher Roth letting up on the tongue in cheek punchlines enough to let a little maturity shine through. "The More I Get" is driven by a funky, up tempo beat that would be hard to ruin, but that is not even a possibility as Ross trades his usual laid back flow for a quicker delivery and celebrates the good life like only he can.
If "Movies On Demand" is the preview, "Cons TV" is likely to be one of the better albums you'll hear in 2010. Out of the thirteen tracks found here, you'll likely just skip one or two. The rest of this "mixtape" is simply dope hip-hop. Even if Cons isn't your type of emcee, the extensive guest list provides enough variety for you to get your fix. Given the fact it is a download, there really isn't a reason NOT to check out "Movies On Demand."
Music Vibes: 8 of 10 Lyric Vibes: 8 of 10 TOTAL Vibes: 8 of 10
Originally posted: March 16, 2010
source: www.RapReviews.com