Hotbox :: Number Theory EP :: Hotbox Productions
as reviewed by Pete T.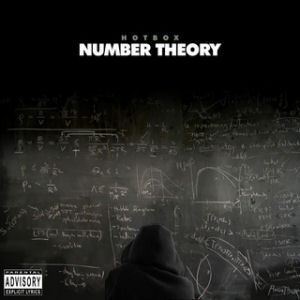 Canadian producer Hotbox impressed writers here at RapReviews with each of his first two releases and his work behind the boards on some other Canadian artists' records, but unfortunately limited distribution has prevented him from becoming a household name to this point. Still holding it down as a high school math teacher by day and acclaimed beatsmith by night, his 2010 EP is appropriately titled "Number Theory."
A few words I'd use to describe Hotbox's sound are upbeat, bouncy, and rich. There's lots of horns scattered throughout "Number Theory"'s nine tracks, but the effect is very un-jazz-like. What I like best about his production is the balance he achieves; despite his frequent employment of soulful instrumentation, dramatic string arrangements, and sped-up vocal bytes, his tough, rigid percussion patterns give his beats a driving, heavy quality. The effect is a steady boom bap sound, but it doesn't sound nostalgic—it's remarkably fresh and clean. There are a few samples here and there, and his soundscapes are marked by great spacing.
Although in the past Hotbox has collaborated with such big names as MC Lyte and Sean Price, "Number Theory" features an impressive roster of rappers hailing from Canada's East Coast. For the most part they're in posse-cut mode here, but overall they bring some surprisingly strong material to the table. It's a rugged crew of gruff-voiced rappers, and the hooks are very good as well. My favorite here is Expedyte, who appears twice and delivers the opening verse on the clever "Little Bits." After the soaring horns of the instrumental intro "Numerology," he clocks in:
"Yo, my name is Expedyte and I'm a rap addict
I've tried therapy, hypnotism, and black magic
I've got a couple good, predominately bad habits
And usually start laughin' after something bad happens
Ha, better than livin' my life ass-backwards
Like whack rappers determined to turn to bad actors, man
I rap better than acrobatics do backflips
Better yet, than Hotbox do practical mathematics, shit
That's pretty good, son, so you better recognize
Rap ain't a joke, it's the comedy section emphasized"
The first highlight is "True Love" featuring Expedyte, Mischif, Nokes, and Spesh K. Over an uneasy, string-laden production, the foursome explores love and hate in rap and on the streets. Spesh K returns with Jay Mayne on the menacing "Millipede," with a tight horn-and-drums arrangement and mean vocal sample. The instrumental track "Christmas Rain" features three separate beats, with winding piano lines, distant, obscure samples, tight horns, and thumping drum patterns blended nicely into one another.
Hotbox flexes his chipmunk-soul muscles again on "Must Have Been," featuring the rapid-rhyming Sampson. The listener can't help but feel Sampson's infectious desperation as he expressively raps about losing his mind. The seven-minute tag-team cut "Oatmeal Lumps" features no less than nine MCs, and their energy is contagious as they trade good-natured verses over a sparse, rugged track. The closer "Perfect Formula" with Sean One and Monark is plain funky fun with a wailing electric guitar on the hook.
There's nothing too complex about Hotbox's craft; it's dope beats and dope rhymes, plain and simple, resulting in pure, quality head-nodding hip hop. He's got a great ear for tight beats and hype MCs, and "Number Theory" is 34 minutes deep of both.
Music Vibes: 7.5 of 10 Lyric Vibes: 7 of 10 TOTAL Vibes: 7.5 of 10
Originally posted: March 23, 2010
source: www.RapReviews.com