Classified :: Self Explanatory
:: Halflife/Sony Records
as reviewed by Steve 'Flash' Juon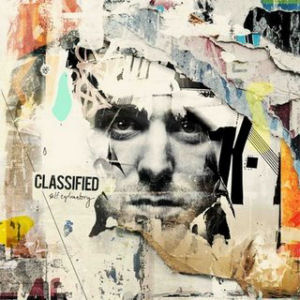 At RapReviews.com we're always open to special requests. Last week I got one asking that we cover Classified's "Self Explanatory," which I was more than happy to answer. In truth I thought we already HAD covered it since he seems to drop at least one album a year and they generally get high marks. One music industry veteran recently told me "no internet artist has even gotten large without major label support" and Classified seems to simultaneously prove and disprove that notion. His albums routinely chart in Canada and he's up for three Juno awards this year (the Canadian equivalent of a Grammy). He's the rap artist who put Enfield, Nova Scotia on the map AND he's highly regarded by the RR staff, yet I'm willing to bet 95 out of 100 hip-hop heads in the U.S. who don't read this website have never heard of this rapper/producer.
That's their loss. Classified has the two essential factors any artist needs to be above being average, let alone above average. First and foremost his beats bang out the trunk. "Self Explanatory" is no exception - in fact it features some of his hardest rocking hip-hop tracks to date. "Quit While You're Ahead" is a raucous Canadian all-star track with Choclair, Maestro Fresh Wes and Moka Only ripping the boom bap and soul sample slap laced together with delicious organ keys. His crossover hit "Anybody Listening" has fast scratching, an up-tempo beat, horny horns worthy of Pete Rock or Primo and Classified's pull no punches musical tale of rappers who "try to make it in rap, they get nuttin back, no feedback their whole life." He's got no shortage of it here though and when he says "look, this is more than beats and hooks" he's right. That leads to the second factor - his lyrical ability."Where Are You" pairs him with an odd beat but finds him more than holding his own to the crackling cowboy shuffle melody:
"I'm done complainin, I'm done frontin
Tryin to pass blame when, I ain't doin nothin
Middle class folks wanna sit and point fingers
I know we ain't rich but we ain't broke, come on think first
You think we need (this), liquor or weed (this)
XBox 360 to succeed?
And you think we need these designer jeans
These finer things for our life to be complete? (please)
I hate preachin, I know that I don't do enough
Tight with my money and I know that I should loosen up
Life is tough and I know that it can seem hard
But a lot of people are worse off than we are"
Classified tends to defy his own name, as he's pretty hard to pigeonhole. Most rappers would have six skits on their album to kill or fill time, but each "CYOA" is an actual verse that's tied together like the series of pre-teen novels it's named after, letting you Choose Your Own Adventure by skipping to the verse of your choice. Of course that alone doesn't make for a compelling rap artist, but any artist who can openly call himself a hypocrite and still make compelling music isn't in "Trouble," his competition is. While he may be humorously self-deprecating, there's nothing self-defecating about his art - it's not shit unless you consider it THE shit. When he says "Things Are Looking Up" in the world of hip-hop, there's really no argument.
"And the world seems depressed, so when you're in Rome, I guess
I gotta keep the engine afloat
And when the water leaks in, don't abandon the boat
And yes, soon the depression will fold
It's a battle and ya gotta choose your weapon to hold (ha)
I figured that we've learned from the lessons of old
It ain't over 'til we meet up at the end of the road
Yeah we destined to grow, so remember control
A bit of patience can work as a friend or a foe
I'm lettin it out, so I don't bottle it in
I'm puttin up, things are looking down, no not again"
Classified is as thoughtful as he is musical and he's got no shortage of love for his fellow Canadian compatriots, featuring everyone from Buck 65 to Shad and Saukrates. Dan-e-o may be the most notable touch of the North that's missing, but as this is a 22 track album that may not be an oversight, just a lack of room to possibly cram anything more into one album. Ironically that's one of the things someone looking for way to criticize "Self Explanatory" that one can latch on to - the strength of his explanation may have been even stronger on a less overwhelming release. Some U.S. listeners may also have trouble latching on to the overwhelmingly homer pride of songs like "Oh...Canada," although as a long time fan of the scene and the associated beer and hockey I've got no problem with or lines like "the underground railroad, Georges St-Pierre, right here's where he call home." Yes Classified, I'll stand on guard with thee.
One or two songs may also be borderline to cliche, such as the slow beat and regretful soul samples of "Breaking Up" or the symphonic strings of "Inspiration," but that doesn't make the tracks whack. The long and short of this review is that I wish every album I got a personal request to review was this worth listening too. Like previous Classified albums, "Self Explanatory" may not make him a household name in the U.S., but he'll continue to win awards and converts in equal measure as the years roll by.
Music Vibes: 8 of 10 Lyric Vibes: 8 of 10 TOTAL Vibes: 8 of 10
Originally posted: March 9, 2010
source: www.RapReviews.com