E-40 :: Revenue Retrievin' - Day Shift
:: Heavy on the Grind/EMI Music
as reviewed by Steve 'Flash' Juon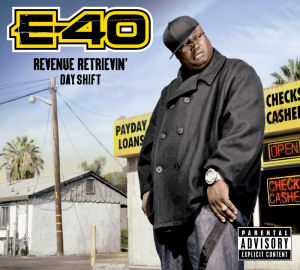 Earl Stevens is back a little over a year after dropping "The Ball Street Journal" late in 2008, and like always he's doing it major, but this time he's doing it EXTRA major. For the first time since Nelly did it back in 2004, a major hip-hop artist has dropped two separate but related albums on the same day at the same time. E-40 is "Revenue Retrievin'" around the clock, which is why he's grinding on the "Day Shift" with one hustle and on the "Night Shift" with more muscle. Unofficially "Revenue Retrievin'" is a double album, but when they chart on Billboard they'll go up separately. Make no mistake about it - they WILL chart. E-40's cult following has grown over the years like Earl's wasteline, and the portly pimp of Vallejo knows how to appeal to that fanbase - keep it Yay Area and hella gangsta. So long as Stevens' stays consistent, so will his album sales. On the "Day Shift" half of his new opus, E wastes no time laying game down over a Droop-E beat to declare that he's "Back in Business."
"Prepare for the hatred, with my problem solver my patriot
Goon up and get tuned up, rubbed off, erase-ted
Stay dedicated and faithful to my camp (what about yo' camp?)
Touch any of my loved ones and get stamped (stamped)
Stapled, removed, soil tested and block approved
Really a good dude, but he can get shrewed"
"Day Shift" breaks down as featuring guest stars 12 out of 19 tracks and Stevens going solo on 7 out of 19. That percentage may seem heavily skewed but on the first disc E-40 easily outshines all but Too $hort on the Vincent VT produced "Bitch" - possibly the most natural Short Dawg song title of all time. That's not to say there aren't a few heavyweight players making contributions. California favorite Mistah F.A.B. joins Dem Hoodstarz on the heavy bass and finger-snapping beat of "Outta Control," where 40 declares himself "fetti fiznetchin, cheddar checkin, yokin, mary-ju-wana smokin (and) desert eagle totin" while F.A.B. says he's "a fixture, a factor (and) more than a rapper." Gucci Mane gets in the mix on the Prohoezak produced "Whip it Up," a whining siren warning listeners that the duo are pharmaceutical street stars. The Jacka is the only name who gets misused - there's nothing wrong with the DJ Toure produced "Everyday Is a Weekend" per se but Jacka's not insignificant fanbase would probably prefer he did more than just the chorus. At the end of the day though song the album's shrinkwrap declares the "hit single" off of "Day Shift" is a 4:44 long epic solo song called "All I Need."
"I paved the way for indie labels
Ask Master P and Birdman what I brought to the table
(What'chu bring?) Out the trunk independently
Sold hundreds of thousands of records without no video or airplay
(Who was it?) Me and my uncle Saint Charles
Suga, D-Shot, Legit, The Click legends in this shit (LEGENDS)
But hold up! It don't stop there
If I got a dollar for every word I made up, I'd be a billionaire!
(A billionaire!) I'm the past and the present
I was sayin shit 20 years ago y'all niggaz just now sayin
Uhh, I done seen rappers come and go
Get they 15 minutes of fame then you don't hear about 'em no mo'
Yeah I done had my ups and downs
But the cold part about it is E-40's still around!"
That's stone cold truth. Even the detractors and haters of Earl Stevens have to admit his acumen as a hip-hop businessman, his longevity in the music industry, and a career that was already legendary enough in the 1990's to put him in "Tha Hall of Game. E-40 maintains while others fall off by staying true to what made him a favorite - a unique vocal tone and (highly underrated) delivery that matches macking like a pimp with highly personal narratives about real life drama. That's why you can find a wide range of shit to enjoy on "Day Shift," from the self-described "ignorant and zany" raps of "Rick Rock Horns" to the down to earth and sorrowful lyrics of "Gotta Get Betta" featuring Mike Marshall and Suga T. With 19 songs on one album though (let alone 38 between two) it's hard to hit every single time, and a few tracks like "This a Boy" with Droop-E and "The Weedman" f/ Stressmatic feel phoned in and skippable. On the whole the batting average is much higher than even the best MLB players when it comes to hits on "Day Shift" so E-40 supporters should be kicking themselves if they didn't pick this up.
Music Vibes: 7 of 10 Lyric Vibes: 7 of 10 TOTAL Vibes: 7 of 10
Originally posted: April 6, 2010
source: www.RapReviews.com