Kool Savas :: The Best of Kool Savas
:: Optik Records/Sony BMG
as reviewed by Matt Jost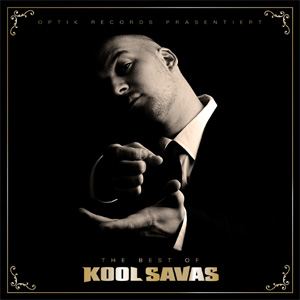 Kool Savas is one of Germany's most popular and respected MC's. What better opportunity for RapReviews.com to acknowledge his achievements than a best of collection? Savas (pronounced 'Saavaash') raps in German and represents the hold-no-hostage battle emceeing in a domestic rap scene that has particularly in its early days preferred to show a friendlier face. When reflecting on his career, Savas has always spoken with contempt about the more carefree manifestations of German rap during the '90s. He cites one particular underground single, 1994's "Ich Diss Dich" ("I Diss You") as the first rap in German to match his personal definition of the artform. It's a definition that says rap is a bloodsport where only the strong survive, that for a rapper the way towards respect is disrespect. Ironically, since Savas' advent, he has been upstaged by his own students who often try to outdo each other in terms of aggressive battle rhymes and crude street rap to the point where things got rather ugly.
Honing his skills at open mic venue Royal Bunker in then-underrepresented Berlin, the son of a Turkish father and a German mother made a name for himself as a member of crews Masters of Rap and Westberlin Maskulin, setting up a solo career in 1999 with controversial tracks like "LMS" ("SMD" i.e. "Suck My Dick") and "Schwule Rapper" ("Gay Rappers"), and creating a cult following in the process. With the influential track "King of Rap" he staked his claim in plain sight in 2000. He went on to build his own label, Optik Records, under which he planned his own career as well as that of artists he took under his wing. "The Best of Kool Savas" is a 2008 double disc release that fulfilled Savas' contractual obligations towards his major partner. Drawing from two solos, a remix album, mixtapes, crew and collaboration projects and guest features as well as including new material, the compilation gathers 37 tracks spanning 8 years.
Kool Savas started out as the typical underdog, barking up any old tree. Yet in under a decade he went from controversial underground rapper to MTV-celebrated veteran. Such a career is sure to draw criticism from nostalgists who believe that only a watered down version of their idol could have crossed over. This means ignoring that some artists actually make progress and that if it wasn't for Savas and his success (and his successors), German rap would miss a crucial element. It also neglects that it was the I-don't-give-a-fuck attitude that intitially made rap icons like N.W.A and Eminem interesting and which remained part of their appeal.
Nonetheless, once Savas was assured industry support, one automatically wondered how much he would tone it down. His first solo single that could be seen on TV, "Haus und Boot" ("Mansion and a Yacht") was a manifesto against mainstream co-option and dissed silver-spoon-fed rappers and those rapping for bourgeois status symbols. But Savas very rarely speaks for hip-hop in the sense that he would want to be its advocate or ambassador, he mainly speaks for himself in relation to others, such as the poor guy he refers to as 'a piece of shit with too much of an ego like a cokehead.' An underground track that bigs up Jadakiss in the very first line, "Haus und Boot" employs deceptively tame female vocals to get at competition. A similar paradox was "King of Rap." The beat gives off the underground West Coast vibe of Project Blowed or Living Legends, while Savas drops politically incorrect lines like 'My style's like AIDS - homo crews get hit first' and manages to drop the n word (yes, that n word) twice (censored here). But he also hits hard with some inconvenient truths: 'Hip-Hop for you and your homies means: we got too much time and too much money' and 'German rap bites Yankee trash out of fear.'
His first album single, "Till ab Joe," may have upped the ante musically and visually, but it still told competition to get on stage and do some rather graphic things to the MC's manhood. The only reason for it not having been censored must be the highly rhythmical, quick cadence in which the lyrics are spit. "Till ab Joe" forever ranks among the best European rap tracks, the MC interacting fluidly with the beat's slick flutes and bumping drums courtesy of producer Melbeatz, his confidence culminating in the line 'You know Germany - nobody's content / except for me because nobody trumps me on the mic' ("Ihr kennt Deutschland - keiner ist zufrieden / ausser mir, denn mich kann am Mikro keiner überbieten").
Kool Savas' role in rap can be described with the German word Störenfried, best translated with the similarly old fashioned English term gadfly, according to Webster's 'a person who annoys others, esp. by rousing them from complacency.' However, he isn't out to shock society, he just likes being a pain in the ass of rappers. Lyrically it isn't so much his aim to hype himself as it is to humiliate competition. He's neither a thug nor an intellectual, he strips rap down to the bare essence - the decisive moment when dope triumphs over wack. You could say he follows the way of the samurai, concentrating on his mission. He also observes a distance between himself and the listener, contrary to the typical American model of success that constantly fraternizes with the audience.
Technically, Savas possesses a few notable characteristics, some common in battle rap, some particular to this rapper. He is the quintessential spitter, a rapper who is confrontational simply by how he raps. It's not so much a matter of him getting in your face, it's the authorative, final-say, matter-of-fact attitude. A constant 'Here I am and ain't nothing you can do about it' undertone accompanies his raps as he descends upon beats like a natural phenomenon. There are other rappers on this double disc, but none will make you feel like witnessing an event the way Savas does. His quick-paced but measured flow not only makes him instantly recognizable, it inserts suspense into his raps. More than just drawing attention to himself (which every serious MC should be able to do), he draws you into his frame of mind. He doesn't argue, he states. If rap is really this shark tank, Kool Savas' will to survive and his skills to survive are inextricably interwoven, they are one and the same.
Savas is a spectacular rapper, but he isn't exactly a lyrical prodigy. His content is marked by extensive 'like' similes. He is one of those battle rappers that can easily become subject of a psychological boomerang effect - all these allegations are liable to come right back to bite him in the ass. He has a line where he makes a comparison between competition being turned off by hearing him and his guest rapper on the same track and himself being turned off when seeing two men naked together in bed. A classic example of homophobia being in dire need of a 'no homo.' Or he envisions himself 'one day on the cover of the Source like Ray Benzino' - which is either a kind of clever or an incredibly stupid line, keeping in mind how and at what cost Benzino got on that cover.
Naturally, as with all rap in foreign languages, the finer points are bound to get lost in translation. It's impossible to relate the ill wordplay of "Essah" ("S-A"), or the girls/cars analogies of "Komm mit mir" ("Come With Me"), which avoids cheesiness with ease and is one of the highlights here, last but not least thanks to the rare Turkish influence in the beat.
It isn't quite easy to get Savas off the warpath, but fellow hip-hop heavyweight Azad at least partially succeeds on the cuts culled from their '05 collaboration album "One." The highest charting of all Savas singles (#4), "All 4 One" features catchy keyboard production from L.E.S. and a choir of kids pleading for change while the rappers shoulder responsibility expanding on their humanist worldview. L.E.S. also gave the beat to Nas, who turned it into "The Makings of a Perfect Bitch," but a much more accurate reference point in the Nasir Jones discography for "All 4 One" would be "I Can."
On "Was hab ich dir angetan" ("What Have I Done to You") they are assisted by Germany's premier soul singer Xavier Naidoo over a contemplative beat where acoustic guitars ride atop a melancholic foundation, Martelli's production absolutely on par with American output. Meanwhile Savas and Azad reflect on what really matters to them in life. They also team up on the insprational "On Top," which is proof positive that outside the rap ring Savas Yurderi is a highly considerate and compassionate human being: 'We hope for other people's respect / some love and recognition, support and estimation / nothing could replace the strength we draw from it / Everyone's a winner in his own way / the way we master each and every day.'
He wrote similarly encouraging songs as early as 2002, for instance the title track of his debut "Der beste Tag meines Lebens" ("The Best Day of My Life"). Despite female vocals and a simplistically sentimental backdrop, Savas manages to make the uplifiting message hit home in a way that only fools would accuse him of selling out. While, as mentioned before, not trying to be your best buddy, he still addresses you directly with lyrics tangible enough to touch your heart:
'You're young and everything around you is hectic
your head may be fucked, but really you're healthy and free
Free to decide where to go, what you would like to be
Even if the goal seems yet far away, it's worth a try
See what you can learn and experience, and gain from that
As long as you don't shit on others or let hate guide you
Life is the greatest gift God can give
For example, your parents love you as much as you love them
Don't worry about nobody being there when you need them
beause your siblings, relatives and friends will help you too
Stick to it, take your loved ones by the hand
Because every moment you share lasts for a lifetime
Nothing is as important as those who are always by your side
whether you're rich and successfull or down and out
The meaning of life is to give your life a meaning
Instead of stealing, cheating, lying, and attacking the defenseless
Stay away from all the negative junk that does you in
Rather be down with a few real friends than a thousand pals
You can't always be good and stay clean
But you can try, because at some point it all comes back'
On the other side of the spectrum there's a track that's not to be missed by such a collection. 2005's "Das Urteil" ("The Verdict") should rank amongst rap history's most damning disses, five epic minutes of retaliation directed towards former protégé Eko Fresh that turned into a virtual public shaming with over 100'000 song downloads within days and the video being the most requested clip for twenty straight days on MTV's TRL.
One of the most remarkable features of Kool Savas' career has always been his partnership with female producer Melbeatz. The start of their collaboration dates back their underground days in the '90s, and she signs 18 beats here. Having scored Savas' journey from local Left Coast-loving battle rapper to Rap Germany's consensus MC, her beats possess varying atmospheres, while trying to do without samples, which led to charmingly simple tracks in the early stages and later productions that give in to the temptations of the bigger budget. She can go from delicate ("Der beste Tag meines Lebens") to dramatic ("Der Beweis"), then suddenly ventures into pop funk ("Die besten Tage sind gezählt" with Lumidee interpolating Bootsy Collins), or even samples J-Pop in the form of the end theme of the anime series 'Hikaru no Go' ("Tot oder lebendig" ("Dead or Alive")). There's been a general tendency in Savas' music towards 'serious' string-supported beats of the vaguely anthemic kind with a latent pop influence (often combined with singing). This set-up works in favor of conquering tracks like the superior "Das ist OR!," but such beats have also become somewhat interchangeable within rap music. One track that doesn't work at all is "Melodie" ("Melody"), apparently a reaction to criticism that Savas' music lacks soul. Not only does the retribution sound bitter, it backfires massively on the musical level, strainedly establishing a 'melody' with the most pop items found in the sound libary.
It's fair to say that people don't listen to Kool Savas because he rocks the tightest beats (not that that wouldn't also apply to tons of other rappers). Still "The Best of Kool Savas" features enough tracks where beats and rhymes just click - Funky Chris' Beatminerz-gone-underground variation "Fehdehandschuh" ("Gauntlet") from 2000, the Kutmasta Kurt-produced "Da bin, da bleib" ("Here I Am, Here I Stay"), the cleverly understated "Nix ist umsonst" ("Nothing Is For Free") with DJ Derezon on the boards and J-Luv on the hook and mindful lines like 'Your label loves you strongly because you're weak' and 'I'm too fresh for standard heads with standard texts / S the King since my standard is different.' The "Optik Takeover Intro" would be fit for Twista or Bone Thugs, while the gothic "Der Beweis" ("The Proof") offers room for emotion ('This is my all, my bread and water; blood, sweat and tears') as well as cold dissing ('You lay in your beddy, hugging your teddy tightly / dream up your lyrics, wake up and rap your fairytales'). But just as trademark Essah are simply structured tracks like "Wie S" ("Like S"), where shrieking sirens and dreamy synths team up for an inspiring track, or the breathtaking rhyme cascades over DJ Ara's tumbling piano loops on "Neongelb."
Crowning himself King Kool Savas early on, today Savas is indeed German rap royalty. He regularly tops the polls, just recently a '20 Best German MC's' list compiled by the country's largest rap mag Juice. They concluded: 'In Germany, Savas comes the closest to the ideal of the 'complete MC' - style, flow, delivery, stage presence, charisma, technique, everything fits.' Once a carpenter in the making, he became a skilled rap craftsman. That Savas is hailed as Germany's MC to beat by so many is still somewhat perplexing, but not completely inexplicable. His straightforward rap-as-rap approach and cocky force-of-nature flow set him apart from too many rappers who rely on crutches. He doesn't intimidate with violence or wealth, he doesn't impress with knowledge or vocabulary. He's a rapper's rapper in the sense that he doesn't claim to do more than rap and doesn't pretend to be more than a rapper. But in rap, and he's absolutely clear about that, he is the force to be reckoned with. In his own words: 'Kiddies listen to others but they all end up listening to me.'
PS: One or even two CD's worth of Savas' best material would deserve a higher rating, but for a major-compiled collection "The Best of Kool Savas" is still a good representation of his work.
Music Vibes: 6.5 of 10 Lyric Vibes: 8 of 10 TOTAL Vibes: 7 of 10
Originally posted: April 20, 2010
source: www.RapReviews.com