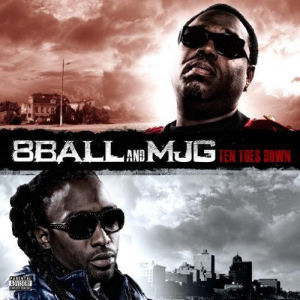 8Ball & MJG :: Ten Toes Down

Grand Hustle/E1 Entertainment
Author: Steve 'Flash' Juon

"We come from
Memphis, Tenn. - Houston, Texas - New Orleans - Atlanta
Jackson, Mississippi - Birmingham, Alabama
Little Rock, Arkansas - Miami, Florida
St. Louis, Missouri come and take a tour of
Memphis, Tenn. - Houston, Texas - New Orleans -Atlanta..."
Let there be no doubt about where 8Ball & MJG come from - it's the Orange Mound neighborhood of Memphis, Tennessee. Judging by the list of cities on "We Come From" though, anywhere that's been typecast as country or Dirty South is metaphorically accurate as their GPS location too. That's their kinfolk, their cousins, their people, their fans. To say the veteran duo could tour in any of these cities and draw a huge crowd is entirely accurate, but if anything, the list of cities they name isn't nearly long enough. We've covered no less than eight Ball & G albums at RR in the last ten years, and that's not counting side projects, solo albums or the many "Chopped and Screwed" alternate versions. They've been together 20 years, they're famous enough to be called "Living Legends" without seeming vain, and their fanbase spans the entire globe. The oft-used MJG phrase PIMP TIGHT fits them like a glove - there's no slackin' in their mackin' and they've got shit down cold.
A lot of artists in their position would rest comfortably on their laurels, staring contently at walls lined with gold and platinum plaques, sipping juice out of a pimp cup while a beautiful and voluptuous masseuse tends to their every need. That's not to say Ball & G aren't doing that in their spare time - they'll certainly tell you so in their rhymes - but that's not ALL they're doing. "Ten Toes Down" represents yet another declaration of their suave, their cool, their mojo baby yeah. They don't have to do it, they just enjoy making music. Besides it's hard to imagine any two or more people working together artistically for 20+ years if they hated each other's guts. Maybe Metallica can pull that off but most people would call it quits long before that no matter how good the music or how full the dumptruck was with cash at their front do'. No it's clear from one enjoyable album after another that these two enjoy the rap, enjoy the hustle, and enjoy reaping the rewards of their hard work again and again. Tracks like the Raymond Poole produced "Right Now" feature their quintessential sense of cool, each rapper stating why they keep on keepin' on:
MJG: "I'ma money gettin, hundreds sittin, in my pocket like a mitten
Chillin like a villain while I'm livin what I'm spittin
Cause my momma always told me, you better get it get it get it
Daddy told me boy you better hit it hit it hit it quit it
Plus I got a Chevy it's a fo'-do' low-low
Keep the windows tinted so I'm hid from the po'-po'
Out here on this hustle daily
Whatever I do it pay me
All I do is overtime, makin sure I overgrind
Makin sure that nobody don't come try to take over mine
PIMP TIGHT, M-J, never will I leave I been stay
Some of you people can't live my life and walk in my shoes for ten days"
Eightball: "G-H-E, T-T-O, superstar, who I are
F-A-T, B-O-Y, I can't lie, I'm so high
Overdose, gimme mo', light green sticky 'dro
Uh-oh, runnin low, go to the truck, get some mo'
On my grind, don't wanna leave
Broke that's somethin I don't wanna be
Overtime, all the time
Lord knows I need this cheese
Trouble and death 'bout the only thing you can get for free
Handcuffed in the back of the police car, I can't believe that's me"
Don't believe it, cause he's not going to be locked up like Akon any time soon. Eightball doesn't sound scurred - perhaps because he is portraying a situation witnessed firsthand without having to do it, but more likely because Ball & G know what it IS like to do it and are just being matter of fact about it. It's just the hustle, it's just some money, it's just the life. Their audience relates to their tales because nothing feels pretentious, forced or falsified - it's just natural for them to talk about who and what they know, the things they've seen and done, and their desire to get bread and get ahead. It's the American Dream, one this rap duo is actually living, yet somehow they've still managed to stay relevant and not be corrupted by their success.
There's a lot to like on the 14 tracks of "Ten Toes Down" including the title track/lead single produced by Drumma Boy, featuring guest vocals from Lil Boosie and guitar playing by Jason Lewis. It's also the hardest track on the CD, thanks largely to the production, but MJG does brag that he's "killin 'em slow" and "lost count of my money millions ago." More often than not the duo don't need to be threatening. It's a part of their repertoire they can summon if needed, but quality production and conversational raps delivered with a clear diction make for an always enjoyable pulp fiction.
Guest stars frequently join in on the fun throughout "Ten Toes Down." Young Dro cameos on the Nitti produced "Bring it Back," Bun B joins the comically braggadocious "I Don't Give a Fuck" and an uncredited David Banner guests on the aforementioned "We Come From" among others. Ball & G can go from the smoothest of quiet storm flows on "She's So Fine" to the pimpest of synthed out funk on "Life Goes On" with Slim Thug. The title of the album's closer may sum up how this Tennessee duo continue to do the voodoo they do so well - while others give up Ball & G "Still Will Remain." Don't take it from me though, take it from 8Ball:
"I cain't apologize for nothin I did to get me here
I cain't apologize for spendin my whole life in yo' ears
I won't apologize for pimps and hoes and cocaine and weed
Cause everythang I just said was on the streets befo' me
I was born in it, walked in it to make it to school
Talked shit with it and made niggaz thank it was cool
Ride Benz with it, couple years, I-10 with it
Lost friends in it, people I will never see again in it
And people ask me how you still got love fo' it?
F'real, sometimes I hate it, I just never show it
Privacy dies and, lives grow and thrive
I smile pimpin cause I'm happy just to be alive"
Music Vibes: 8 of 10 Lyric Vibes: 8 of 10 TOTAL Vibes: 8 of 10
Originally posted: May 4, 2010
source: www.RapReviews.com