IDE and Skavenger :: Addicted to the Vision
:: Creative Juices Music
as reviewed by Susan 'susiQ' Kim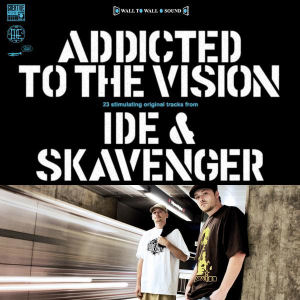 Two heads are definitely better than one as proven by producers IDE and Skavenger. Individually, they have each made a name for themselves in the hip hop industry while pursuing distinct talents and ventures. While IDE has co-founded Creative Juices Music and has grown in his producing and emceeing, Skavenger has followed his own endeavors in producing and is half of the duo that makes up the live band Destruments. Although each has been separately involved in a myriad of projects, it's surprising that they've never collaborated until now. A project that took three years in the making, IDE and Skavenger teams up to combine their unique styles while catering to a wide array of emcee talents from across the nation in "Addicted to the Vision."
IDE and Skavenger boast a massive twenty-three tracks in "Addicted to the Vision" as they provide a little something for everyone. However, the team seems to excel in funk beats as they successfully execute the incorporation of soul, jazz, and R&B throughout their tracks. The production on "Throw Your Hands Up" featuring Respect and Ambush brings you back to the funk era with an electric bass being strummed to a simple beat as tambourines faintly sound in the background.
"Walk of Life" featuring Jise melds old and new school funk as Ide and Skavenger incorporate a fresh sound with a throwback to the original rhythmic grooves as "Who's Coming with Me" featuring Madness retains that traditional funk flair. Trumpets blare throughout "How Long" featuring Syar 1 and features sampled vocal tracks. Just as you think the track is ending, Ide and Skavenger do an excellent job here as they incorporate another beat towards the end of the track as it delivers as a nice transition to an entirely different sampled funk sound. Also, in a humorous funk track about the man's man, "Sex Machine" features Soultwins and samples James Brown's own "Sex Machine" as his unique, recognizable voice accompanies the track.
In "Addicted to the Vision" it is apparent that Ide and Skavenger aren't committed to any one style or genre of music, but instead, catered more towards the emcee on the track while supplementing his style of rhyme. The duo switches it up on "Deep Thought" featuring Shabaam Sahdeeq as an ethereal sound pairs with haunting wails. Or perhaps you might like the more digitized sounds in "The Big Break" featuring Alucard and IDE taking a break from the production side and exhibiting his emcee skills instead.
IDE and Skavenger did an impressive job in lining up a stellar group of emcees to complement their beats especially in "My Soldiers" featuring Steele, Casual, and U.G. Cormega's "Montana Diary" is sampled with his infamous line of "my soldiers, cold blooded vultures, cold flooded on streets, we control hundreds" as the emcees rhyme over a simple beat of kicks and snares.
As trumpets blare, Emcee Relz dominates in wordplay in "Left and Right" as he starts out incorporating the word "left" in each of his sentences and slowly transitions to the incorporation of the word "right." Cleverly executed, the production and rhymes meld together perfectly.
Although "Addicted to the Vision" was their first collaboration together, it sounds as though IDE and Skavenger have been doing this for years. Their fluidity, production skills, and choice emcees proved to be a compilation full of variety. It is clear that although they each boasted their own styles, "Addicted to the Visiojn" brought them together to build a linkage while progressing with a new approach to music. They seem to have gained experience from the union as well as incorporating a partnership with a wide assortment of emcees from across the nation. Hopefully their future ventures won't be three years in the making as I'm sure their audience will want to hear from them much sooner than that.
Music Vibes: 7 of 10 Lyric Vibes: 7 of 10 TOTAL Vibes: 7 of 10
Originally posted: May 11, 2010
source: www.RapReviews.com