Jazz Mafia :: Brass, Bows, and Beats: A Hip-Hop Symphony :: JazzMafia.com
as reviewed by Eric Sirota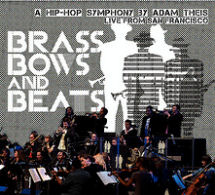 I don't know much about jazz, but I do know it can be synthesized with hip-hop. This synthesis has played a major part in rap and its predecessors since the 1970s when Gil Scott Heron spit Afrocentric spoken word over jazzy textures. Jazz's presence in hip-hop was perhaps most apparent in the late '80's and early '90's with releases such as A Tribe Called Quest's "People's Instinctive Travels," Digable Planets "Reachin' (A New Refutation of Time and Space)" and Us3's "Hand on the Torch." Even after the jazz rap's heyday, jazz continued to permeate hip-hop in all its forms. From the throwback style of DJ Hi-Tek's loops with "Reflection Eternal" to the dissonant horns of Company Flow's "Funcrusher Plus," rap production has drawn from jazz consistently and overtly.
In this sense, Jazz Mafia is a logical extension, or perhaps, logical extreme, of jazz's influence on rap. Rather than using jazz loops or even supplementing hip-hop beats with live jazz musicians, this San Francisco based collective lead by composer, conductor, and arranger Adam Theis, is made up of a 60-piece jazz orchestra and MCs Dublin, Aima the Dreamer, and Seneca. The eight live tracks composing their latest release, "Brass, Bows, and Beats: A Hip-Hop Symphony by Adam Theis," tend to feature spoken word poetry over fully developed orchestral jazz numbers, supplemented by intermittent scratching. I'm sure this would make an interesting live show.
Still, while an ambitious project, instead of being a "hip-hop symphony" - a true synthesis of jazz and rap – the album is a jazz symphony that happens to feature people rapping over it. Instead of merging genres as so many hip-hop producers have done so well, Theis, on his latest, merely piles them on top of each other. What this approach exposes is that, when jazz is not tailored specifically to a hip-hop beat, jazz and rap are not particularly compatible.
What the album lacks first and foremost is hip-hop drums. While jazz-rappers like The Digable Planets and Us3 let jazz melody dominate their production, this jazz melody is always placed over crisp hip-hop beats. In contrast, without rap percussion to rain in jazz's sprawl, Jazz Mafia's symphonics simply do not lend themselves to being rapped over. As such, the instrumental rap elements, such as the scratching at the end of "Darkness/Light," feel somewhat like token efforts to put the "hip-hop" in "Hip-Hop Symphony." Similarly, it is difficult for the MCs to gain momentum over the LP's springtime-in-Central-Park backdrops.
The jury thus remains out on the talent of the rappers, as even the most gifted would have trouble spitting over an under-adapted jazz symphony. The best verse on the record comes from frequent collaborator Lyrics Born, whose complex rhyme patterns lend themselves to Jazz Mafia's free-flowing stylings on "Community 2.0." The MCs ride the beat well during the first sequence of the album's more hip-hop-oriented seventeen minute finale "At My Window." "Sweet Memory"'s nostalgic critique of gentrification is heartfelt, authentic, and perceptive.
Other times, however, the rappers conform to the cliché of the somewhat pseudo-intellectual beat poetry that one would expect to accompany philharmonic jazz. "Darkness" and "light" play as generic metaphors on the track of the same title. The chorus on "Community 2.0," "We are all one, we are all one, one, one race/human," borders on patronizing, especially with slightly misplaced calls for unity like, "[what does it matter] if you're gay or you're straight but you hate one another." The rapping, like the lyrics, is hit and miss, as the MCs manifest an obvious commitment to their message, but one that is seldom matched by technical skill.
Two of the tracks, "Theme in F7" and "Blea v. Tolling" are entirely instrumental. That I did not much care for these may expose a bias I have against philharmonic jazz in general. In my defense, though, I like almost any kind of music when it is effectively integrated into a beat. But by placing jazz first and rap as a distant second, one wonders why Jazz Mafia's latest need be a "hip-hop" symphony at all.
Music Vibes: 3 of 10 Lyric Vibes: 5 of 10 TOTAL Vibes: 4 of 10
Originally posted: May 4, 2010
source: www.RapReviews.com