Joe Gibbs :: 12" Reggae Discomix Showcase Vol. 4
:: VP Records
as reviewed by Steve 'Flash' Juon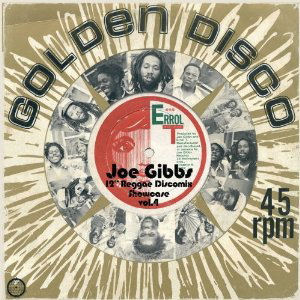 "Hey Flash, why do you keep reviewing these reggae albums? Isn't this a rap website?" Well even if you profess ignorance of the vast contributions of Kool DJ Herc to hip-hop, I'll resist the urge to call you a bumba claat. For now let's skip the history lesson and simply say that as far as I'm concerned, rap and reggae always have and always will be breddern. It doesn't hurt that a venerable reggae label like VP Records is trying to expand their audience by reaching out to hip-hop websites like this one either. Their effort to bring reggae and rap fans together can only be fruitful for both genres and cultures long term.
Now some people may hear the name Joe Gibbs and think of the former coach of the Washington Redskins, or perhaps even of his successful Joe Gibbs Racing team in NASCAR. To be fair, Joseph Jackson Gibbs may be more famous in the United States; to be equally fair the Joe Gibbs born Joel A. Gibson is likely more famous in Jamaica. Your association with the name will be completely different based on your cultural background. Both Gibbs had a knack for being in the right place at the right time though, and in the Jamaican's case he was working in his own TV repair shop before a chance meeting with Lee 'Scratch' Perry led to the two recording music together. Again we'll skip the lengthy history lesson given Gibbs career as a producer is a matter of public record, but suffice to say it's not an exaggeration to say he was responsible for hundreds of number one hits in Jamaica.
I'm slightly mystified as to why VP Records would choose to start us off with "Volume 4" of the songs Joe Gibbs had a hand in as opposed to 1, 2 or 3. I'm also puzzled as to why VP simply doesn't issue a boxset with all of the Gibbs hits collected together at once, as opposed to doling them out on one "Discomix" at a time. Most puzzling of all is why one can search for Joe Gibbs on the VP website and get no hits back from their discography. While Gibbs may not have partnered with VP until late in his life, they clearly have unlimited access to his archive of hits and the ability to pay any royalties from their sale to his heirs. It seems to me that shining a better spotlight on the legacy of Joe Gibbs is in order.
It's safe to say "Discomix Showcase Vol. 4" achieves that goal, as 1-3 surely must have done before it. The tracks on this volume are all from 1979-1980, and may in fact be presented in chronological order of release (though I can't confirm that). All of the tracks are co-produced by Gibbs long-time partner Errol Thompson, a duo affectionately known in and outside of the reggae scene as "The Mighty Two." Fun trivia fact - famed reggae/dub producers Sly & Robbie got their start as studio musicians for The Mighty Two. That just goes to show how deeply intertwined Gibbs is with the reggae scene, and indeed how much they are with the artists featured here. It should suffice to say the songs culled for "Volume 4" are all quality hits, so if the Two did produce a weak track it's not found here.
Some songs still stand out more than others though, either for the singers performing on them or the vibes coming from the track - often both. Surefire winners on "Discomix Showcase Vol. 4" include but aren't limited to the "shooby dooby doo" soulfulness of "Your Man" by Dennis Brown, the VERY familiar refrain of "I Can't Stand the Rain" by Hortense Ellis and Prince Weedy (the same Ann Peebles song that Missy Elliott interpolated), the equally familiar and intriguing reggae revision of Michael Jackson's "Don't Stop Till You Get Enough" and the "make me feel so irie" mellow island vibes of "Natty Dread She Want" by Delroy Melody and Trinity.
Listeners be warned - reggae music marches to the beat of its own drum particularly when it comes to song length. Half of the songs on "Discomix 4" are over seven minutes long. You have to be well and truly prepared to invest some time in the vibe when listening to this entire album - otherwise you'd best just pick one song and come back for the rest when you have time to chill. CHILL is definitely the apt word because even though some of the songs here come from the disco era, nay even COVER disco hits of the late 70's and early 80's, there's nothing fast and uptempo about the grooves found here. They could put you on the dancefloor, but that would be a slow and seductive dance, not one where you get to bust out fast and fancy footwork. Possibly this groove will be too mellow for some ardent rap fans, but reggae lovers will have no qualms with the quality or selection found on this album.
Music Vibes: 7.5 of 10 Lyric Vibes: 7.5 of 10 TOTAL Vibes: 7.5 of 10
Originally posted: May 11, 2010
source: www.RapReviews.com