Junior Kelly :: Red Pond
:: VP Records
as reviewed by Steve 'Flash' Juon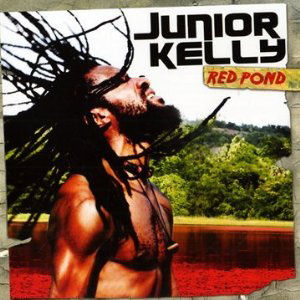 Junior Kelly has purposefully positioned himself in the current reggae music scene as an artist who champions the positive spiritual values of the Rastafari movement. Kelly believes that the slackness, batty bwoi bashing and advocacy of violence is in direct contradiction to the core values the genre and culture should have. He named his latest album "Red Pond" as both a shoutout to his community of Frasers Content, Spanish Town and as a challenge to that community. Red Pond didn't get that name by accident - it's had a very bloody history over the years - but Kelly stands up to that violence and refuses to change his ways no matter how much peer pressure is exerted by his environment.
The music of "Red Pond" reflects that stand for positivity, but thankfully it doesn't do so in a preachy or tiresome way. Junior Kelly's voice isn't a bellowing rudebwoy bravado like that of Buju Banton, it's much closer in style and delivery to a mixture of Collie Buddz and Bob Marley. The majority of the album is produced by Melbourne 'George Dusty' Miller, and his cool and mellow sound matches the mid-octave vocal stylings of Kelly nicely. Appropriately enough both men open "Red Pond" up with the song "Celebrate Life," and you couldn't get a much more direct challenge to a nihilistic view than that. Kelly's voice soars as high as "the moon and the stars (that) light up the universe" in his vocals, and the cool vibes make even the hardest hardrock want to give praise to Jah.
Time and again Kelly returns to this core theme of loving and celebrating the blessings of the world. "My African Child" occasionally relies on female harmonies in its mid-tempo background, which only emphasizes that "Jah Jah give me a bundle of joy" that much more deeply. "Believe in Yourself" is one of the album's quicker tracks, punctuated by jazzy horns and a lightly strummed guitar, but the song needs no additional bass and seems almost absent of percussion. A remix could make this speedy track heavier, but you really wouldn't want it to. The tweeting of birds and the cool strumming of "Real Love" may seem sappy to some listeners, but if you've never been to the Carribean these gentle vibes will take you there and if you have the melody will take you right back.
Kelly does occasionally hint at the troubled world that surrounds him with songs like "Waan Lef' De Ghetto" and "Treacherous Waters," but never does the tidal force of those waters surround him and drown him. No matter how bleak things may seem for him living in "Red Pond," Kelly's love for life carries him above all earthly concerns to a higher plane of consciousness where his spirit rides free. Kelly uses the 15 songs of this album to invite us to join him on the journey, and it's a temptation you'll find hard to resist.
Music Vibes: 7 of 10 Lyric Vibes: 7 of 10 TOTAL Vibes: 7 of 10
Originally posted: May 4, 2010
source: www.RapReviews.com