Bone Thugs-N-Harmony :: Uni5: The World's Enemy
:: BTNH Worldwide/Warner Bros.
as reviewed by Pete T.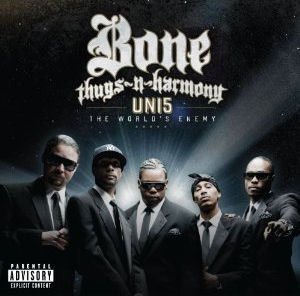 Allow me to preface this review, if I may, by admitting that during my teenage years I went through a significant period as a Bone Thugs-N-Harmony stan. Between JV basketball practices and a part-time delivery job, I somehow found time for seemingly monthly trips to the record store for any project even tangentially affiliated with the Bone clan and frequent visits to the group's infamous fan message boards for new leaks and rumors. As a veteran of a few BTNH shows, it's amazing to behold the volume and dedication of die-hard Bone Thug fans even during the group's inactive years in the middle of the last decade. Among a certain circle, Bone Thugs-N-Harmony isn't just a name, it's a brand, and one that guarantees interest and sales for projects that otherwise probably wouldn't garner second looks. Collectively the crew has what may be the one of the largest volumes of released and unreleased music around, and the devotion that BTNH commands among their fan base is unlike anything else I've observed in hip hop music.
The group's tumultuous history and inner turmoil is fascinating, and it's not an understatement to call the reunion of all five original members on 2010's "Uni5: The World's Enemy" a landmark occurrence. The second half of the '90s saw multiplatinum effort after multiplatinum effort for the quintet, but after 2000's "BTNHResurrection" their empire gradually began to erode. Originally a part-time member anyway due to contract complications, Flesh-N-Bone was sentenced to a full decade behind bars for assault with a deadly weapon. Their relationship with Ruthless Records turned sour, and the two severed ways after 2002's "Thug World Order." Soon after Bizzy Bone and his huge character were ousted from the group, and the years that followed saw spasmodic solo release schedules marred by shoddy production, recycled verses, lack of budget and promotion, and often unauthorized material by shifty record labels. Bone showed renewed focus as a trio, releasing "Thug Stories" in 2006 and "Strength & Loyalty" in 2007 on Swizz Beats' Full Surface Records, making an unlikely return to the charts with the Akon-assisted single "I Tried." Their one-album experiment at Full Surface history, Bone finds a home at Warner Bros. for "Uni5: The World's Enemy," the first album featuring the original five-man lineup since "BTNHResurrection."
Not unlike the Wu-Tang Clan, BTNH is composed of such large and turbulent characters that to get all five in the studio together for a whole album is no small feat. Since the album's completion, rumors have already emerged that Bizzy has once again separated, refusing to join the group's national tour in support of the album. Flesh has run into further legal trouble, and even Krayzie Bone, normally the rock of the five, has made allusions to discontent. No wonder every group effort since "The Art of War" has been billed a "comeback" album—the single driving force behind "Uni5" seems to be that the potential first and last chance for Bone to record as a quintet presented itself, and that to fail to capitalize off it would be a disservice to their loyal fans.
At first, "Uni5" is an assuring listen. The group's infamous rapid, melodic flows are completely intact, and it's great to hear Flesh-N-Bone on record again—based on his performance, the ten years spent behind bars did nothing to limit his inimitable delivery. It's also great to hear Bizzy back with his part-time adversaries—if nothing else, it just feels good to hear all five thugs united after all that's happened to the group.
The problem is, the material here is often third-rate. "Uni5" is easily the softest album Bone ever produced, and I don't mean contemplative, poignant, "Tha Crossroads" soft so much as I mean bubble-gum autotune soft. Most songs feature a robotic Jay Sean sound-alike on the hook, and the beats sound like they were tailored more for Flo Rida than for the Wasteland Warriors. I'm not critical of Bone's attempts to update their sound—"Strength & Loyalty" was largely a triumph in that it posed the familiar Bone style over the more contemporary production of Swizzy and his peers—but for a group that thrives on its reliability, it's strange that there isn't a trunk-rattler, a feel-good summer ode, or even a single reference to marijuana or violence over the hour-long running time, and the blippy, electronic sound feels forced and inauthentic. Bone's early success was largely a function of their unusual balance of street and soul, and their greatest hits were composed equally of cinematic violence as on "Mo Murda," smooth contemplation as on "Change the World," and good-natured weed odes such as "Buddah Lovaz." Their ability to slow down the tempo for a reflective track was always one of their greatest strengths—after all, they were thugs—but on "Uni5" there's very little "thug" or "harmony." Although suspect material always managed to creep into side projects, for the most part Bone has always maintained high quality control on group efforts, making "Uni5" a sharp departure from past material in multiple ways.
Vocally the thugs sound fine; they've been perfecting their sing-song flows for the better part of two decades now and have hardly lost a step. Too often, though, the verses seem to just blend into one another. Most are concerned with shunning nameless haters and imitators that in all likelihood disappeared years ago as the Bone boys approached their mid-30s—at times they sound downright paranoid. The skits, which attempt to weave together the concept of "The World's Enemy," are hilariously bad, and even production from longtime partners-in-crime L.T. Hutton and DJ U-Neek is dull.
The openers "Rebirth" and "See Me Shine" are the early standouts. The former is an eight-minute marathon featuring menacing verses from all five members. The theme is familiar—in the past, openers such as "Show 'Em" from "BTNHResurrection" reasserted the group's power after a layover and served to assure doubters that Bone was strong as ever—but the energy is infectious and hearing the original BTNH lineup once again is great fun. The latter song is an inspiring, soulful track in the tradition of "I Tried" and "Resurrection (Paper, Paper)," and the piano-based production builds dramatically toward a strong finish.
The first misstep is "Only God Can Judge Me," a simply odd track where the rappers narrate their funerals and express satisfaction that "none of my enemies can hate on me now" because, after all, they're dead. The hook, unbalanced production, and screechy background vocals are poor enough, but the overall sentiment is just weird and unsettling. That said, it looks glorious next to the poppy autotuned mess that is "Wanna Be," a study of a material girl. The flat, sappy "Crossroads" retread "Meet Me in the Sky" is a late lowlight.
Perhaps not surprisingly, the best tracks are those which most closely resemble prior work. The heavy "My Life" sounds like a "Thug World Order" cut, and Krayzie shines with his crooning on the hook. The upbeat, horn-laden "Everytime" and "Universe" would not have sounded out of place on "Thug Stories" if not for Flesh and Bizzy's soulful vocals, and despite the fact that it sounds like the second coming of Jay Sean's "Down," Fatboi's production on "Gone" is darn catchy. Perhaps the best track is the nostalgic "Pay What They Owe," featuring a light guitar arrangement from DJ U-Neek and verses chronicling their long careers and the power of their music. It's the sort of track that displays Bone's appeal and makes the long-awaited reunification of the group seem worthwhile—not raw lyricism or technical precision, but soulful sentiments and appealing deliveries over pleasant music. "Facts Don't Lie" is a decent if familiar-sounding closer.
Although the second half is stronger than the first, "Uni5: The World's Enemy" is a mostly forgettable album that fails to capture earlier brilliance and leaves a sour taste in this reviewer's mouth. Of the dozens of songs that emerged from the album sessions, it's perplexing that these largely mediocre fourteen were selected, resulting in a forced set that might have been a rallying return to form for the group. Overall it's just an alright record that pales in comparison to previous efforts and doesn't live up to its considerable hype. For the Thugstas to move forward as a quintet, they will need to rechannel the focus and cohesion they attained as a trio. While not without its merits, "Uni5: The World's Enemy" is a frequently strange, underwhelming, and unfocused LP, and what should have been a shining beacon in the historic Bone saga is instead by far their weakest effort to date.
Music Vibes: 5.5 of 10 Lyric Vibes: 5.5 of 10 TOTAL Vibes: 5.5 of 10
Originally posted: May 4, 2010
source: www.RapReviews.com