Cold Men Young :: Champagne Nights/Red Stripe Budget :: Bandcamp.com
as reviewed by Emanuel Wallace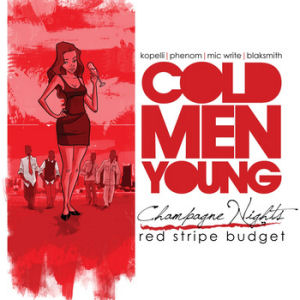 Although facing tough times economically (along with the rest of the country), the City of Detroit has a rather rich hip-hop culture. Many of its iconic figures, both past and present, can be recognized by the mentioning of a single name. Eminem. Dilla. Slum. Royce. Trick. Milk. Guilty. Esham. Boss. Obie. Proof. The list goes on and on, that's just a handful. Looking to add themselves to the list of the greats is the four man hip-hop/spoken word collective, Cold Men Young. The group's name is a derivative of Detroit's first Black mayor, Coleman Young. While other contemporaries such as current mayor (former NBA star and Hall of Famer) Dave Bing and the troubled (read: incarcerated) Kwame Kilpatrick seem to be more recognized across the country, Coleman Young was a legend in the City of Detroit, as he served five mayoral terms over the course of twenty years. Members of Cold Men Young include Blaksmith, Kopelli, Young Phenom and Mic Write. Collectively, they intend to provide the soundtrack for anyone taking things one day at at time. In short, the message CMY wants to convey is "Have Fun. Live Life. Dream."
After a spoken word introduction from Mic Write, all four emcees furiously attack the Jay Norm-produced "Keep The Change" and "Spit It". The latter features D.S. Sense and both songs showcase tremendous wordplay ability, which remains constant throughout the album. I suppose that should be a given, considering the background of the emcees who came together while frequenting various open mic poetry functions in the Detroit area. In the summer of 1967, there was a five-day civil disobedience, or in layman's terms...a riot. One of the nicknames the city has earned over the years is in fact "Det-Riot". Many of the factors that perpetuated those riots are still prevalent in present-day Detroit. Kopelli outlines a few of those factors in a brief, but poignant verse, as he raps:
"I hail from the city of the Motown dittys
Dopeboy revenues through the roof
Home of the Hip-Hop gritty
The soulful, the witty
Where we rep for J. Dilla and Proof
Town where the brand new mayor
Is a Hall-of-Fame player
And the last one did a little bid
If you a blue-collar worker
Then your pocketbook's hurting
And your grind is finding a new gig
De-trois"
"Walking Away" finds the fellas thinking back on situations that could've been, but just "never developed like last summer's pictures", as Mic Write puts it. Phenom opens the song with a verse that wordsmiths and computer geeks alike should enjoy, as he raps:
"I was tryna' compute the info
But she said that I wasn't her type
That my drive wasn't strong enough
So I'm tryna' monitor what I'd say next
I said man be at your CAP
Tryna' have you on LOCK
But you could never find the right connection
Always gettin' caught up in the web and catching all type of viruses
Gettin' rammed, then deleted like spam by your man like DAMN!
I wish I could keep TABS on you
Then we SHIFT into a new CTRL environment
That's when you F1 of them old flames
Playing them old games
So you know your boy just had to walk away"
Producer Sheefy McFly incorporates a portion of Ray Charles' call and response from "What'd I Say" on the aptly-titled, "RAY". According to Facebook, the acronym stands for Ready All Yams, but CMY seems to have a thing for acronyms and allowing their fans to decide guess what they mean. In any case, the song is all about carnal delights of the flesh...you know, sex. "Living Like A Star" is all about living a somewhat wealthy lifestyle while working with limited means. From getting the homeboy hookup at the shoe store to foregoing the latest iPhone in favor of a Metro PCS phone to pushing a rental car from Enterprise. For those without much money (self included) and still making a way, the song dares the listener to imagine what they'll be able to do when they actually hit it big. The Jay Fab-produced, "Classic" is one of the album's stand out tracks. The constant vinyl pop in the background and pleasing guest vocals of Lauren Fisher do an excellent job of complimenting the lyrics. The song itself is a dedication to all things timeless and memorable, as Blaksmith raps:
"Milk crates filled with gold records
On the cover sleeves
Old memories of fine scenes that I wouldn't remember
On the Belle Isle a young Willie showed me how to jump checkers
Told my granddad to "king me"
As if he was my debtor
That's when he cracked a smile in that Cosby Sweater
That's Michelle at her job
Right before the Hajj
After the pizzeria closed
She led me to her Mecca
Breathing on her neck
Sucking on her nectar
Next day she got the call from the health inspector
And that's mom
Beating me with a scepter
She pulled a Jessica Fletcher
Found porno under my dresser
Snitched and told pops
And pops was like whatever
Till this day the case is cold
Apparently I was set up
Memories are forever
Good or bad they're mine to treasure
In hindsight, it was all plush leather
That shit was classic"
The lone skit on the album consists of Josh Adams trying to sell Kopelli various ad-libs after stating that ad-libbing runs in his family. Amazingly, Adams' father is responsible for the drum lead-in to Al Green's "Love & Happiness". Even more amazing is the fact that those five kicks were actually the result of him cleaning off the snow on his work boots. Pretty funny stuff. Things pick back up on the musical side of things with "Jibberish", "NOD" and "Aurora Borealis". Paying homage to beautiful...constellations, if you will, the love piece is easily one of the most laid back tracks on the album. Mic Write recalls the effects of his encounter, as he raps:
"Pretty little constellation
Broke my concentration
Had me acting schizophrenic, having conversations
With myself when my eyes first met you
"Should I even approach her", sweating bullets
See the condensation?
On my brow, WOW, such a beauty is rare
I know it's considered kinda rude if I stare
But I can't help it
I notice everything that you do
Like when you're nervous, the way your finger twists in your hair
I like that
I know we're both living the single life
But I was thinking maybe we could get together, make a compilation
You laugh - I dig the fact that you get that
And I don't wanna give you the impression that I'm impatient
But I'm just saying
I see that 36-28-36
And I'm trying to work the combination
If you catch my drift, lets just shift this to the bedroom
And your dress I'll lift
My Aurora Borealis"
Cold Men Young and Street Justice bounce lyrics off each other in a cypher called "Cold Justice". Pretty clever, huh? Jypsy, Ketch Phraze and Redd stand toe to toe with CMY and in the end, the listener is the one who wins. "I Can't Hear Myself Think" is a fast-paced, high energy cut with a soulful sound to it. "1000 Apologies" is another soulful track, included as a bonus song for those who download the entire album. For those listening to the album online, things close out with "Dreams", which features another appearance from Lauren Fisher. It's the album's most earnest and inspiring song and deserves to be last.
Coleman Young had a brash, in-your-face style of politics that rubbed many people the wrong way. Some of that can be seen in Cold Men Young. The words may come down hard at times, but they make the point that needs to be made and get the job done. Coleman Young passed away back in the nineties (1997 to be exact), but CMY keeps the memory alive. As long as these four talented emcees keep moving forward, then they'll be around and inspiring the people for many terms to come.
Music Vibes: 8 of 10 Lyric Vibes: 9 of 10 TOTAL Vibes: 8.5 of 10
Originally posted: June 15, 2010
source: www.RapReviews.com