Lil Jon :: Crunk Rock
:: BME/Universal Republic Records
as reviewed by Emanuel Wallace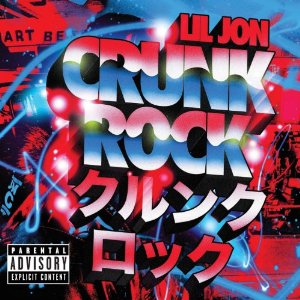 Whaaaat?!?!? Lil Jon is back. After several false starts and a heap of record label drama, hip hop's grand ambassador of crunk returns with his oft-delayed "Crunk Rock". The album has been a work in progress, dating all the way back to 2005. Originally scheduled for release in 2006, one of the first promotional singles released was the successful "Snap Yo Fingers". By the time 2008 rolled around, there was still no album and TVT Records had filed for bankruptcy. Jon ended up signing with Universal Republic and once again rescheduling the street date. The date came and went but Lil Jon did manage to drop a couple of mixtapes in the interim, "Rockbox Vol 1" and "Vol 2", respectively. As the years went by, it appeared that Jon's vision for the album had changed as it was expected to be more eclectic now with pop elements along with house and R&B. The album's first official single, the Drumma Boy-produced "Ms. Chocolate" and the promotional "Outta Your Mind" were both released this past March and it seemed as if "Crunk Rock" was finally going to see the light of day. Yeaaaaaah!
Following a short intro, "Crunk Rock" kicks off with "Throw It Up Part 2 (Remix)" which features Pastor Troy and Waka Flocka Flame, and the Soulja Boy-featuring "G Walk". These songs seem to fit right in along the lines of what I've come to expect from a Lil Jon album: deep bass, hand claps, lots of adlibs, etc. I was thrown for a bit of a loop on the Drumma Boy-produced "On De Grind". It features appearances from Stephen & Damian Marley and a toned-down (as toned-down as possible, rather) version of Lil Jon that dares to be...lyrical, as he raps:
"Slumdog Millionaire, made it outta nothin'
Through all the Temptation, came up David Ruffin
[...]
Super hard, Tony Stark, I got that iron on me
Rastafari, don't make me sic the lion on em
I got killers everywhere, it's the City of God
Now ain't nobody seen shit, it's just a mirage
Sunglasses at night, under the street lights
I ain't missin' no meals, I gots to eat right
I'm on hustle overdose, like that nigga from 'Crank'
Ain't no Oscars, we ain't actors, nobody to thank
Try to stay positive, and never give up
Tryin to keep my head up, but I'm fed up
If some bloodclot change don't come
Then bloodclot pain gon' come"
After a short interlude explaining what the lifestyle of "Crunk Rock" entails of, we finally get some rock to go with the crunk in the form of "Killas". The song features Game, Ice Cube, Elephant Man and the musical sounds of Whole Wheat Bread. "Outta Your Mind" features LMFAO (of "I'm In Miami Bitch" fame) on one of two appearances on the album, the other being on "Shots". Frequent Lil Jon collaborator (and perennial milkbox candidates) the Ying Yang Twins come through and do what it is they do the best, yelling obscenities at the ladies. In this case, it's "Ride Da Dick" and it probably won't be long before the song hits your local nightclub and radio station. It's raunchy as hell, but anything can be made radio friendly nowadays. Take a look at "Get Low". I suppose it's only right that the track ends with a clip of Chris Rock saying "skeet, skeet, skeet".
"Like a Stripper" takes a slightly more subtle approach, (a heavy emphasis on "slightly") but the premise is relatively the same. One positive takeaway from the song is that it seems to draw a great deal of influence from the Miami bass sound from the late 80's and A-Town booty bass sound of the early-to-mid 90's. The single disc version closes out with the aforementioned "Shots", the Pitbull-featuring "Work It Out" and "Hey". All three center around getting drunk and "buck ass wild". Out of the three, "Hey" has the biggest pop appeal to it, mostly due to the sound of 3OH!3. The bonus disc of the deluxe version of the album includes six more songs and appearances from the likes of Travis Porter, E-40, Blazed, Jay Sean and Oobie among others.
As a listener, the overall opinion of this release depends on the expectations going into it. If you're looking for lyrical greatness, you'll be disappointed. If you want an album filled with nothing but trunk-rattling beats you'll be disappointed. However, those with tastes that shift from crunk to pop to rock and back to crunk should be rather satisfied with this release. My score won't reflect it due to the way we average out the total score, but for what it's worth, "Crunk Rock" is an exceptional album, guaranteed to get its fair share of bodies on the dance floor, crunk, drunk and otherwise. There's no "Bia Bia" or "Lovers & Friends" here, but in the end Lil Jon knows party music and that shines through. It may have taken longer than expected to come out, but just as Lil Jon's ginormous piece and chain proclaims... Crunk Ain't Dead. Okaaaaaaaaay!
Music Vibes: 8 of 10 Lyric Vibes: 3 of 10 TOTAL Vibes: 5 of 10
Originally posted: June 8, 2010
source: www.RapReviews.com