Kristoff Krane :: Picking Flowers Next to Roadkill
:: Kristoff Krane/Strange Matter
as reviewed by Pedro 'DJ Complejo' Hernandez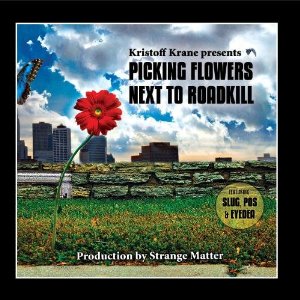 As Flash graciously points out in his review of Kristoff Krane's "Hunting For Father," Kristoff Krane is no stranger to Rap Reviews. While completely unaware of his involvement in the Face Candy project I reviewed a few years back, that album remains one of the most memorable CDs I have reviewed for the site. I still have no love for that album or desire to ever spin it again. That said, my problem with Face Candy was the group's lack of focus and the hectic nature of the entire CD. With "Picking Flowers Next to Roadkill," Kristoff Krane takes a huge step in the right direction by delivering an album with purpose and a resonating theme that is clearly presented.
The title track kicks things off and finds Krane weaving a compelling story:
"I sat, Cahoots Coffee Shop, quarter past seven,
Relaxed, he walked up, he said he ran out of gas
I said "What? Say your stuck? Well let me help, I'd love to help."
He looked me dead into my eyes and said that he'd do it himself
Okay, but if I made mistake, I peep into your car
I'd like to reassure myself that I can truly play your part
I did, it was as close to empty as I was to giving in
I grabbed my wallet with my left and with my right I reached for his
Wasn't sure how to feel or exactly how to think
All I could do was take it in and hope and pray he wouldn't take advantage of my weakness
Call it that, there is no shame, I feel not bad for being kind
It's in my nature to regain, that faith I had in human beings
Right before he beat me up, drank up all my coffee, grabbed my cash and stole my car
Now who's to blame for the poor? Was surprise paid in full?
Or did the decisions I made do nothing but support the kill?"
Music that veers towards the abstract and philosophical is difficult to create, let alone make relatable. Kristoff Krane does this well on the title track. I pulled a clear message of hope and optimism from the track, though the track was still open for other interpretations. Krane successfully replicates the same effect on the bulk of the album. "Brighter Side" could be interpreted as promoting optimism and individuality. It could equally be seen as a pessimistic criticism of societal norms. The duality exhibited by Krane on each track is the album's appeal. At its heart, it really does feel Krane set out to make an uplifting, thought provoking album. Yet, Krane's natural cynicism and skepticism still shine through enough to give the music a touch of reality and humanity.
Overall "Picking Flowers Next to Roadkill" is a success for what it set out to accomplish. Throughout the album's 13 tracks Krane effectively delivers his message to the listener. The storytelling on the title track is superb and the story told is compelling. Tracks like "Snake in the Grass" and "Work" provide the listener with relatable, head nodding music and a positive outlook. The beats by Strange Matter are generally satisfying, if a little unremarkable. The missteps are distracting, but don't ruin the album. "Student Body" is the only song I seriously felt was skippable, but only because the voices used for the role playing started to grate on my ears. Though Krane's brand of emotional and overly positive hip-hop is not for everybody, he certainly deserves kudos for this album.
Music Vibes: 6 of 10 Lyric Vibes: 5.5 of 10 TOTAL Vibes: 5.5 of 10
Originally posted: June 8, 2010
source: www.RapReviews.com