DJ Bless :: Summertime Madness :: Never So Deep Records
as reviewed by Steve 'Flash' Juon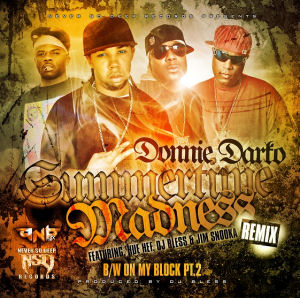 Just in time for the soaring temperatures of June, DJ Bless is dropping "Summertime Madness" to heat up the block even more. You may recall that Bless made a splash last year with the release of the drug-fueled "Black Tar Heroin," and his Never So Deep Records crew are not shy about proclaiming their shit "the hottest underground label today." Of course a hundred different people and labels are going to make the same claim, but if you don't swagger like the biggest dog in the yard, you're gonna get barked on eventually. From the press releases we've gotten over the past year, swag is not in short supply, though they also usually come with polite/demanding requests to big up their latest release in the blogosphere.
So without further adieu it's time for the five track "Summertime Madness" EP, or if you prefer maxi-single, although there was a time when those two terms were almost interchangeable. There's enough variety on this release that I'd be willing to consider it an EP, though it would be on the shorter side of that already short format. The album purports to feature a variety of NSD affiliates - Donnie Darko, Hue Hef and Jim Snooka. Before getting in on the song I'd like to say something about rap names in 2010 - stop borrowing from pop culture and Hollywood movies already! Let's all try to be a little more creative than that. I swear the next mixtape I download is going to be DJ Freddie Kruger featuring Jay Son Vorheez. (Misspelling intentional as it seems to be how rappers differentiate themselves from their famous namesakes.) As for the song the Bless backdrop hits, as it's an adrenaline dose of guitar licks and bass suitable for Lil' Fame and Billy Danze to scream on, and the opening rapper of the crew handles it nicely:
"Told y'all I'm nice the kid is back at it
All I do is spit dope and half the world addicts
Most of y'all broke, I wanna know where the cash is
It's in my nature to brag and talk mad shit
You dudes couldn't hold a candle to I
Fuck a bitch, get head and watch Family Guy
Your career's unfulfillin, this nigga makin a killin
A hero? Nah, I'm lethal, this nigga playin a villain"
While in some respects it's the typical "I'm so fly and I push so much weight" rap song, it's the energetic backdrop that qualifies this one as a legit summer banger. The song comes with a clean edit and an instrumental, but as a bonus a "Summertime Madness (Remix)" comes packed in - the beat's largely the same but the rap order and the rhymes put in are totally different. "I'm on top, tell me why would I switch nigga?/Fuckin with me left and right, you is a switch hitter." Okay the baseball metaphor is a little played but it's nice to flip up the whole song for variety's sake so I'll let that slide.
The EP/maxi closes out with "On My Block Pt. 2," and though I'm trying to remember the first part and failing at the moment the new version features the same rappers heard thus far, flowing over a track that pushes up the horns and downplays the hard rock edge "Summertime Madness" had. That's not to say this song isn't hot though - in fact the opening verse may be the best rap of the EP:
"I know what I'm facin, c'mon keep hatin
I'm hot, everybody love me, I'm like Raymond
I ain't got comp, no crown that I'm chasin
I'm fresh, the tee y'all crispy like bacon
Real talk, I'm drunk when I'm killin the booth
Blueberry don't smoke if you allergic to fruit
On the highway, a hundred miles, pushin the coupe
And it's A Few Good Men who can't handle the truth
Get it?"
Yes, as a matter of fact, anyone listening would get that bar - those who didn't probably wouldn't be listening in the first place. Will "Summertime Madness" be the summer slammer that it hopes to be? Possibly but I feel like this EP is just a cocktease - a lot of potential but not the out and out summer banger yet. The full album should bring that heat though.
Music Vibes: 6 of 10 Lyric Vibes: 6 of 10 TOTAL Vibes: 6 of 10
Originally posted: June 8, 2010
source: www.RapReviews.com