J. Keys :: The Dead Horse :: RefinedHype.com
as reviewed by Daniel Oh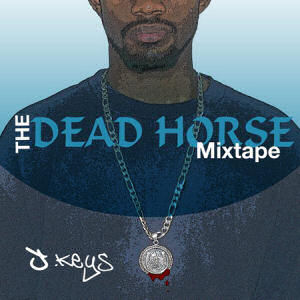 I have a soft spot in my heart for Detroit. It's a blue collar town with calloused hands, and even the most soulful of its citizens manage to incorporate its steel spirit into their music. This is the city of Eminem, D12, Royce da 5'9", and the immortal J. Dilla (who I'm starting to think is recording tracks from the dead with Tupac).
From this impressive music tradition, we get J. Keys. He currently bases his operations from New York, but he was born and raised in Detroit, and you can tell he draws a lot of his style from that gritty soul that J. Dilla symbolized. His mixtape, "The Dead Horse," tries to harken back to the days of conscious, meaningful music with live instruments and traditional drumlines, which only fits since he mostly uses J. Dilla's beats as a canvas to speak his mind. His mission statement is to "fill a void," or to play a role that's been vacated in the recent craze to get everything auto-tuned.
The album kicks off with "Dead Horse (Intro)," which sparks the album with the 20th Century Fox theme and a sample saying: "This film that I'm producing is about Hip-Hop." Then the beat drops and J. Keys wastes little time speaking to his masses:
"I like to welcome everybody
Pull up a seat, check the program
This is the mixtape better than most niggas albums
It wasn't complex, it was simple to me
Pour out my fuckin' heart over other people's beats
Like speakin to your homie that would never tell your secrets
I kick it with the people and their fiendin for the deep shit
Or at least somethin that'll make em think... shit
Here's a rhyme, catch, think quick!"
The track is classic Dilla, with the high violins, spare bass riffs, a soulful crooner in the background and a boom-bap drumline. I can't seem to put my finger on which track it is specifically, but if someone could point it out, that'd be awesome. J. Keys does respect the track, and he exhibits a refined flow with some fresh lyrics. The only qualm I have about this song is that I feel that J. Keys tries to force too much material into a few bars. The hiccups come few and far between, but they're noticeable enough.
The pace picks up with "Drinking Buddy," the actual song. It's a fun song that provides an upbeat bass riff and a catchy ditty on the track, while J. Keys is joined by Mr. 2Forties and B.I.Z. the Messenger. I'm sure anyone can relate to the drunken revelry all three MCs regale to us. I can definitely relate to "Miss, have a drink with me, not to be confused with a drink for free." Preach on brotha, I'd love to talk to ladies if they didn't expect me to shell out hard-earned money for Patron shots. Shit is expensive, ladies.
Other notable tracks like "Social Commentary" and "Can't be Colorblind" reveal J. Keys as a contemplative artist that tries to tackle the larger issues that still affect America. "Broken Heart" and "In-fat-u-ation" talks about the beauty of falling in with the fairer sex, "Problems" and "The Break Up" talk about when they're not so fair.
The low point of the album comes during its interludes, especially with the "Drinking Buddy (Interlude)" goes overly long and throws off the rhythm of the album. I get it, drunk guys talking in slurs and bitching at the po-lease is funny, but it's not four minutes and fifty-two seconds funny.
The album has strong offerings and each song is a pleasure to listen to, but there's nothing markedly original about it. Everything J. Keys spits is rooted in concepts, melodies, and traditions from conscious artists of old. Even Little Brother managed to set themselves apart from the old school that served as their inspiration. But then again, J. Keys is so committed to bringing this old feeling of conscious music that sustains the listener mind, body, and soul. He's forcing these traditions back to "fill that void" that gets bigger with each auto-tuned track and each synth heavy club banger. He's beating that proverbial "Dead Horse" because Hip-Hop still hasn't got it yet. He wants to go back to when music said things beyond shawtys getting loose and break-break-break-breakin your heart.
In all "The Dead Horse" is a solid mixtape that should earn enough rotations in your iPod. It's not a seminal conscious work by any means, but it is refreshing to see that some artists are willingly taking it back to remind us of the lessons told before. Don't get me wrong, I'm feelin' this new direction that the music is taking, but sometimes, I am fucking tired of techno-beats and heavy bass. "The Dead Horse" is a nice retreat from the hubbub that makes up Hip-Hop today.
Music Vibes: 7 of 10 Lyric Vibes: 7.5 of 10 TOTAL Vibes: 7.5 of 10
Originally posted: June 29, 2010
source: www.RapReviews.com