Vinnie Paz :: Season of the Assassin
:: Enemy Soil Entertainment
as reviewed by Steve 'Flash' Juon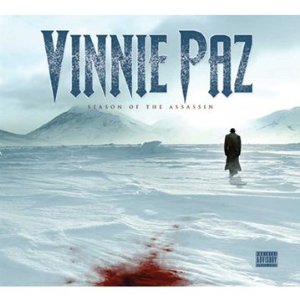 "I feel reinvigorated, don't fuck with the boss
I'd rather cut my own throat before suffering loss
Anybody fucking with me get hung on the cross
I have anger in me don't make me summon the source"
Vinnie Paz is one of the angriest men in rap. He's been snarling and swearing his way through songs as the frontman of Jedi Mind Tricks for 15 years, a critically acclaimed hip-hop group that has released six LP's and sold over a quarter of a million records in the United States. Wait - a quarter million TOTAL in 15 years? Eminem did more that in a WEEK. That may just be one of many reasons why Paz is charismatic, political, lyrical, and pissed the fuck off. When Paz growls "The best motherfucker in the street that you never heard" on "Pistolvania," he might just be right, but ultimately it wouldn't make sense for Paz to be better known. It's hard to imagine this gun toting, hollow tip loading Philadelphia rapper ever being as beloved as Will Smith or even Schoolly D. You can't tie a pretty bow around his looks OR epiglottis and sell it to the masses as Paz is hocking up a lyrical loogie on every verbally terse verse he spits. The song titles on "Season of the Assassin" tell the story - if he's having a "Bad Day" he's gonna "Kill 'Em All" just before he decides to personally "Drag You to Hell":
"See I always have respect 'cause I always talk facts
The 38 and 50 caliber all-black
I always left with nothin but I always brought back
I always been a hustler, I poli'd off that, yeah
Y'all don't want to go to work with the boy
It's only two words that describe me - search and destroy
I don't think you wan' get merked by the boy - my shit is military
Y'alls is like a nursery toy, it's hurtin you boys (BRRAP!)
My team ain't even hungry, we famished
I murder everybody, fuck collateral damage
I'm animal savage, with Hannibal's habits, I mangle your cabbage
I walked into the parish and I strangled the faggots
I hang with the baddest, brothers put they trust into Jesus
Run with brothers who 40 guzzlers, Islamic extremists
Ugly and ignorant is how they perceive us
I don't care, I'm tryin to deal with my personal demons"
Without the right mixture of beats, Vinnie Paz' phlegmy flows and righteously rude rhetoric might not have worked for so many years, but thankfully he's always made connections that make his brutal beautiful. "Drag You to Hell" is a perfect example as DJ Kwestion provides a hip-hop headnodder so infectious you might accidentally overlook just how bitter and pissed off Paz is, although the scratched in samples of Sticky Fingaz on the chorus keep things focused. There is no shortage of violently awesome beats on Paz' 21 track solo project. "Monster's Ball" is Kottonmouth Kings for all the right reason, a heavy electronic Stu Bangas track you could picture the Cali chronic crew getting lit up to. "Street Wars" featuring Block McCloud and Clipse is a Shuko banger romping over big keyboards and drums. C-Lance does his death dance on "Brick Wall" featuring Demoz and Ill Bill, as Paz dubs himself "the human tornado" and brags "I don't get my hands dirty, that's for fucking henchmen." He also laces one of the oddest and most intriguing combos I've ever heard on one track - Paul Wall, Vinnie Paz and Block McCloud rapping on "Paul and Paz":
Paul Wall: "I'm the man with the plan and them rocks on my hand
In the Cadillac, sittin on Vogues
Out the bopper so heavy, but the haters mad at me
When I come around the corner so throwed
I'm the shit where I'm from in the land of Screw
A go-getter chasin after bankrolls
If you're hatin don't try it cause I'm waitin so quiet
A player stay up on his toes"
Vinnie Paz: "I'm nice with the ox, you get cut like the raw white
Or hit you with a fuckin silver bullet like Coors Light
I can tell a snitch if he don't walk through the door right
I can tell a snitch if he don't handle the four right
The fifth levitate your body, the God's hype
Flatline, long dark tunnel, then it's all light
I'ma ride dirty, so motherfucker, forget the law
Kicking wings, shrimp fried frice from the liquor store"
If you're familiar with any of the JMT catalogue classics like "A History of Violence" and "Visions of Gandhi" you should understand where Paz is coming from on the MTK produced "Ain't Shit Changed." Previously the two things that never changed about Jedi Mind Tricks were the superb production of Stoupe the Enemy of Mankind and the off-and-on membership of Jus Allah in the group. All that releasing "Season of the Assassin" under his own name enabled Vinnie Paz to do is work with a variety of producers and some guest rappers you would never expect on a JMT album, but that ain't changed shit about how sadistic and pissed off he is lyrically. Even songs like the Madlib produced "Aristotle's Dilemma" might sound beautiful as an instrumental, but as soon as Paz grimes it up by saying "Vinnie put the flame to your grill/You claim to be real, but y'all just end up painfully killed" it gets as dark as any Jedi Mind Tricks album has ever been. To sum it up if you've liked anything Paz has done before now to date "Season of the Assassin" will be right up your alley, and if he's just too savage and guttural for your taste nothing here will change your opinion. This is uncut unfiltered malice.
Music Vibes: 8 of 10 Lyric Vibes: 8 of 10 TOTAL Vibes: 8 of 10
Originally posted: July 13, 2010
source: www.RapReviews.com