Amad Jamal :: Barely Hanging On: The Chronicles of a Brotha Like Rodney King
:: Urban Umpire/ABB Records
as reviewed by Emanuel Wallace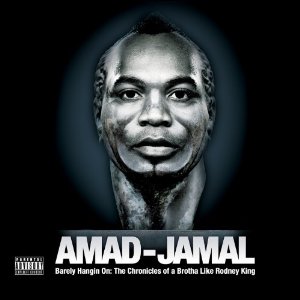 So it was my birthday weekend and I figured I'd kick back, relax and listen to this CD from jazz pianist Ahmad Jamal that happened to be sitting around for awhile. After a brief introduction, I quickly realized that this wasn't Ahmad Jamal (or even Ahmad from "Back In The Day" fame who has his "The Death of Me" album on the way), BUT Amad Jamal. Yes he was named after the famous pianist, but Amad hails from Los Angeles and records for Urban Umpire Records, while his namesake hails from Pittsburgh and can still be found behind a piano all over the world. Jamal has been around the Los Angeles music scene since the late 90's. In 1999 he formed a group called The Solution and in 2000 released the maxi-single "The Renaissance" with Rakaa, Evidence and Defari. In 2003, Jamal was the only West Coast artist booked for the Rock Steady Tour.
With that said, "Barely Hangin' On: The Chronicles of a Brotha Like Rodney King" is Amad Jamal's debut album and features guest appearances from Dilated Peoples, Defari, Maaya Ota aka Lady Dragon, Doc One, Mean Green, Dirty Twan and Gotham Green. The album opens with a short intro, quickly followed by "We." The track has a sound to it that resembles something that might be found on a Swollen Members album. Jamal compares himself to Larry King: "Tap into the side of your brain that you don't use/ Hip-hop's like media, I report the news." Sharp piano loops accentuate "Believe That" which features an appearance from Dilated Peoples. Jamal compares his rap career thus far to being a second-round draft pick and likens Brisk One to Lakers coach Phil Jackson in terms of his discipline. "Goin' Postal" is built around a sample that sounds similar to the backwards message at the end of Prince's "Darling Nikki." The song itself is a recollection of Jamal's frustrations in his job as a mortgage lender. Maaya Ota aka Lady Dragon croons the hook to "Stop Clownin' Around" which is an ode to the advice Jamal's mother would give him when warning him about tagging buses and other mischievous acts.
Jamal gives out his own advice of "Just stay true/ You are what you are, you do what you do" on "Boy Meets Girl," the story of a love affair that blossoms. blooms and eventually withers away because of a lack of trust. As one might expect, "Spread Love" features a small Biggie sample from "Juicy," but it's edited and plays out like "Spread love, it's the Cali way." Mean Green makes an appearance on "Hood Tales," the story of city life, which is described as "faster/ Master your own destiny, or meet disaster/ You gotta have your head on straight, brothers is quicker/ Influenced by bright lights, drugs, women and liquor." The album closes out strong with "Regardless" which features Defari and "Get Peace" which features Dirty Twan and Gotham Green. On a whole, the album makes for a good listen with my major gripe being that the copy I was furnished with happened to be censored. I'm not going to hold that against the Brotha though. What we're left with is some good B-boy West Coast hip-hop that falls way out of the realm of the type of rap that many associate with that side of the map.
Music Vibes: 8 of 10 Lyric Vibes: 7 of 10 TOTAL Vibes: 7.5 of 10
Originally posted: August 17, 2010
source: www.RapReviews.com