DLabrie :: Mr. Netw3rk :: RonDavoux Records/Select-O-Hits
as reviewed by Susan 'susiQ' Kim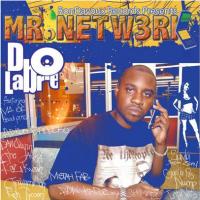 Known for its endless number of outstanding artists and thriving hip hop scene, the Bay Area still remains a hot spot for new hip hop talent. Included in this up rise is up-and-coming East Oakland emcee DLabrie who was born and raised amidst the Bay Area's flourishing hip hop scene. While enduring a challenging life full of violence and poverty, DLabrie claims to live the true life that most rappers rap about as he professes his way of living "fueled my love for music." Emceeing since the age of 13, DLabrie has been sharing his talents and has since then become a vital asset to various organizations including the Hip Hop Congress. He has also had the opportunity to tour throughout the U.S. and has even created a following in Japan and Korea. Translating his experience in the music industry into music, DLabrie debuts with his twenty-three track LP. A nickname given by a former manager and album title, "Mr. Netw3rk" features acclaimed artists such as M1 of dead prez, Mistah F-A-B, San Quinn, and Zumbi of Zion-I.
At first glance, it's apparent that "Mr. Netw3rk" is a lengthy twenty-three track album, but a twenty-three track album full of what? The album's introduction poorly sets the tone for the rest of the album as D'Labrie talks, yes talks, over a simplistic synthesized beat and is soon followed by a skit with DJ Backside as she interviews him for her radio show. At this point, I'm not quite sure what I'm listening to because it might be a radio show or open mic session for all I know. Finally at track three the music commences. Heavily synthesized beats are once again incorporated as D'Labrie provides his own introduction about himself in "D'Labrie" and discusses his career as a rap artist.
As "Mr. Netw3rk" continues, it's a roller coaster of good and bad for the duration of the album. It has become the norm for rappers to include tracks dedicated to their ladies and groupies as D'Labrie joins the bandwagon. However, not only does he talk about the ladies he wants to be with in "Wus Ya Name" and "Breath on Me," but also includes a track about a fanatical female in "Maniac." With its unsuccessful vocals and yes, synthesized beats once again, the track merely fails in the end. Staying true to the Bay Area's hyphy sound, Traxamillion is featured on "Pitty Pat" as D'Labrie calls out to the females to play "pitty pat." Apparently, "pitty pat" is a card game, but I'm quite sure he's not talking about that. Sounds more like an adult version of "patty cake" perhaps?
Maxwell's "Ascension" is perhaps one of my favorite slow jams, but D'Labrie's version of "On the Unda" only ruined it for me. First of all, "Ascension" is one of the tracks that should never be remade. In retrospect, it's pretty hard to compete against Maxwell, if I do say so myself. However, D'Labrie did the unthinkable and found vocalist Johnnel to be a pseudo Maxwell. Johnnel does in fact do a great job in his singing, but the track is so unoriginal although D'Labrie changes the song from a slow jam into one about surviving the rap game.
Fortunately, D'Labrie redeems himself in a few tracks that make the album hip hop worthy. He reminisces about his escapades from traveling between the Bay and L.A. in "Away We Go," as his long list of guest emcees make an appearance in the end in "Turn the Party Out." Even with its amateur beats, "S.O.S." sends out a solid message of D'Labrie's own struggle with his personal relationships, son, and career. He puts all his pride aside and deals with his misfortunes, not afraid to call out for help. "Stay Black and Die" is a heavy track that discusses the struggle as an African-American male in today's society. D'Labrie instills a positive message of remaining true to one's self as he says:
"They robbed the black man of his genius
The only thing we get credit for is our penis
They say white Jesus, but I don't believe this
They want to seize us
Search and seizure
And then Katrina
The government want to leave us
They want to call us refugees in the media
Blame us for diseases and murder my fetus...
We need to wake up
Before they take us
Modern day slavery
They cannot face me because they may hate me"
Although "Mr. Netw3rk" had a slow start, D'Labrie was able to make up for lost time with his few choice tracks. Without a doubt, his skills as an emcee are clearly apparent and with some additional work and less synthesized beats, he definitely has a shot. It is pleasant to see how D'Labrie can switch from the very serious to silly and how he has a whole lineup of emcees that support him. His music clearly shows he is not afraid to show his weaknesses to his audience as his potential is great with a little fine tuning.
Music Vibes: 4 of 10 Lyric Vibes: 5 of 10 TOTAL Vibes: 4.5 of 10
Originally posted: August 3, 2010
source: www.RapReviews.com