Felonious :: Live City
:: onelovehiphop Music
as reviewed by Susan 'susiQ' Kim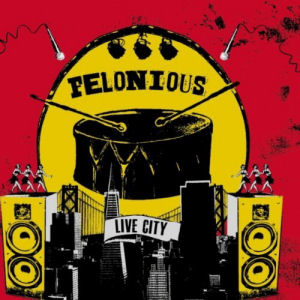 Villainous, archaic, wicked, or felonious; they all mean the same thing at the end of day. Simply stated, this is what the San Francisco collective, Felonious, is all about. Known for their live instrumentation and jazz fused beats, Felonious has maintained a true sound with no frills attached. They have gone back to the basics while capturing the essence of "live aesthetic" and unadulterated music in their fourth installation of "Live City."
Although the group initially started in the 90s by Soulati and d.wolf as an a capella hip hop group called Felonious Punks, it has since grown into a massive assemblage consisting of Soulati on drums, Illin Ills on bass, KP on vocals and keys, Jon Monahan on guitar, and MC's d.wolf and Infinite who provide some unconventional lyricism. Exploring different avenues, the group has also ventured into theatrical hip hop productions as they wrote and performed "Beatbox: A Raparetta," one of only many they have pursued. With this unique experience and knowledge, their distinctive style of mixing the past and present in their music utilizes beat boxing, live instruments, jazzy tones, and unsurpassed lyricism.
"Live City" starts out as scratching records commence "Soul Man" which calls out to other failed rappers. Immediately, the live instrumentation comes through in their music as it adds a soulful flare to the track. In similar tracks, Felonious boasts about their crew and music in "Get it Str8" which starts out with some infamous beat boxing and follows with, "Crew don't mean one or two./You've been corrected it's a collective better get it straight." Blaring trumpets begin "What You See" as the crew shows that what you see is what you get with their music while "Don't Move" uses simple drums and synths to get their message across about their talents.
Alongside their more playful tracks, Felonious also knows when to get down to business and take on a more serious tone to their album. Felonious samples an old Nina Simone track in "Misunderstood" as the crew explains their misconceptions and provides clarification for those who get the wrong impression of them. Also, through their music, the crew revolts in "Record Stacks" as they say:
"Targeting hoods and dreads and fat laces
Happy to get you
Smile on they faces
We in the worst time in the worst way
They should've put a stop to this yesterday
I don't care if we decide to revolt tomorrow
As long as we was for real going through with the follow
Let's go from victim
To refugee, to rebel
Make them feel like they done
Sold they souls to the devil
We come here to collect it
Our revolution
People got to come corrected
Because our revolution is in danger"
In addition, Felonious creates a sense of disbelief as they form a vision of a post-apocalyptic world in "Heat." They describe the world in shambles with cities demolished and historic monuments fallen as the underlying message shows that people ultimately create their own demise.
As a huge fan of Crown City Rockers who boast a similar live instrumentation and jazzy feel, I knew I would be hooked within the first few minutes of listening to Felonious. I always treasure hip hop in its most raw form as beats are created with instrumentation and thus reverting back to blues and jazz; the true foundation of hip hop. As they share their perspective of the city and how it has shaped them, Felonius creates a fresh hip hop sound with their own unique twist and represents Bay Area's hip hop at its finest.
Music Vibes: 8 of 10 Lyric Vibes: 7 of 10 TOTAL Vibes: 7.5 of 10
Originally posted: August 10, 2010
source: www.RapReviews.com