Jay Rock :: From Hood Tales to the Cover of XXL :: WSHH.com
as reviewed by Guido Stern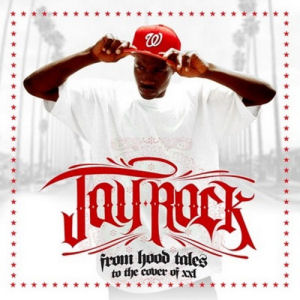 XXL's 2009 Freshmen Class, while for the most part a very good representation of the best new talent for that year, had a noticeable dearth of gangster rappers. What's more, the cast's lone Westsider, Blu, makes the type of easily relatable music that gets filed under Conscious Rap, a pigeonhole that defies location. I imagine this irked many a Californian, and XXL's 2010 update appears to have taken note: the inclusion of L.A. hardcore MCs Nipsey Hu$$le and Jay Rock, as well as yet another azure backpacker, Fashawn.
Now West Coast hip hop is long thought to have reached its apogee in the '90s, and experienced a relative dissolution in the past decade, so where, exactly, do these new guys fit into the mix of a dead genre? From listening to Jay Rock, it would seem that he believes the conventions didn't grow out of style, but rather the rappers who appropriated them. Content-wise, "From Hood Tales to the Cover of XXL" is no different than one of the Game's early mixtapes—a rapper who Jay Rock has and will continue to be compared to, if only because of their generic Blood repping and low-pitched, languid flows. Now prior to hearing his latest tape, released in March to capitalize on his XXL-driven buzz, I had only heard Jay Rock on guest verses and freestyles. His entry in the "Hottest in the Hood" jacking trend of last year immediately caught my attention as he displayed a palpable, arrogant hunger for success. This tangible sense of motivation is unfortunately absent on the greater part of his mixtape, though, and several signs point to it being thrown together quickly. Awful cover art (in this case, the title of the mixtape is annoyingly ambiguous) is one clue, the tape's lifeless and noticeably less sophisticated top half an even stronger indication. Intro "Real Bloods" posits a puerile, atrociously repetitive piano chord in lieu of a beat, which Jay Rock lets play out for four minutes as he lists a bunch of local blood gangs across the country. Likewise "They Want My Spot" sounds like a primitive rehash of "Outta Control (Remix)," and though he is at least rapping rather than simply itemizing here, he fails to leave any kind of lasting impression.
Not coincidentally, the tape's guest-heavy second half features considerably more sophisticated production, all but confirming the desultory preparation of the A-side. And in the face of appropriate competition, Jay Rock suddenly regains enthusiasm, rattling off "Breaking bread at the table // with the 'caine I was able // never slackin shit I'm at it // like a crack addict, pack 'matics" on the wistful "Striving." A key mistake in the rapper's self-promotion as one of the best newcomers, though, was inviting Kendrick Lamar on two late tracks. Despite a solid effort from Jay Rock, Lamar steals the show on "Roll On," evoking both Boots Riley and Eminem in the process. Not surprisingly, allowing Freeway on "Fasho" results in a similar disparity between performances—but more importantly, an all-around solid joint. But for the most part it's too little, too late, and those who are using this as an introduction to the rapper will probably not buy into Jay Rock being one of the ten best new rappers in the country; there's a better chance they'll be Googling Kendrick Lamar or revisiting "Philadelphia Freeway" (or even "The Documentary").
Music Vibes: 5 of 10 Lyric Vibes: 6.5 of 10 TOTAL Vibes: 5.5 of 10
Originally posted: August 24, 2010
source: www.RapReviews.com