2 Hungry Bros. :: 8thW1 - No Room For Dessert
:: Domination Recordings
as reviewed by Steve 'Flash' Juon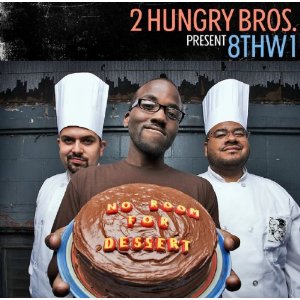 Combine, collide, move forward and don't break stride. That's the motto of all artists involved on this new CD, as one became two, then two became three. It all started when Deep and Ben Boogie were DJ's at the Nuyorican Poetry Club. Recognizing kinship behind the wheels and the production boards, the two linked to form a production crew called 2 Hungry Bros. Soon they were the sound behind a variety of East coast underground favorites - Vast Aire, Breez Evahflowin, Reef the Lost Cauze and Shabaam Sahdeeq just to name a few. With their credentials already established, the always starving artists got hungrier and sought out a new MC to shine the spotlight on. Enter the Browns Mills, New Jersey native 8thW1. He started bubbling with a debut album called "lovemoneyandmusic" but needed a winning team to take his rap to the next level. Put all three together and suddenly the 2 Hungry Bros. aren't hungry any more - they're well fed. That's why there's "No Room For Dessert."
It's refreshing to run across an album where you don't have to check from one track to the next to see what all-star producer came in to produce the cut. It's even more refreshing when the production is good enough to justify being done all by one man or team. The list of people I would pick off the top of my head who I'd let produce an entire rap album start to finish is fairly short: 9th Wonder, Diamond D, Evidence, Polow Da Don and Primo just to name a few. After listening to "No Room For Dessert" I'm willing to add 2 Hungry Bros. to the list. It probably helps that there are only 11 tracks on this CD, so even if their flavor was to ultimately get stale there's just not enough time for them to fall off here. Things start fast on "Say My Name Right," where 8thW1 pulls a DOOM and explains the correct way to spell his nom de plume - and it's actually pronounced "Eighth One."
"The teacher, class in session
The best hands down, no question
Everybody's fresh - I'm refreshing
Cause I hold it down, like oppression
There's a new sheriff in town, no boots, no steps
And my fam is the future, The Jetsons
Say 8th Wonder? I say correction
Talk about 9th? Uhh, no connection"
2HB hook it up lovely with horns brassy enough for Pete Rock and beats bouncy enough for Lupe Fiasco. I have no idea if Eighth One would mind that comparison, but it's actually somewhat uncanny how much the two sound alike. Every now and then I expect him to tell listeners to "Kick, Push." If you have to be a dead ringer for another rapper though, you might as well be one that doesn't suck. It's also clear he's a student of hip-hop, as he quotes directly from KRS-One on "Short and Sweet" and delivers the words in almost the same way, only changing the "I" to "we" for dramatic effect: "They claim we sellin crack, but YOU be doin that!" KRS might relate more if he had titled the song "Beef" though, because he's talking about eating right, and his #1 enemy is sweets.
"Sugar sugar everywhere, sugar so convenient
Sugar's in the corner store and everything you eatin
High fructose corn syrup the ingredient
Pay a quarter for your diabetes then you leavin
Sugar sugar sugar why can't I lose weight?
Sugar sugar sugar why can't I concentrate?
Sucrose take my glucose levels higher
Sugar is the illest drug, who is the supplier?"
It's hard to find something to knock on "No Room For Dessert." Two strong producers craft great beats, while one intelligent emcee with good punchlines and a knack for making points as opposed to just making money delivers lyrically. What's not to like? Time and time again this CD wins, even when they vow they "Can't Win 'Em All" while guests P.So and Fresh Daily help rock the bells and beats. Guest appearances don't overwhelm Eighth but they don't hurt his cause either, as like-minded artists posse-all-in for songs like "No Harm" featuring Homeboy Sandman, Reef the Lost Cauze and Von Pea. The breezy strings and crispy taps of "Skywriter" featuring Brokn English are also a win, as is the up-tempo dance track "More Go" featuring crooner Janelle Renee. With so many new rappers and producers coming out every single week it's easy to be skeptical of a relatively new emcee and his crew and say you've got "No Room" for another CD in your collection, but you'll be happily surprised if you take a chance on 8th and the 2 Hungry Bros.
Music Vibes: 8 of 10 Lyric Vibes: 8 of 10 TOTAL Vibes: 8 of 10
Originally posted: August 10, 2010
source: www.RapReviews.com