Hidden Fortress :: Third Eye Cyclops :: Hand'Solo Records
as reviewed by Pete T.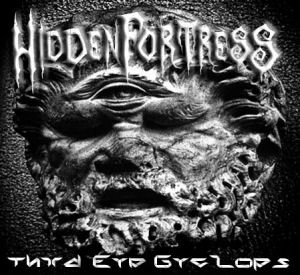 Vancouver DJ/producer UsdNeedls and rapper nofutureface comprise the duo Hidden Fortress, whose EP "Third Eye Cyclops" was unveiled as a free download last month. Although Hidden Fortress labels their style horrorcore, their sound bears minimal resemblance to those of familiar names such as Gravediggaz, Esham, Brotha Lynch Hung, Esham, and Necro. To imagine their sound, picture Rage Against the Machine without Tom Morello's solos and Zach de la Rocha's overtly political lyrics—you're left with loud, distorted percussion, hazy, bullhorned vocals barked into the mic, and sharp turntable cuts.
With five tracks including a short intro, "Third Eye Cyclops" clocks in at just over twelve-and-a-half minutes. The ominous "Brilliant Animal" is compelling and forceful musically, and while nofutureface's heavily fuzzed vocals are effective in creating a sonic mood, they are so distorted that it makes them difficult to decipher. He's more impressive on the bleak, stirring "Wasn't Me" with a stream-of-consciousness narrative seeping with paranoia. The driving, expansive "Fire Walk With Me" features strong production from UsdNeedls, and the closer "Path We Walk" is similar.
nofutureface's lyricism doesn't necessarily make much sense at face level, and it's hard to know what exactly to take from it much of the time, but his allusive, distant verses are quite effective in setting a mood that nicely complements UsdNeedls' beats. His beats are definitively gloomy, often building in stature as the track progresses, and are enjoyably moody with use of some unorthodox musical elements. Still, most of the tracks are very similar and hardly vary in tempo, which on such a short record detracts from the overall product.
"Third Eye Cyclops" definitely isn't bad as far as twelve-and-a-half minute EPs go, and it'll be interesting to see what Hidden Fortress pulls on their next full-length. Their sound will probably appeal more to hard rock fans than traditional hip hop listeners, but they sport a unique, fairly focused style that is equally suitable for pump-up jams and eerie conceptual rap.
Music Vibes: 6 of 10 Lyric Vibes: 5 of 10 TOTAL Vibes: 5.5 of 10
Originally posted: August 24, 2010
source: www.RapReviews.com