Berner :: Weekend at Bernie's
:: Bern One Entertainment/City Hall Records
as reviewed by Matt Jost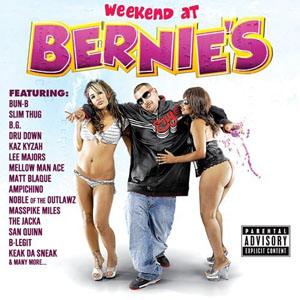 Weekend at Bernie's happens to be one of my favorite '80s screwball comedies, a guilty pleasure just made for a sweltering summer evening. Remotely inspired by Hitchcock's The Trouble With Harry, it tells the story of two co-workers caught in a jam trying to convince a parade of their boss's friends and enemies that he is alive and well when he is in fact dead. Over the course of a tumultuous weekend at his beach house they succeed with bizarre ease, the lifeless Bernie playing along surprisingly well.
The movie has since become a minor pop culture item, being referenced by The Simpsons, Friends, The Office, and GTA. Even politicians and journalists use it as a pun, the latter just recently when two women attempted boarding a plane in Liverpool with a dead man in a wheelchair. As far as references in a rap context go, MADtv had a sketch called 'Weekend at Tupac's,' and agent b created a dead-on parody using the film poster, depicting Sean Combs and Violetta Wallace propping up their best asset: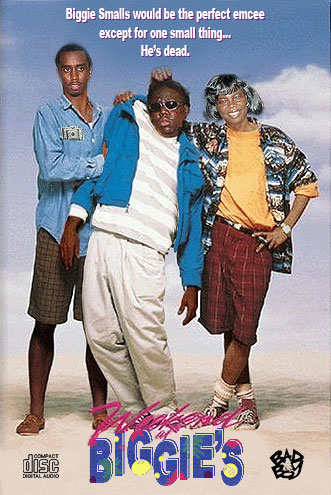 The cover for Berner's 2009 album vaguely re-enacts the poster as well with two exotic dancers supporting an apparently loaded Berner. Sounds like a fun weekend, with no dead bodies around at that. Much to my surprise, however, the music on "Bernie's" possesses a distinctly reflective note. The lyrics themselves don't support that notion at all. Bern raps about his drug dealing prowess and the cool things it got him. Lyrically it's a wholly nondescript affair consisting of a little bit of Pac and a whole lot of anonymous/average hustler rap. But there is something about Bernie that lends his tracks a thoughtful, even wistful touch. The San Francisco rapper seems to be aware of his predisposition, pairing his young and clear yet naturally heavy-hearted voice with melodic, meditative beats.
The mood and instrumentation is often reminiscent of '80s pop ballads, but definitely more classy than cheesy. The album is generally done in relative taste, sex and violence being nearly absent. Anyone willing to accept a slower pace and a more tender tenor in rap music will find something to like here, whether it's Goblin's blue guitar/keys combo for "Another Day," various variations of spheric production by Pak Slap ("Rain"), Gennessee ("Stunt it Out"), Cozmo ("Revenge," "Still Out Here," "I'm Nice," "Have Faith"), or even Latin-tinged tracks ("Hit the Cut," "Suavesita"). A couple of tracks pack slightly more punch, such as "Time" by Dunce & Stinj-E with its Western theme or the swinging, Gennessee-produced "Berner" with Cait La Dee providing a cabaret-style chorus (not coincidentally featuring one of Berner's more aggressive/animated performances).
With eleven beats, Cozmo emerges as the album's musical director who shows himself versed in hyphy tracks ("That Dough"), mainstream rap tunes of the harder ("Got Work") and the softer kind ("Designer Thangs"). He will even supply a track with a little bit more slap like "Life of a Star" with a soothing melody. But the legacy he leaves behind with "Weekend at Bernie's" is his talent for layered, airy tracks. Berner handles them generally well (better than offerings that require more sharpness like the single "Got Work," especially if your duet partner is Bun B). Cozmo's opener "100 P's" is a breezy ride, the pilot still driven by determination as he raps:
"6AM, yeah, I'm out till the sun's up
No stash spot, ridin' dirty in my Benz truck
Makaveli 5 on repeat
I been goin' hard for weeks with no sleep
Catch me in KC or Akron, waitin' on that package
Watch me double up, I'm just tryina make it happen
The rappin' is cool but I'm better off in traffic
and when the drought hits I'm the only one that has it"
When Berner looks back, more often than not that approach results in plain statements like "I did shit I shouldn't have done but I did it." "Where Would I Be" displays deeper insight: "A lot of friends dead or in prison / Tell they kids that I miss 'em / and to listen / I'ma wish 'em all the best of luck / No dad in his life, he keeps messin' up / just like the rest of us." But across 20 songs in total there is little variance in subject matter, not least manifested by interchangeable hooks.
Given Berner's repetitive rhymes, cameos from Bay vets San Quinn, Keak Da Sneak, Dru Down, B-Legit, southern representatives Bun B, BG, Slim Thug, and even Latin rap legend Mellow Man Ace are a welcome addition. Two of the album's strongest verses are delivered by Cozmo, who looks unapologetically back on his career on "Still Out Here" and by Lee Majors, who reps his home state on the "California Dreamin'"-sampling "Kali Dreams":
"You don't know about Cali, then you must be a nerd
Tires go flat when they catch that curb
Everybody know that we got the best herb
Call it screwed out, son, call it surp
Never seen snow but we got that gurl
Know about Thizz, then you know about Furl
Live the thug life, do you know about Pac?
[...]
Where the skies are grey
We livin' out here for the sunny days
Don't think it's all fun and games
Cause the Crips and Bloods'll bang
Comin' out here tryina steal our game
Go back home, we ain't tryina do the same
Don't give it back cause you squares are lame
You don't even know about Dangerous Dame
You don't even know about Cherry Pie
Talk about tree, you ain't never been high
Come to the coast, better come the Bay
Don't think it's all just LA"
After collaboration albums with Equipto, Messy Marv, The Jacka and Ampichino, people might have wondered if young Bern can hold down an album by himself. The answer is yes and no. From a traditional perspective, as far as skills and content go, he fails to deliver. Also, the lyrics neither match the party theme of the album title nor the melancholic mood of the actual music. And yet "Weekend at Bernie's" manages to be more listenable than a lot of high-profile releases, for the simple reason that it's led by an interesting voice backed by gratifying beats.
Music Vibes: 7.5 of 10 Lyric Vibes: 4 of 10 TOTAL Vibes: 6 of 10
Originally posted: August 3, 2010
source: www.RapReviews.com