He.llsent :: False Profit
:: Galapagos4
as reviewed by Susan 'susiQ' Kim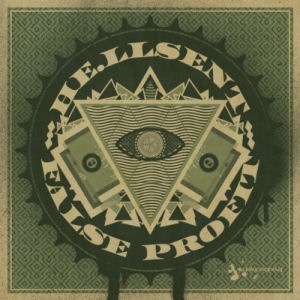 Chicago's He.llsent is yet another emcee than has been churned out by the infamous Galapagos4 label, but is a veteran emcee with extensive years behind the mic. Early on, his passion for emceeing flourished as he was fortunate to team up with Qwazaar of Typical Cats, even before Typical Cats had released their debut EP. The duo formed the group Outerlimitz and with their fervor for political rights, they released their debut album, "Wrong Actions for Right Reasons." In subsequent years, the duo unleashed two more albums while pursuing other projects of their own.
He.llsent has since then engaged in his own endeavors and debuted a solo album, "Rainwater" in 2006. In his second solo album, "False Profit," he stays committed to an explorative journey of contemplative thought and realization as he delves deep into his inner thoughts about society and the direction of hip hop.
For He.llsent, it's all about what hip hop once used be. In the title track, he lays out the foundation for the whole album as he shows how so many people make a profit for the wrong reasons. In the grand scheme of things, He.llsent refers back to how the roots of hip hop have somehow been lost through the years as he says:
"What's the moral of the story
People do anything for the fame and the glory or profit...
But people love the attention
Not to mention fly women
No wonder you ain't leaving
You can't stop it
Because you know you love the money
Can't forget when you was bumming
Now you got a little something...
I'm stuck in this hell
Walking slow on this roll
Will I make it in this hell
Burning trees through my soul
Will I make it in this hell?
I just don't know"
"Radio Inactivity" is yet another track that criticizes new school hip hop and especially mainstream radio. He.llsent takes a stand to oust mainstream radio and expose its true identity as he shows:
"Every time I turn the radio on I hear some bullshit
They poison us every time they play them songs
Talking about hip hop lives here
They're wrong
You need about a quarter million to get on
That's bogus, just whack
Stop pulling my arm...
I don't buy anything that they play
Cause I like what I like
Man, that's word to my hate
So every time they turn the radio on
I turn it off like that"
Aside from revealing his inner thoughts on today's hip hop, He.llsent also manages to provide an introspective look into his life and struggle as an emcee. He praises his city for shaping him in "For the City" while he explains the path to becoming an emcee in "This Road" featuring Qwazaar and Wes Restless. These reflective tracks are top contenders in "False Profit" as they display the more vulnerable side to He.llsent and his true intentions as an emcee.
He.llsent says, "The False Profit is a glimpse behind all the smoke and mirrors." This was his intention and he succeeded. In a "no holds barred" album, "False Profit" expresses He.llsent's views and ideas in the rawest form. However, a minimalistic approach to the production and off rhythm lyrics seems to falter the album at some points. All in all, it's apparent that He.llsent's true passion is in hip hop and as a dedicated emcee, will do just about anything to try and get his message across to the masses.
Music Vibes: 5 of 10 Lyric Vibes: 6 of 10 TOTAL Vibes: 5.5 of 10
Originally posted: October 26, 2010
source: www.RapReviews.com