Gappy Ranks :: Put the Stereo On
:: Peckings/Greensleeves/VP Records
as reviewed by Steve 'Flash' Juon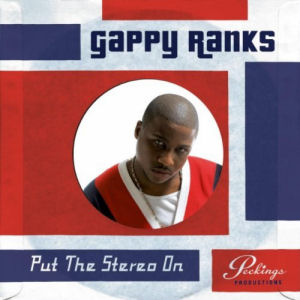 It's often (but not always) true that when more than two record labels or imprints want their names on someone's project, the artist must be ON FIYAH. Everybody wants a piece of that pie when the rapper/singer/performer becomes a huge star and a household name. Just like Shady/Aftermath/Interscope all had that kind of faith in 50 Cent at the start, we find Peckings/Greensleeves/VP all similarly vested in the London, UK based Gappy Ranks. You wouldn't suspect he was from London listening to "Put the Stereo On" - his rhythms and rhyme is straight outta Jamaica like a classic roots reggae artist from days of old.
Wait - classic roots reggae? Is that really going to blow up and go pop in 2010? Regardless of any of our personal preferences we all have to be a bit realistic. Right now what's trending and successful in the music industry couldn't be further from the sound of Bob Marley, Peter Tosh and Barrington Levy. We live in the age of Lady Gaga, Justin Bieber and Far East Movement. There's a lot of electronic music, a lot of pseudo-rap flows, and a lot of chirpy fresh faced youths who sell well to the teenager and younger set. AutoTune is in, classic island melodies are out. It may be that Gappy Ranks recognizes that problem, because the Chris & Duke Price produced "Happiest Day of My Life" tries to bridge the gap by using a traditional horn and steel drum beat AutoTuning his already smooth croon:
"See everybody out there got somebody 'oo they love
These memories are pure as snow, it's you I'm thinkin of
Girl the 'appiest day of my life, is when I met youuuu
Baby girl
I know your favorite color, and baby you know mine
My friends say I'm a fool in love but baby love is blind
Cause the 'appiest day of my life, is when I met youuuu
BABY GIRRRL!"
Does it work? Maybe it makes Gappy Ranks a little more hip in a pop music sense, but compare to the rest of "Put the Stereo On" it actually detracts from his authentic Jamaican style. Listening to it I feel like T-Pain is trying to do Gappy Ranks and not vice versa, and "Musical Girl" has the same problem. Even if he's out of touch with the modern times on songs like the slow-flowing piano jammy jam "Mountain Top," his Ital is much more vital. "Never judge a book by eets covah/you not know, until you read it propah." Now THIS works. Gappy's press release claims he has worked with everyone from MC Lethal B to Twista, and that's all well and fine, but he's not a hip-hop sensation and not likely to be a pop one any time soon either.
It's far from a diss though to say that Gappy Ranks is not going to go pop - in fact it's a compliment. There's a simple, natural and traditional vibe that can be heard in songs like "Heaven in Her Eyes" - ironically the same sound UB40 used to blow up back in the 1980's. Ranks biggest asset and deficit is that he came along at the wrong time, but for those who appreciate a classic reggae sound there's no deficit to it whatsoever. Ranks and his producers love to flow to the ivories and his voice carries strongly over the keys on songs like "Thy Shall Love," a song with both Christian and Rastafarian themes, urging Jah to show mercy on the poor ghetto youth while appealing to a Jesus philosophy to love all others: "Thy shall love thyself and thy shall love one and all." It's a simple but powerful message and delivered with an unfettered conviction, as Ranks is clearly a true believer. The songs where he lets that love for humanity show through are his strength, but he is so tempted to use AutoTune that he gets "So Lost" on any track that does - it gets in the way of his powerful croon. "Put the Stereo On" shows Gappy is worthy of three labels all trying to get a piece, but even if he's out of step with the times, he should stick to the classic and traditional reggae sound he does best.
Music Vibes: 6 of 10 Lyric Vibes: 6.5 of 10 TOTAL Vibes: 6.5 of 10
Originally posted: October 19, 2010
source: www.RapReviews.com